The answer is in your post
Answer;
43.2526° N, 79.8302° W
The location of the game still being up in the air, with three days left until game day is absolute joke. This wouldn't be acceptable in a rec slo pitch tourney, never mind a professional football league. It's embarrassing and in defendable. Game should have been moved to Rogers weeks ago and at least it could have been marketed. Gambling on the stadium being ready ,is like some drunk in Vegas stumbling in to a casino and putting all his money on Black :roll: It's bush !!!!
by Caretaker » 28 Aug, 2014 - 22:27 I love all the analogies in this thread. While we cannot guarantee we'll be playing at Tim Hortons Field on Monday, it is looking very, very likely.

This great and happy outcome is thanks to a huge amount of work by everyone involved from the workers building the stadium, to ONSS managment, to everyone who work for the City of Hamilton, and of course your Tiger-Cats.

If you think our fans are being inconvenienced by the uncertainty, spare a thought for the Ticats Front Office team. I've had the pleasure of spending the week in the Jarvis street office, and have witnessed the very long hours our staff has put in this week. They have put in these extra hours knowing that they are also going to have to work the weekend preparing a brand new stadium for the first ever game to be played there, amid the same uncertainty you are concerned about.

What is truly remarkable is that despite all the extra effort the team is putting in this week, the only complaints I've heard are the ones I've been reading in these forums.
Caretaker
Tiger-Cats Caretaker
Talk to 99% of Ti-Cats fans and they will tell you - do ANYTHING that can be done to have this game played at THF - as long as it is safe. And we are all THRILLED they are doing exactly that. The city providing inspections right up until Sunday of a holiday weekend. Heck even a tip of the cap to Rogers Centre allowing a decision to be made as late as Sunday - with them asking for only a 48 hours heads-up to use Rogers Centre on Tuesday.
Absolutely the RIGHT move to do EVERYTHING possible to play this game IN HAMILTON ON LABOUR DAY. The game is a HUGE part of Labour Day in Hamilton. Tuesday night at Rogers Centre DOESN'T EVEN COME CLOSE TO CUTTING IT!
I don't know where you live Kasps but pretty much everybody in Hamilton gets that. Do WHATEVER it takes to get this game played here in Hamilton on Labour Day. And that is what EVERYBODY involved is trying to do.
Hey Kasp - had trouble finding your comment buried in the middle of my original post the way you quoted it there - but for those who could not find it - here is what kasp said.
The issue is ,what league has a marquee game 3 days away and nobody knows where the game is taking place ? At some point , you need to cut your losses .
This is no doubt a unique situation - but it is SO important to not only the team and their fans - but even the city in general - to have the Labour Day game played here.
And yes this is unique for a regular season football game - but similar things happen all the time for huge games in play-offs of basketball, hockey and baseball. Those leagues will have not announced when or where the next rounds of games are going to start or where played until a deciding game is played in a series. So you might have Team A beat Team B on a Sunday night and as a result Team C has to start the next round at Team A on Tuesday, whereas if Team B won the game Sunday they might have to play at Team D and Team C is going to play somewhere else starting Wednesday or some variation of that..
So yes - unique to not be 100% sure when and where you are going to play - but not really not that extraordinary. Plus with these two cities only an hour apart the obvious approach is plan to play in Hamilton Monday and if for some reason come Sunday you find out it will be Tuesday instead - not that big an issue for players to deal with.
And like I said from a fans perspective - do everything you can to play this Monday please!
I hope it get's done . The winners in all of this are the Riders , they pretty much have list of do's and don'ts by building their stadium last out of the 3 that are built from scratch . But only the bravest jump first
kasps wrote: But only the bravest jump first :D
Very true. :thup:
A fire broke out in a maintenance room at the Stadium . What if that happened in the middle of the game ? Constructions sites are dangerous for various reasons, rushing a permit through may be very irresponsible.
Probably he's getting no complaints from the workers because they're being paid time and a half or double time for the overtime. Extra money often silences workers complaints. They still bitch, management just doesn't hear it anymore.
Who ever signs that permit is basically risking his job and possibly criminal charges if something flares up or debris fall. Has nothing to do with negativity, common sense would be closer to it.
Fire at unfinished Ticats stadium causes $25,000 in damage
[url=http://www.thespec.com/news-story/4806465-fire-at-unfinished-ticats-stadium-causes-25-000-in-damage/;send=false]http://www.thespec.com/news-story/48064 ... send=false[/url]
It is sounding more and more like we will be at THF at 1:00PM Monday! :thup:

This statement just released.
[url=http://www.ticats.ca/article/labour-day-classic-at-tim-hortons-field-update]http://www.ticats.ca/article/labour-day ... eld-update[/url]
The Hamilton Tiger-Cats have received the following statement from City of Hamilton's General Manager of Public Works Gerry Davis:

"Contractors have advised us that they will be completing all the key construction pieces over the next two days, and getting final sign off this weekend. These assurances give us confidence that the Labour Day game will proceed.?

Tiger-Cats caretaker Bob Young has issued the following statement:

"It's great to hear assurances from the contractors and confidence from the City of Hamilton that the Labour Day Classic will proceed as scheduled at Tim Hortons Field.?
At home. Our NEW home!!! :rockin:
And down to the wire we go here in Hamilton. 8:15PM and city inspectors and workers are still at the stadium. No permit yet - but still 'optimistic'. They've already distributed the mini-footballs everybody is getting as they are holding the spot for our beers.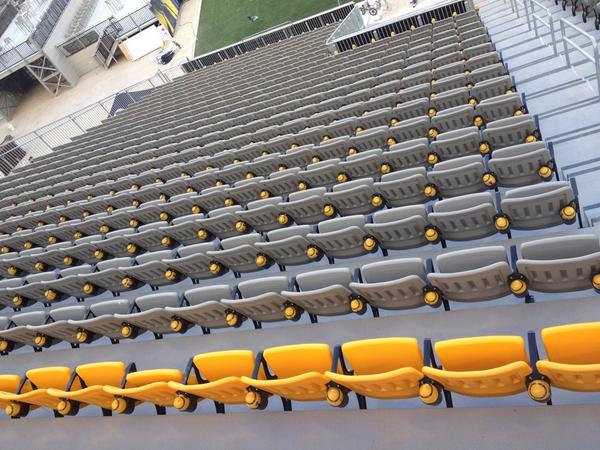 Still waiting. Will it be Labour Day in Hamilton - or Tuesday night when it would look like this under the lights. I'm still betting tomorrow.