BREAKING: #Ticats to retire Angelo Mosca's No. 68 by @miltonatthespec #CFL
http://wp.me/p65Ld4-3q2
Embedded image permalink
Wonder witch # Mike will take i say 58 if its available
What a wonderful gesture for a very deserving retired Tiger Cat.
Happy to see this.
I trust a special invitation will be sent to Joe Capp.

The invitation to Joe Kapp was sent by Fedex. It consisted of a sharpened cane with instructions where to insert it for the best effect. :lol: :lol: :lol:
It's about time, and also about the the most deserving of players to have a number retired. So now it's 10 and 68 that I know of being retired. Any others?
I'm sure Filer will happily switch to a different number.
I agree with this well deserved accolade. Congratulations to Angelo.
I think they should extend the same honour and retire # 61 (John Barrow) and # 26 (Garney Henley) as well. They played at as high a level (or higher) during the same golden era of Ticat football, played as long, and played their entire careers in Hamilton.
Very happy with this decision and long overdue by the club. I have always thought it odd through the years seeing other players wearing #68 or #26 or #61. Mosca,Henley and Barrow along with #10 Faloney(officially retired).....4 numbers that should've been retired a long long time ago by this organization. Very glad that Big Ang is finally getting his just desserts as the face of this franchise and clearly the most recognizable Ti-Cat of all time not only here in the Hammer but coast to coast across the country. Hopefully in the very near future we will see the team honour both Barrow and Henley with the retiring of their numbers as well. :thup:

http://209.15.208.71/~cfhof/wp-content/uploads/2013/08/John_Barrow-e1376490377117.jpg
While I believe that Angelo is certainly deserving of this honour, I do wish the Tiger-Cats had a defined policy on retiring numbers. To me, the only time to retire an athlete's number should be during, or soon after the end of, his/her career and certainly before anyone else plays for the team, wearing that number. Bernie Faloney's #10 was retired, by the club, 35 years after he last wore it, as a Tiger-Cat, and now Mosca's #68 is to be hung up, for the last time, almost 43 years after he held the cup above it on that sunny December afternoon at Ivor Wynne. The Tiger-Cats certainly aren't the only team that's allowed emotional situations to influence decisions to retire numbers. I, however, prefer the Walls of Honour, in stadiums, as the way to recognize outstanding past players and was happy with the Tiger-Cats' no retired numbers policy that existed during their first 49 years.
An attempt to answer a tough, related, trivia question:
Marion Latimor, Larry Butler, Greg Dubinetz, James Ramey, Mike Derks, Scott Douglas, Greg Back, Dave Hack, Kyler Jukes, Greg Randall, Adam Rogers and Mike Filer.
Anybody missing?
I think you got them all :thup: So here is another tough trivia question about Mosca that I hope someone can answer in here because frankly I don't have the answer :? :
Apparently Mosca wore two other numbers while a member of the Ti-Cats those being #62 and #64. But I can't for the life of me remember him in anything but his legendary #68 jersey. So the question is this: What exactly were the circumstances that had Mosca sporting these two different numbers instead of his standard classic #68 ? :o :?
Angelo Mosca wearing #64
http://d2x3wmakafwqf5.cloudfront.net/wordpress/wp-content/blogs.dir/66/files/2015/08/Angelo-Mosca-6-300x251.jpg
Angelo Mosca 1959 Football card wearing #62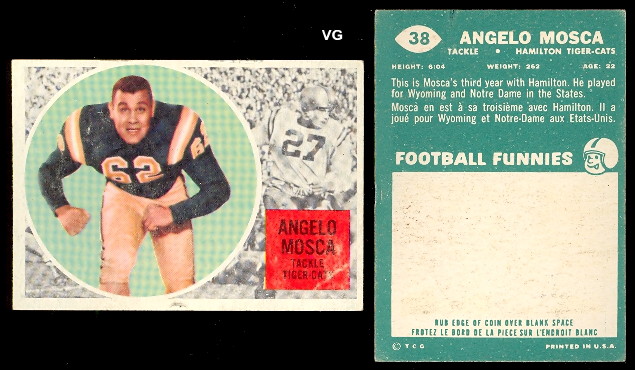 At practice today
steve milton ?@miltonatthespec 2m2 minutes ago
Filer in last couple of weeks as #68 congratulates Mosca on number retirement. #Ticats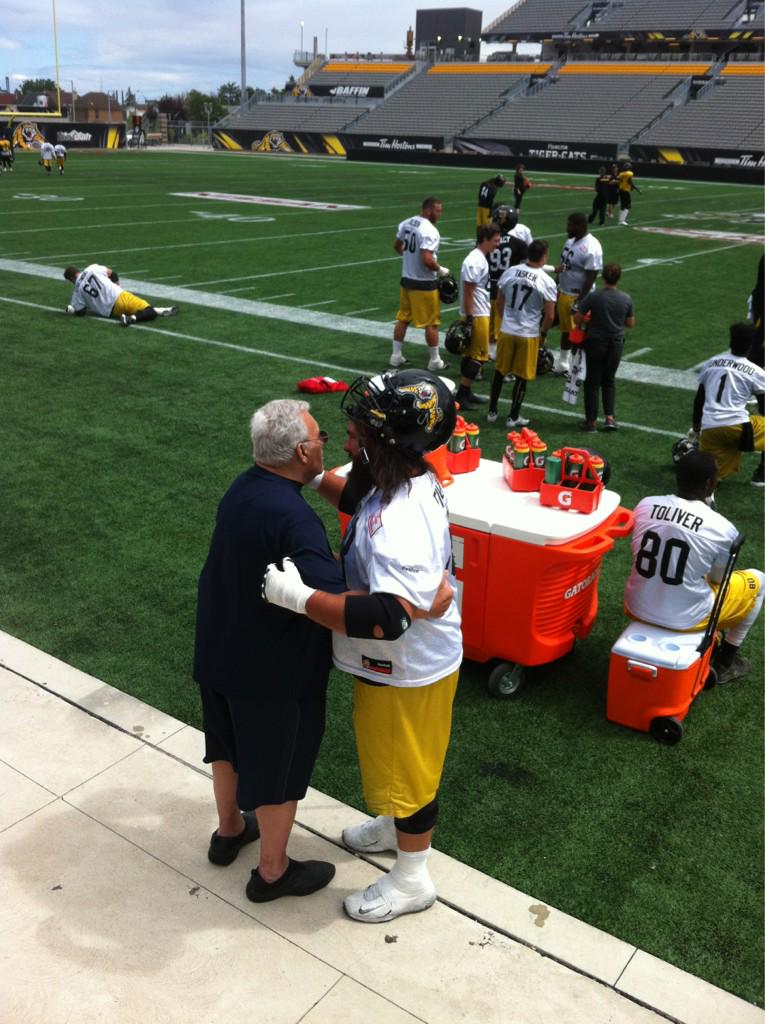 Available OL numbers on the roster for Filer to switch to:
51, 54, 57, 58, 60, 62, 63, 65, 66
Ang in #64 is a mystery to me. He did wear #62 in his first couple of years in Hamilton ('58 & '59) and is pictured in the '63 team photo and many thereafter wearing #68. Might have been a torn, lost, or stolen jersey situation, judging by the design, sometime in '63 or '64.
Thanks ottawacat for clearing up the #62 question. I have searched though high and low for an answer to the #64 mystery number photo and can't find anything anywhere that explains it. If anybody else has a plausible answer to this mystery please post the reasoning for why big Ang was not sporting his usual #68 in this pic. I would appreciate it

Cheers

http://d2x3wmakafwqf5.cloudfront.net/wordpress/wp-content/blogs.dir/66/files/2015/08/Angelo-Mosca-6-300x251.jpg
Just as a side-note for the curious out there,Ang wore #60 in his 2 years he played in Ottawa (60-61)
Could it be that Ang had psychic powers and could see into the future?
Did he think that, if he wore 64 for a game, they might give him a chance to catch a TD pass?
LOL !!!!! There ya go

Maybe that TD catch was an old Ralph Sazio play from the sixties designed originally for Big Ang
Kind of like that old TV show called Quantum Leap.
Ryan Bomben catching his TD pass.....or was it ?

http://cache3.asset-cache.net/gc/483524572-ryan-bomben-of-the-hamilton-tiger-cats-gettyimages.jpg?v=1&c=IWSAsset&k=2&d=X7WJLa88Cweo9HktRLaNXtNwGbNcX6y3R0T2Lq9dsiKng7Eo8WKwC34v1HqoKAuGlLZJN41Ftr7gDnANA7rrGw%3D%3D
So I guess no one has an answer as to why Mosca is wearing the #64 jersey ? ottawacat at least pinpointed that the jersey design makes the pic at best estimate from the "63" or "64" season. Someone out there must know the reason or story as to why Mosca was photographed not wearing his signature #68 in that pic ? The number #62 was explained,but I have to admit this vintage game photo #64 has got me absolutely baffled. :?
here is the pic one more time,hopefully it will jog someones memory and the mystery will be solved.
http://d2x3wmakafwqf5.cloudfront.net/wordpress/wp-content/blogs.dir/66/files/2015/08/Angelo-Mosca-6-300x251.jpg
One could speculate that his normal #68 jersey got ripped during the game and the only available spare was a #64 - and this photo was taken after that happened? I don't think in those days teams were equipped with back-up jerseys like today. Could be a simple as that.