Drew among many others are reporting Cats O.C has resigned ! Holy Cow !
Probably will resurface in the NCAA.
With Mass lured away from Ottawa to Edmonton and a vacant "O" co-ordinator position there, that's a possibility. The timing is there, a week ago there is a ruling that the Esks could take Maas and this week Condell quits.
Slim, if you are saying Condell might end up in Ottawa as the OC , then I think you may be wrong as Ottawa hired Jamie Elizondo some weeks ago to replace Jason Maas.
WOW!!!!!!!!
Will Austin take over the OC duties??
Tommy Condell
?@TommyCondell
I have resigned as OC Hamilton TiCats. This move was done with great care and contemplation, but was made in the best interests of my family
Wow !!!! Did not see that one coming , roughly a month and a half to the opening of Training Camp and suddenly the most stable coaching staff in the league the last three years is suddenly springing some leaks. Let's not forget that we are also not only down our OC but have also lost and still haven't replaced or O-Line coach Allan Rudolph as well. I'm not really sure if Austin can find a new OC that will complement and implement our Offence on such short notice and my guess is that he will take on the task himself for this year for the sake of continuity considering that the majority of our starters on Offence are coming back for this season and all are comfortable and well versed in the current system. As far as the O-Line vacancy goes I would think that hopefully there will be an announcement soon as to Randolph's replacement.
This is certainly shaping up as a year of change for our team. A slew of veterans lost to FA , no kicker to speak of at all on our current roster, no OC , no O-Line coach , me thinks that Austin will have his hands full this season......it's going to be interesting to say the least........but hey Is it June yet ?

yes you are correct I forgot about that.
Arash Madani ?@ArashMadani · 13m13 minutes ago
Per #CFL sources: Expect the Tiger-Cats to announce Mike Markuson will be Hamilton's new offensive line coach. Long-time NCAA assistant.
Justin Dunk ?@JDunk12 11m11 minutes ago
Justin Dunk Retweeted Arash Madani
Mike Markuson worked with Kent Austin at Ole Miss from 2008-2010. #Ticats
Drew EdwardsVerified account ?@scratchingpost 6m6 minutes ago
According to @ticatmitchell, the #Ticats have hired four offensive assistants but have yet to announce them.
here's a little background information on our new unofficial O-Line coach Mike Markuson. Below is a link to his bio while he was at Ole Miss pretty impressive stuff to say the least, he sounds like a good one to me.

[url=http://www.olemisssports.com/sports/m-footbl/mtt/markuson_mike00.html]http://www.olemisssports.com/sports/m-f ... ike00.html[/url]
Matthew Scianitti ?@TSNScianitti 1m1 minute ago
Subplot to Condell departure could be Collaros's future.TC&ZC are close. TC was voice in ZC helmet.16 is Collaros's contract yr #Ticats #CFL
This just Cannot happen!!!!
Don't listen to one word of Scianitti... This is getting ridiculous. We know there was no hate between the two friends and Collaros is happy in Hamilton. This is likely what it is... Family obligations/pressures.
Agreed let's just get through and worry about THIS Season before we worry about what might happen AFTER this season. It sounds like to me that Scianitti is just trying to stir up some sh!t and controversy to create a story for himself that has no legs at the moment and totally no basis at this time. You know how some of these characters work , if they don't have an actual factual story then they just make one up just to stir the pot just for the helluva' it. :roll:
Tommy Condell
?@TommyCondell
To the amazing fan base of the Tiger Cats – thank you for the memories. What a great community!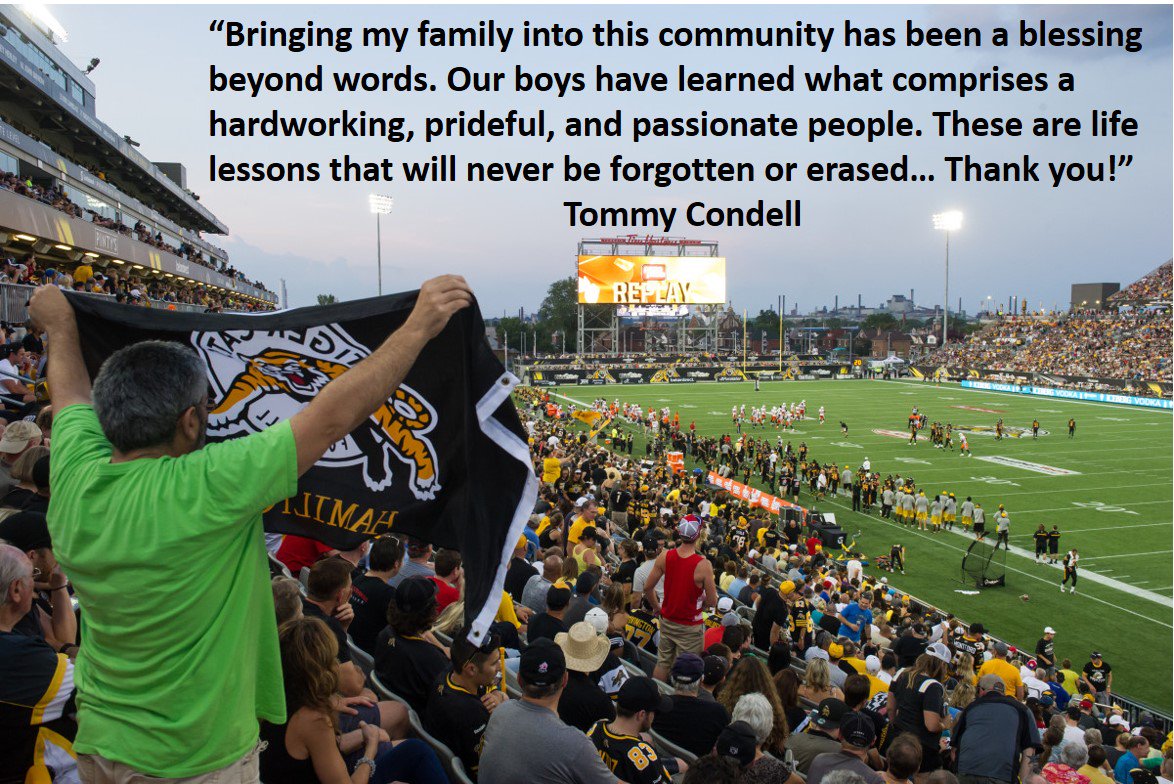 Best of luck Tommy wherever life takes you. What a classy goodbye. :thup:
Drew Edwards ?@scratchingpost · 7m7 minutes ago
#TIcats Kent Austin says they will be looking for another offensive coach but that he may call the plays this season. #CFL
Drew EdwardsVerified account ?@scratchingpost 1m1 minute ago
Outgoing #TIcats OC @TommyCondell has declined media requests. Team is asking that his reasons for leaving remain private. #CFL
Drew EdwardsVerified account ?@scratchingpost 2m2 minutes ago
I've been told that former #TIcats OC @TommyCondell does not have another job lined up. He's leaving strictly for family reasons.