steve milton ?@miltonatthespec 30m
Tillman formally named #Ticats US scouting and Pro personnel director. His fingerprints all over current team.
Good to see Eric Tillman get promoted I always thought he was a talented football man. Working under Austin this guy is a valuable asset. :thup:
takes over Danny Mac's Job with Danny now the asst. GM in the peg
Tillman input has been main part of the Austin era in hamilton .
i've always thought of him as the co GM just not on paper .
From Milton
[b]When the Tiger-Cats officially revealed that Eric Tillman had become director of U.S. scouting and U.S. pro personnel, they took great care to mention three other football operations guys in the same announcement.
Drew Allemang is the team's director of Canadian scouting, Shawn Burke is director of football operations and Spencer Zimmerman is co-ordinator of scouting and football administration, the jobs they held last year when Tillman was a consultant to the team and had a more limited role. Their positions didn't change but the team felt they merited recognition because, to Kent Austin's credit, personnel determination is not a one-man show in this organization.
"It's a collective effort," the 56-year-old Tillman was saying Wednesday. "There are multiple people involved in personnel decisions, it's a group effort. Those are three young guys with a great future in football.
"When you have success, it's a collective effort, and when you don't have success, it's a collective responsibility."
And Tillman has had tons of success in this league, even during his 2013 contract tenure. His Edmonton connection — he was GM there for three years until he was fired late in 2012 — helped the Cats in either acquiring or assessing, among others, Greg Wojt, Simoni Lawrence, Cary Koch, Hassan Hazime and Jeremiah Massoli.
The Mississippi native has been deeply immersed in football personnel matters for more than two decades and has spent 14 years with "GM" preceding his first name, with the Argos, Ottawa Renegades, Lions and Roughriders before the Eskimos experience. The effectiveness of that term is open to debate and depends upon whom you talk to — and whether or not you can forget the Ricky Ray trade, which most people in Edmonton cannot and probably should not. Tillman had his motivations for making it, but concedes it ended up being a memorably terrible swap.
Some fans and football folk still simmer over his guilty plea to a very public summary charge while he was Riders' GM, and for which he was given an absolute discharge. People who pay their debts should, at some point, be allowed to live the rest of their lives without having their worst moments propped over their heads like neon signs and, in this corner, that point is right now.
Tillman will, and already has, helped this club. Perhaps in more ways than we can know because he and Austin are very close and it's probable there were times that Austin, a first-time GM, sought GM-ish advice from someone who's been there, done that and more.
"I've known Eric for a long time," Austin said after the Ticats' one-hour walk-through teaching practice Wednesday. "Eric is extremely talented, he's very, very bright, he has a tremendous number of contacts, he's done it for a long time, he has a proven record of finding talent. And he's very shrewd. He'll bring different ideas from a different angle, which is good: it gets you thinking about things.
"And I trust him. He's been a good addition to our operations."
Tillman will manage all of the Ticats' U.S. scouting and pro personnel matters, and will develop a comprehensive plan for, as Austin put it, "allocating our resources properly." Most of those items were handled by Cat legend Danny McManus before he went to Winnipeg as assistant GM earlier this year.
"Yes, but Eric will be more involved strategically than Danny was," Austin said.
Tillman said that "based on our shared experience, I have a feeling of what Kent wants. What kind of athlete. What kind of person."[/b]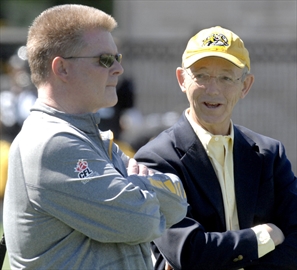 Thanks for the article Grover…
I'm greatful for having coach Tillman on our side and I'm even more grateful of his expanded role and responsibilities with the team! :thup: