Inactives: Williams (53), Golding (65)
Weather - beautiful, 24 degrees, wind 18km
Cuthbert doing PxP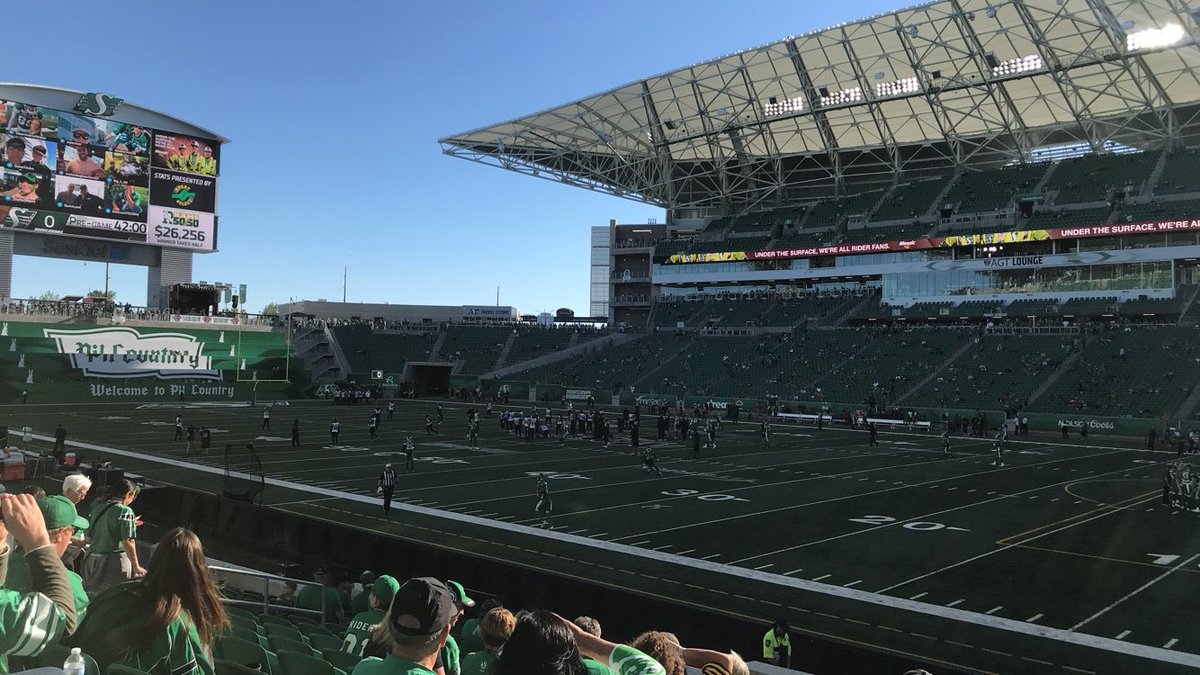 Its time to get the whoop ass train going.....3 and 1 sounds real nice.
Everyone knows the problems Carter has been having trying to play corner.
But I think the real weak link is their linebacking corps. I think it's the worst in the league.
Hope the offence targets that.
Guys need to stay focused, The Riders are not going to lay down. Pressure Bridge make him throw early. Soli do what you do. D play like you have the last 2 games.
This team is different, not anything like the Austin days.
Probably better weather there for the game than it would be at home!
For sure the Riders aren't going to go down easily - unless like the last two weeks they forget to show up but I expect CJ has lit a fire under them.
They do have the #1 run defense and the #2 defense - believe it or not - but I'm sure JJ will find some unique tools in his bag of tricks to get our offense moving. Important to score first and take the crowd out of it early.
Good hit by Dean! And Howsare and Daly get them stopped on 2nd and short!! Good start D!

Time for some Masoli magic!
Whitlock out-Messaming Messam there on the first play.
Second play, not so much.
And there's White in with another great run.
So far running the ball - against the 'supposed" best run D - and successfully! Then a nice pass to Speedy!
Super march to start this game; terrific play calling
YUP so far they've used Whitlock, White and Timmis on the run. Poor guys (Saskie) don't know who's coming at them next - as Masoli rips off a run for the FD!

Solid drive! Finish it off
And now Timmis for another nice run.
And then Masoli.
Picking on the Rider d-line, which is known for their pass rush, and a weak linebacking corps?
Trivia: when is the last time we had five different players run the ball on an opening drive?
(Or any single drive? Or even a single game?)
EDIT: not sure why I said five. Is it actually four?
Run it down their throat!
solid drive - settle for3 :-\
My problem this week was trying to figure out which RB might be featured to put them on my fantasy roster. I think I took Timmis!
Suggested that Carter may have had early contact but WAY to early to challenge anything like that so a FG it is.
That drive should have finished with 7. You run the ball the whole drive. Run it in.
Whitlock
White
Timmis
Masoli
Never mind - used up more than 5 minutes of clock time!