[b]The Canadian Football League has unveiled the Hamilton Tiger-Cats winners for the 2014 CFL Awards:
MOST OUTSTANDING PLAYER: QB Zach Collaros
Quarterback Zach Collaros has started 12 games in his first season with the Ticats, completing 259 of 396 passes (65.4%) for 3,054 yards and 14 touchdowns while rushing for 293 yards and two scores.
MOST OUTSTANDING DEFENSIVE PLAYER: LB Simoni Lawrence
Linebacker Simoni Lawrence leads all Tiger-Cats defenders with 70 defensive tackles, seven tackles for a loss while adding three quarterback sacks, three forced fumbles, two fumble recoveries and two interceptions.
MOST OUTSTANDING CANADIAN: DT Ted Laurent
Laurent is enjoying a career-year with nine quarterback sacks, 24 defensive tackles, two tackles for a loss, one forced fumble. Laurent was nominated as the Edmonton Eskimos Most Outstanding Canadian in 2012.
MOST OUTSTANDING OFFENSIVE LINEMAN: OG Brian Simmons
Simmons, a fourth-year Tiger-Cat, has been the anchor of the Ticats offensive line having started all 17 games this season. This is Simmons' first nomination as Hamilton's Most Outstanding Lineman.
MOST OUTSTANDING SPECIAL TEAMS PLAYER: K/P Justin Medlock
Medlock has connected on 42 of 48 field goal attempts (87.5%) this season while averaging 42.0 yards on 130 punts.
MOST OUTSTANDING ROOKIE: LB Taylor Reed
In his first CFL season, linebacker Taylor Reed has registered 60 defensive tackles, eight quarterback sacks, one interception, one forced fumble and one tackle for a loss. The SMU product has started 14 games at middle linebacker.[/b]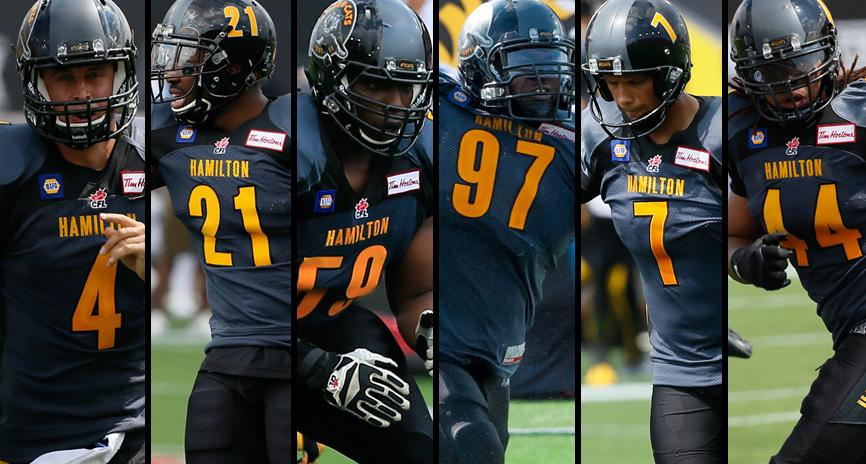 The players were selected by voting members of the Football Reporters of Canada (FRC) and CFL head coaches.
In this first ballot, FRC representatives from each CFL city plus the respective head coach submitted votes for the six categories. Voters were asked to select players from their local CFL club who, through on-field performance excellence, best represent the awards' titles – Most Outstanding Player, Most Outstanding Canadian Player, Most Outstanding Defensive Player, Most Outstanding Offensive Lineman, Most Outstanding Rookie, and Most Outstanding Special Teams Player.