Fantuz, let him go for pete sakes TCs.
Perhaps Austin has reason to believe that Hickman is not interested in re-signing for the money the team is willing to pay him. And Austin would be in a position to know.
Great signing by the Cats but the only downside I can see is that with this signing it might spell the end of Justin Hickman as a Cat. Hickman is a soon to be FA and I wouldn't be at all surprised if the team lets him walk away and doesn't attempt to re-sign him. Hopefully I'm wrong on this but it wouldn't surprise me if Hickman winds up signing elsewhere for next season. The team would still have Adrian Tracey and Troy Davis to compete for the other end position until Norwood is up and running again which might not be until Labour Day or later depending on how his rehab goes from his torn ACL. The main key guy that absolutely HAS to be re-signed on the D-Line for next season is of course Big Teddy in the middle. I'm not sure if the team has enough cash to sign all the D-Line FA's that we currently have (Hickman,Laurent,Hall,Bulcke,Nadon,Hazime) something's gotta give and I'm thinking that the something is most likely Hickman especially with the signing of Chick.
Unless they get Ted back this move was questionable .
Totally unrelated, as they play different positions on the line.
And while I really, really want Laurent back, they do still have a couple of pretty good nationals at the DT position in Gaydosh and Hazime. And perhaps Bulcke will be back as well - still waiting on word of his health and a possible re-signing.
Let's just hope that Chick isn't shown with his signature #97 on his new Ti-Cat jersey at the press conference......it could be a bad Omen about the future of Ted Laurent as a member of the team next season.Hopefully Chick will be presented with a brand new number on his brand new Ti-Cat jersey. Hopefully anything but #97

Trying to look at this move, from both the club and player's points of view, I find it very difficult to comprehend. There's the money, Chick's age, the fact he recently opened a CrossFit training business, in Regina, and his wife and family of (would you believe?) eight kids have all moved there, for the first time in off season. Could the deal maybe include a post playing career coaching job? I really don't get it.
Couple things come to mind. 160k for a guy like Chick is a bargain. Jones didn't want the guy if he offered him even less.
Not sure where you're getting the "160k" from, HfxTC, but that would be close to a 40% cut from Chick's reported deal in SSK. So, "a bargain," yes, but hard to imagine he'd accept that so quickly after being a FA for just 10 days.
I still cannot figure out how to post a graphic on this site so just a set of numbers will have to do at this time.
Since it appears on the surface that the signing of John Chick foreshadows the non-re-signing of Justin Hickman, I thought I would take a look at the comparables. Here are their career numbers on a per regular season basis. (Ie; Broken down Per Game Then Multiplied By 18)
John Chick
Tackles = 40.714
Sacks = 11.357
Forced Fumbles = 1.929
Justin Hickman
Tackles = 45.25
Sacks = 9
Forced Fumbles = 2.75
Quite frankly, their career numbers are/were A LOT closer than I had thought. Hickman gets the nod with 11% more tackles & 43% more Forced Fumbles while Chick has garnered 20% more in Sacks.
I would hope and assume that Chick is getting the $'s that would have gone to Hickman. Otherwise, acquiring a player that is 3 years older with such similar production would be a head-scratcher.
Rider "insiders" are claiming 100k pay cut, which would put him at 160k. I know its not gospel but makes sense.
I could not find any source for the $160K that HfxTC quoted, but I also cannot find any examples of Austin overpaying for a free agent
Collaros is our highest paid player at $275K the next highest paid player was Fantuz $190K now expired(Obie Contract) Banks is at $175K, there are no #'s for Laurent, but he should and will be very well paid, Look for Ted to fit in below Zach and ahead of Banks, $200K+, I am confident that Ted will be signing with us!
Butler is at$150K, and Bomben and Tasker are steals at $100K each, pretty much everyone else is less
Austin is very frugal, but he gets his players playoff money, and they have a fantastic facility to play in.
Look at Popp and the ALS
Kevin Glenn - $300K
Duron Carter - $260K
Sj Green - $250K
Hec Muamba - $225K
Chip Cox - $220K
John Bowman - $215K
Fred Stamps - $150K
ETC.
ETC.
you get my point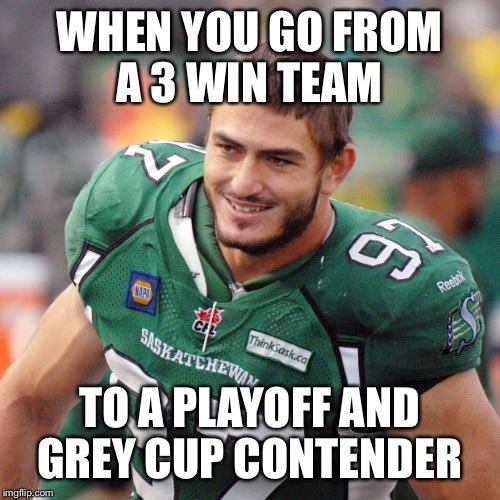 But admit it, had the Cats signed Carter, you guys would be jumping for joy.

Not I, unless his attitude took a complete 180...
Agree with you DCF - Carter is too much of a "me" player (at least he certainly has appeared to be) to fit into the "team first", unselfish player attitudes that Austin and the staff have instilled in and expect from the players. Besides we have a good number of talented international receivers and no doubt there will be another one or two brought into camp. After all, they found Underwood and Toliver last season and added Pilares (I think he might have been a neg list player) later.
As for Chick - I was a bit surprised that Austin would go for him but forgot they would have had a connection from KA's time in Saskatchewan. He may not be here more than a year or two but as long as he can still compete at a high level, then all I can say is "Welcome to the Ticats"!
Chick is solid. He had no help last year. He will shine in Hamilton.
I'm hoping he's matured. I think his year with the Colts served him a bit of humble pie. He's a special talent tailored for our big field.
But we already have the son of Steve Tasker, who is two and a half times a better player than Chris Carter's son,
At one third of the price!

That wasn't the former NFL Buffalo Bill Steve Tasker was it? :lol: :lol: :lol:
Well it seems like Simoni approves of the signing and is looking forward to having Chick as a new team mate as seen in this tweet from Lawrence.
Simoni Lawrence @Simoni Lawrence-24
@johnchick97 hey super happy to have you in the family...You super
dominate can't wait to watch you and sponge some knowledge !!
Chick responded back with this :
John Chick@johnchick97- 24
Simoni _ Lawrence the feeling is mutual! You guys do it right and am
blessed to join the squad! I appreciate the welcome.