Looks like our best D in a while - if Carter plays well.
Concern about the O line is valid. W/O their protection Mathews might not have fun tomorrow.
Keep the faith, baby. (It's all we can do as fans - as well as be very loud when our D is on the field). :rockin: :rockin: :rockin:
I have to agree.....that O-Line looks extremely thin. The Cats could be in a world of hurt if Filer or Dyakowski go down with an in game injury. Both are apparently not 100% for this game but will play despite nagging injuries to each of them. O' Neill if you ask me is not starter material anymore at this stage of his career and is better suited as the 6th O-Lineman and for use on Jumbos and Rice well he is still young and raw is only adequate at best if pressed into action as a starter. We desperately need Bomben back at the Guard position, hopefully he'll be ready to go for next weeks game against those Alouettes.
The roster 46 consists of the standard 3 QB's / 21 Cdns /22 Amr which means that the two game day scratches will once again be both Imports. DT- Drake Nevis will most likely once again be one but look for a game time decision between Toliver and Underwood for the other scratch. Toliver hasn't practiced all week but according to Austin he could play if he's physically ready. But it's more likely that Underwood will get the call for this one and start over the injured Toliver. On the Canadian side of things Everett Ellefsen comes on the roster to add much needed depth on the D-Line and to play specials replacing LB O'Mara who has been placed on the 1 gm IL.
As already mentioned by Grover, Norwood returns as DE off the 6 gm to replace Tracey who goes on the 6 gm and Carter starts at FCB over Gainey who will be one of the 4 DI's for the game.
[url=http://assets.ticats.ca.s3.amazonaws.com/app/uploads/2015/10/08101625/Depth-Chart-Roster-10-09-15-vs-SSK.pdf]http://assets.ticats.ca.s3.amazonaws.co ... vs-SSK.pdf[/url]
I guess OL Dile is not game ready yet to back up
Rico, Bomben and Omara are on 1 game IL
Fantuz and Gable, along with Sears, Tracy, and many others on 6 gm IL (16 players total on 6 gm)
Here is the Greenies Depth chart
Glenn is starting, Getzlaf is back
Veteran NAT Center Dan Clark is out!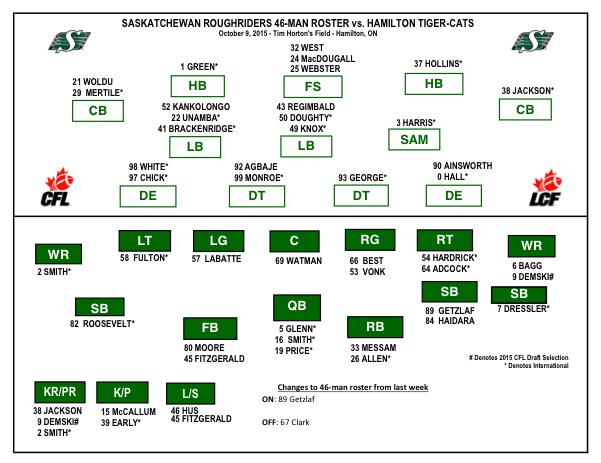 I'd be a tad concerned about that one side of the secondary, Carter/Gainey on the corner with Stewart inside.
Anyone know when/if Sears & Rico Murray will be back?
They would never dress an American o-lineman as a backup anyway.
Please Austin do something to get Underwood starting over Aprile?
Can trade Aprile for Woods. bring in a national HB, and start 5 international receivers. at least in some packages.
At this point, i'm good with what both Ford and Woods bring to the offense.
he could start Woodson
edit LB said it better
Agree with Bobo: Only one of Underwood and Toliver will be on the 44 and it will probably be Underwood. But possibly in some packages Ford will be replaced by Prime or Woodson and Banks will be in for Aprile. They also may go more frequently with two backs (Ford and Prime/Woodson) and a four international receiver group without Aprile.
Good to have Norwood back on the D-Line and Carter getting a start. Five games to go until the end of the season, all important in the CFL race for the east and playoffs.
It all starts with a Win tomorrow night against Regina!
GO CATS GO!!!
And win they will! :thup:

8) Better hope that Norwood can stay healthy, because it appears that Adrian Tracey is done for the year, with that knee
 injury !!    <!-- s:cry: -->:cry:<!-- s:cry: -->
uggh