I think if anything, Frankie Williams should have replaced Leonard and not Rolle. I know Rolle got beat one by Derrel Walker in the Argo game but it was pretty tight coverage and a perfect throw and catch to the leagues best receiver. There is a reason we hardly notice Rolle out there and that is a good thing.
I think if Mitchel didn't get injured he might have started at CB or HB.
I think Leonard won't last more than a few games as a starter.
I think we could have used our extra import starter at the receiver position like Acklin over Mike Jones , instead of at Center especially since we have a healthy experienced vet in Filer.
Mcnight, who coaches the oline must have fallen in love with Rhainey. I expect Rhainey to have a good game. This is a chance for Howsare to shine. If he doesn't . then former NFL 3rd round pick Mauldin will get a shot. J'Gared Davis looked very ordinary vs the Argos but I expect him to be more like his oldself like his past 3 years in Calgary. I also feel Dylan Wynn will impress at DT preventing teams from double teaming Teddy. I hope Tuggle looks better than he has shown thus far otherwise Frey will get a shot pretty soon.
Frey should have a great game on special teams. I am glad to see some speed at safety in Adeleke. Daly is very smart and has good instincts just no wheels. Db's might be a bit more aggressive knowing they have a speedster at safety.
I just can't see us having a running game with Nationals Erlington-Thomas, Bennett, and Irons. I think Irons has the potential to be a starter maybe by next year. Teams are going to avoid throwing and running to our weak side as there is Davis at DE, Simoni at Wil, Breaux at corner and Brooks at Halfback.
They'd much rather pass and throw to the strong side where we have Howsare at DE, Rico at SAM, Frankie Williams at corner and Leonard at halfback. My guess is coach Washington will have safety Adeleke cheating towards the strong side for help as the wide side guys don't need the help as much and for sure won't be seeing anywhere near the same amount of passes.I expect that Erlington won't get the run game going and we will see Irons by the 3rd quarter.
I think we lucked out a bit as the riders new MLB Soli is injured as is new WR Arceneaux and OG Labatte.
They key to this game is stopping their 3 headed running attack in Poweell , Thigpen, and Lafrance.
Marshall is an all-star cornerback so it might be wise to throw away from him like they will do with Breaux.
If Tuggle, Davis, Frankie Williams and Adeleke shine in their debute we will be just fine on Defence.
On offence, I hope we can get a running game going but I somehow doubt it.
OK Masoli, time to start your 300 yard per game passing streak again.
Actually, kicker is where I most expect global players to make an impact. Soccer kicking prowess is transferable.
That defence is going to get a heavy dose of William Powell
Stopping Powell will be a must
Means on the corner has 4 games played since 2016
Masoli wil be testing him
Judge at MLB is the backup
On Offence
Blake at RG is in for an injured LaBatte
Arceneaux is out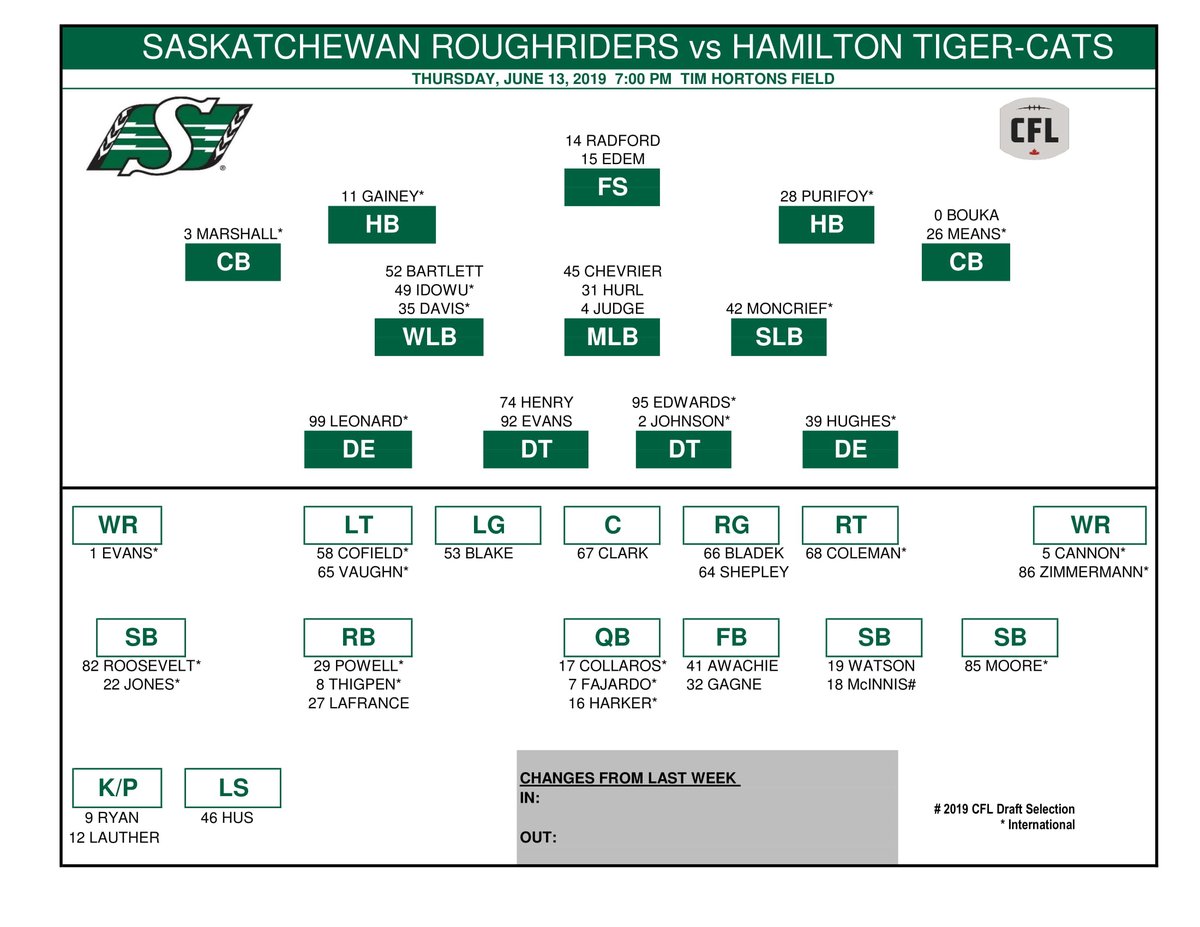 Our running game will be fine. Some of the fans need to stop bashing the Canadian tailbacks and show some patriotism.
Something seems odd about the way Filer has been treated by the club this year.
First they didn't lock him up before free agency. Then not only was Filer not picked up by another club but the Cats themselves took quite a while to re-sign him. Now they seem to have demoted him to backup. All of this makes it appear that he is not as revered as we think.
Could the coaching staff see some performance related issues in his play?
I completely agree with your comment, however please refrain from quoting Jennycat . Reading the Old Testament again and again is tough on these old eyes.
Pat Lynch (the old person)
Obviously there are some issues with Filer. Cats waited for a few weeks before re-signing him
as a free agent, and he certainly had no big offers from other teams !!
It is obvious that Rahney is the better player at the C position.
As the old saying goes, "better is better".
Who knows? Perhaps Filer fully intended to sign ONLY with the Tiger-Cats and they were negotiating his contract. As I said in another thread, he was hurt during training camp, and Girard (his backup) is on the DL. No National backup = no National starter.
With the 'Cats already starting the required 7 Canadians, Filer could have started and not needed a Canadian back-up. Rhaney could come into the game at any time to replace him.
Did anyone else notice the jersey Jeremiah chose to wear at the Wednesday walk-through and for his Q & A with the media?
Excellent point ottawacat!
Wearing Filers Practice Jersey must have some meaning, probably not a good sign
Oh-oh…looks like a message of one veteran player backing another veteran. The connection between centre and quarterback is huge and maybe Masoli is subtly telling everybody that he prefers Filer as his centre. Hope this doesn't cause dissension in the locker room.
That's highly speculative. Maybe JM just slept over at MF's place and grabbed his jersey in the morning. As one does.
ExPat: You're sounding very dork-like this morning. And, it's great!