Roster is here
[url=http://assets.ticats.ca.s3.amazonaws.com/app/uploads/2015/07/15102543/Depth-Chart-Roster-07-16-15-at-MTL.pdf]http://assets.ticats.ca.s3.amazonaws.co ... at-MTL.pdf[/url]
Johnny Sears is on the 6 game, I think he will be will be out for a while
Drew Edwards ?@scratchingpost 16m16 minutes ago
#Ticats have moved DB Johnny Sears to the 6-game injured list. Was hurt vs. #Bombers. #CFL
I think Tracy will be one of the scratches as he did not practice this week. The other might be Girard. That would still leave us with two backup OL.
Due to ratio, Daly on the corner, YIKES
I guess the Fans some were Bomber fans claimed Johnny was a very talented DB but mentioned him spending a lot of time on the injured list may have a point. I now feel a little thin in the defensive backfield. :cowboy:
They only have six uninjured DBs on the roster, so not sure what else they could do. Nobody better come up lame in practice this week. [knock wood]
I'd like to see Ford get more snaps.
I'm not convinced by Ray Holley, as of yet.
Also, I know it's a tough spot to get passes at, but would love to see Coates the hometown kid pull in a couple.
Daly is the only ? in the backfield. I don't remember him starting ever.
I'd watch for the Cats to continue sending lots of pressure and disguised blitzes to really make Cato's day miserable. He may have done Ok in two starts, but hasn't played a team that closes the pocket like hamilton does.
Scratches - #56, Lewis OL & #36 Omara, LB
8) Yes, I agree, the early word from Bomber fans re Sears is exactly right !!
  An excellent DB when healthy, but injured most of the time   <!-- s:roll: -->:roll:<!-- s:roll: -->
I think he started against Winnipeg after Butler was injured in warmup. I don't remember him getting burned - could be wrong - and he did come up with a pick.
It looks pretty solid on both sides of the ball...I'm hoping for a 38--23 win for the Cats
Daly did indeed start against Winnipeg but it was Stephen not Butler who was the injured player in warmup. Daly wasn't on the corner though for that game,he replaced Butler at safety who was moved to WILL platooning with Harris who was a DI for that game due to the fact that Stewart had to be moved to the corner to replace the injured Stephen to balance out the ratio.
I wouldn't be to concerned about Daly being listed as the starter on the corner, my guess is that he will once again start but at safety with Butler moving to LB and the corners being Gainey on the shortside and Washington on the wideside. Looking at the depth chart I would say your starting 7 Canadians are going to be: Dyakowski-g/Filer-c/Bomden-g/sb-Fantuz on offence and on the D-side Laurent-dt/Butler-wlb/Daly-s. Your 4 DI's should be : Medlock-k/Banks-wr,kr/Ford-rb/Harris-lb and the game day scratches are probably Lewis-ot/Tracey-de (or possibly Scott-de depending on Tracy's game day status). Either way you look at it though we are razor thin in the D-Backfield and could be in a pickle if one or two of our db's goes down with an injury ala Calgary the other night with their O-Line.
I think you're right about him starting at safety - probably why I thought it was Butler who was a last minute scratch. But I do remember a few plays where he started on the outside or at half. Probably just Austin and Steinauer playing with different looks to confuse the opposition. (Confused me.)
Makes sense Bobo, thanks for posting
Injuries are a big part of the game, and every team will have their share, this is why they have huge rosters in football.
Next man up philosophy!
This is not part of the uniform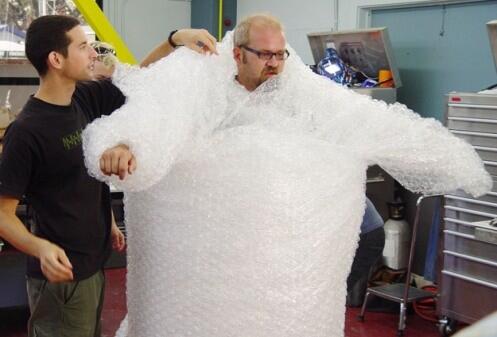 MTL depth chart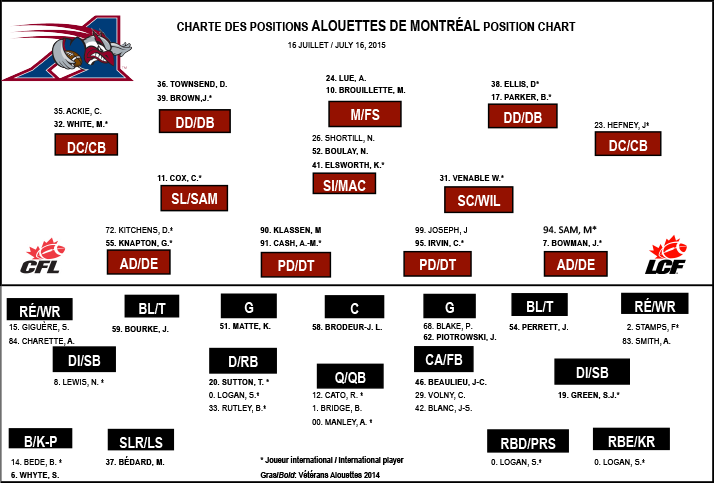 They will play in their Signature uniforms
http://cfl.uploads.mrx.ca/league/images/en/photo_gallery/2014/08/crop_20673231512.jpg
Based on the depth chart, Hamilton has 25 Int. players and 21 Nat. For this reason, the scratches can't be Lewis and Omara; yes, Lewis is a possibility but not Omara; 2 Int. have to be scratched.
Richard
Game day facts from Drew
Hamilton Tiger-Cats (1-1) at Montreal Alouettes (1-2)
Molson Stadium, Montreal
Game time: 7:30 p.m. EST
TV: TSN Radio: TSN 1150
The storyline for Montreal: After losing their top two quarterbacks and winning a game with Rakeem Cato, the Alouettes need to know whether his return to earth last week in a loss to Winnipeg was an aberration or just the reality of life with a rookie QB.
Key injuries: Quarterbacks Jonathon Crompton is on the six-game injured list while former Ticat Dan LeFevour is done for the season after both suffered shoulder injuries in the season-opener. Linebacker Bear Woods is out for the year while safety Kyries Hebert is one the six-game as well. The team added field-stretching receiver Cody Hoffman this week.
[b]Five funky Montreal stats:
Montreal leads the CFL in several defensive categories including run defence and passing touchdowns allowed (one.)

The Als two defeats have each been for a total of six points ( 20-16 to Ottawa, 25-23 to Winnipeg.)

Montreal's six turnovers have led to 26 points by their opponents, the most in the CFL. The Ticats, meanwhile, have scored a league-high 33 points off eight takeaways.

Montreal has two opening-drive touchdowns thus far this season – this rest of the CFL has one.

Montreal is one of just two teams without a two-point convert thus far this season, failing in their only attempt.
The storyline for Hamilton: The Ticats are 1-1 after a solid showing in a week one loss to the Calgary Stampeders and the butt kicking the handed Winnipeg before the bye week. They have two more away games – no team in thew modern CFL era has started with four straight on the road – before returning to the friendly confines of Tim Hortons Field.
Key injuries: Add defensive back Johnny Sears to the long list of injured Ticats that includes receiver Luke Tasker, running back C.J. Gable and defensive end Eric Norwood. Corner Courtney Stephen will miss his second straight game, forcing ratio hijinks.
Ticat roster changes (and what they mean): Donald Washington comes on to replace Sears and will likely start at boundary corner, with Ed Gainey sliding over to halfback. Finally healthy, Joel Figueroa makes his first start of the season at right tackle with Jeremy Lewis likely to be scratched and Brian Simmons moving to the one-game injured list. Defensive end Sam Scott will likely start in place of Adrian Tracy, who missed two days of practice this week while defensive tackle Mike Atkinson replaces injured safety Neil King in a swap of Canadians.
Five funky Hamilton stats:
The Hamilton offence is the most unbalanced in the CFL with just 12 per cent of their yardage coming via the run. They have rushed the ball just 32 times – only B.C. has less with 29 – and are averaging a league-low 49.5 yards per game.

The Ticats are coming off a bye and in 2014, teams coming off a week off rest went 12-6 overall. Hamilton was 1-1 last season.

Kicker Justin Medlock is a perfect seven-for-seven in one-point convert attempts and has hit all five of his field goal attempts thus far this season. Only Montreal's Boris Bede has more points (26 to 25.)

While penalties are up this season – the CFL is averaging 29.5 flags per game – the Ticats are sixth in the league with 15.5 infractions per game after leading in that category for most of last season.

Head coach Kent Austin has yet to throw a challenge flag season while around the CFL, calls are being overturned 46.7 per cent of the time thus far in 2015. Austin was successful on four of 13 challenges last season (30.7 per cent) while the league average was 33 per cent.
TSN play-by-play: Rod Black and Duane Forde

Referee: Kim Murphy

The weather forecast: Sunny, 21 degrees C, winds out of the southwest at 5 km/h.[/b]
Yeah its Thursday. Finally game day, that took forever!!
Happy Montreals getting their ass kicked day everyone :rockin: :rockin:
Ah great. We get to listen to Rod Black announce Kim Murphy' penalty calls
Actually Butler was playing the strong side, Lawrence always plays the weak side.