Here is a great Early depth chart showing strengths and weaknesses at each position
provided by Marshall Ferguson TiCats PxP guy.
Marshall FergusonVerified account ?@TSN_Marsh 10h10 hours ago
My way too early look at the 2017 #Ticats depth chart. Remaining voids, possible fixes & areas of strength #CFL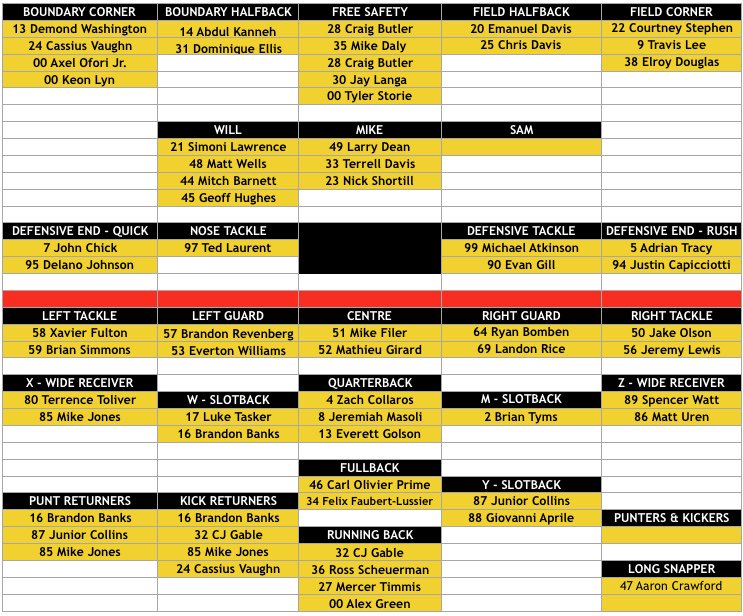 With free agency four days old I thought why not take a look at the work done by Kent Austin, Eric Tillman and the rest of the black and gold decision makers to see where the team stands and what holes are left to be filled.
The return of Craig Butler immediately makes this a completely different defence by being able to move Courtney Stephen to field corner while the recently signed halfback duo of Davis and Kanneh is arguably among the best in the CFL.
Field corner is still a bit of a question mark as all we have seen in person from Demond Washington was a couple days of training camp in 2016 before a season ending injury and SAM linebacker remains an open slot.
Linebacker Nick Shortill who was recently acquired for Fredo Plesius has the wheels to run and cover at the SAM linebacker spot but I doubt you'll see him trusted to run the all encompassing position of SAM linebacker in the Hamilton defence any time soon.
Possible internal solutions to the SAM linebacker question are Rico Murray or Keon Raymond. Both remain free agents to this point. If the Ticats go external but stay inside the CFL's free agent talent pool one option could include Argos free agent linebacker Brandon Isaac.
If the team goes external of all known CFL talent pools your guess is as good as mine.
On offence the offensive line has outstanding national depth with all six interior lineman - starters and backups - holding national status. Jake Olson should return from a knee injury which has kept him out of every game since week 13 of 2015.
Back then he was the starting left tackle but with Xavier Fulton brought in during 2016 and extended early in 2017 one would think a healthy Olson would slide to solidify the right side which struggled late in 2016.
With the loss of Chad Owens to Saskatchewan and Andy Fantuz to an ACL injury which will likely wipe his 2017 season the Ticats still have some work to do - cough Sinkfield cough - but Brian Tyms extending on Friday helps.
In the backfield quarterback in set in stone unlike the start of 2016 with Collaros still undergoing knee rehab. Felix Faubert-Lussier returns from his 5th year at Laval to push Carl Olivier Prime for the starting role at fullback and CJ Gable leads a suddenly young group of running backs following the departure of six year veteran Anthony Woodson to Calgary in free agency.
On special teams Brandon Banks is Brandon Banks and Aaron Crawford is still the steady force at long snapper but the kicking situation is completely up in the air as Brett Maher remains a free agent.
Overall I would list the teams needs as currently constituted as such,
Punter/Kicker
SAM Linebacker
A dominant Y Slotback
Backup field halfback
Defensive tackle