[url=http://www.ticats.ca/page/2014-depth-charts-game-notes-stats]http://www.ticats.ca/page/2014-depth-ch ... otes-stats[/url]
ON: DE Arnaud Gascon-Nadon & WR Terrell Sinkfield
OFF: LB David Caldwell & WR Greg Ellingson.
Love the fact that there isn't much change over anymore like the beginning of the season. My guesses for scratches for the game are: National-Neil King, and International- Manny Davis.
Go CATS Go!!
I was thinking the same thing. Starting all or most of the same players, especially on the lines, every week helps them to play better and be successful. This team has really come together in the past month!
:rockin:
scratches= import…#20-Emanuel Davis-db…Has been scratched in 5 of the last 6 games,lost starting job to R.Murray
…Canadian.#48-Kyle Miller-lb/db/ls…listed as backup l.snapper behind Crawford and 5th string at LB
These two make the most sense to me as game day scratches,they both seem like logical choices when looking at the chart.
Nadon back on roster providing depth at DE for both Hickman and Norwood as well as playing specials.
Sinkfield starts at slot for the injured Ellingson as well as listed as KR/PR along with Banks,good luck to you BC with these two speedsters back on returns.Hopefully the Cats have some packages and alignments with both these two featured in the offense at the same time.

7 Canadian starters:Offense-Fantuz,Giguere,Filer,O'Neill/Defense-Laurent,Stephen,Butler
4 DI's-Medlock,Gainey,Banks,Bowman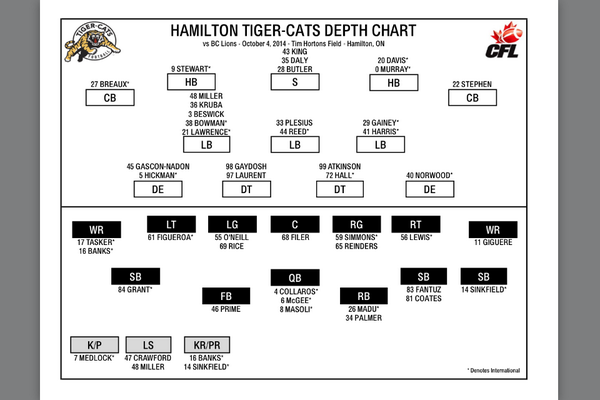 It may be Kyle Miller, but as mentioned before we dress 2 LS. One does LS for punts and the other does LS for Field Goals, Extra Points etc. Either way, whoever doesn't dress for National will not impact the game because they are both 3rd stingers or further down the depth chart
McDuffie must be on Austin's poo poo list. Why is Sinkfield starting ahead of McDuffie? The name of the game is speed, put your fasted players in space and the rest will take care of itself.
That is interesting indeed,perhaps a strategic move by Austin considering that after tomorrows game the team only has 5 more regular season games left before the playoffs. I'm wondering if maybe Austin figures that Dyakowski could hopefully be ready for the playoffs,otherwise it would make no sense to remove him from the 6 game where his salary doesn't count against the cap,if he didn't think that there might be a chance of inserting him into the lineup at some point before this season is over.
Just for the record the team currently has a whopping 19 players listed on either the 1 gm or 6 gm IL. almost enough players to makeup half a game day roster with.
1 game Injury List(8 total-1 QB/2 Cdn/5 Imp)
QB-Jacory Harris
LB-Dave Caldwell
OT-Jake Olson
OL-Carson Rockhill
OG-Pete Dyakowski
WR-Greg Ellingson
WR-Cary Koch
DE-Sam Scott
6 game Injury List(11 total-1 QB/5 Cdn/5 Imp)
QB-Dan LeFevour
LB-Beau Landry
DB-Mike Coe
RB-CJ Gable
DE-M.Fortin
OT-Marc Dile
OL-Greg Wojt
DE-Brandon Thurman
DE-Antonio Coleman
DT-Brian Bulcke
DT-Hasane Hazime
what Canadian can we start to replace Sammy G with Sinkfield?
been a tough week for me, cant wait to blow off some steam at tomorrows game. :rockin: :rockin:
I think Sinkfield=McDuffie for speed. it may come down to who is more versatile in the offence?
Sinkfield>McDuffie for size. Sinkfield>McDuffie for strength.
Agree with that assessment. Sinkfield as pointed out by another poster, is the replacement for Ellingson. Would love to see BOTH Sinkfield and Banks back to return punts/kicks but suspect only one or the other will be used at any one time as Austin will want them both playing a role on offense and won't want to rest both for a play when the O starts its drive. However I won't mind at all being wrong!
@bobo - I don't think most of the guys on the 1-game are actually injured. e.g. Jacory Harris has been on that list since signing with the team, two players who are on the depth chart are at the moment on the 1 game! Not sure that Koch is "really" injured but I could be wrong. Most of the "really" wounded are on the 6 game but it still adds up to a dozen which is high (has been high ALL season) but we know that there are capable replacements going on to the field!
@ryan - I thought that Sam had a good game in Winnipeg with some solid catches. Don't see him being replaced - he's been playing well of late.
he's been ok but if there is a way to get Banks or Sinkfield on the field and it means he sits. I say get comfortable Sammy. lets be honest the only reason hes starting is the silly ratio rule.
if we could replace Sammy we could have the below on some formations
Tasker Grant............Fantuz Banks
1 Madu and Sinkfield in backfeild
McDuffie - 5'10"-168lbs
Sinkfield - 6' - 200lbs
Where did you connect to this chart, Grover?
When I click on TEAM, then DEPTH CHARTS, the vs. BC, Palmer is not shown on the chart and his name is nowhere on the Pg. 2 roster listings. And also, on Pg. 2, Caldwell is listed as both Active and Injured.
It was posted by Drew Edwards on his twitter, I just copied.
This was from Matthew Sciantti's twitter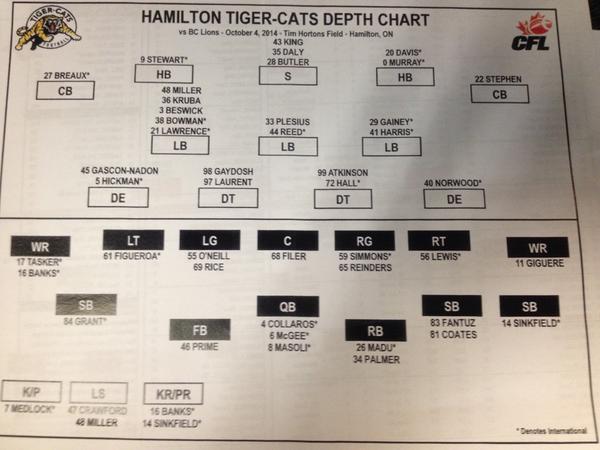 You are right, I just checked and Palmer is NOT listed.
With Palmer in it was a 47 man roster!!
Oh and by the way
Hamilton Tiger-Cats ?@Ticats 9m9 minutes ago
We'll be wearing our signature Reebok uniforms tomorrow when we take on the #BCLions. #Ticats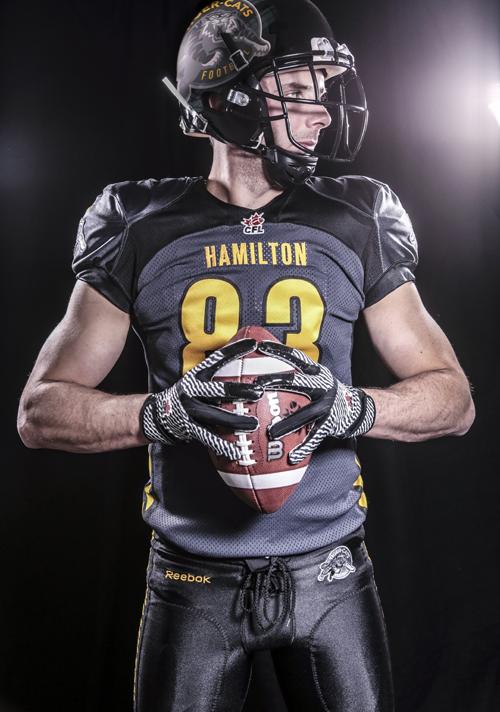 bobo....absolutely no way Miller will be a scratch. Both he and Crawford long snap during the game.
some scary shit right there