NFL Canada?Verified account
@NFLCanada
.@Saints = #Hamilton bound!
Join @MarkIngram22, @camjordan94 and @BreauxShow24 from 12-2pm ET this Saturday at @stmcss! #PLAY60Canada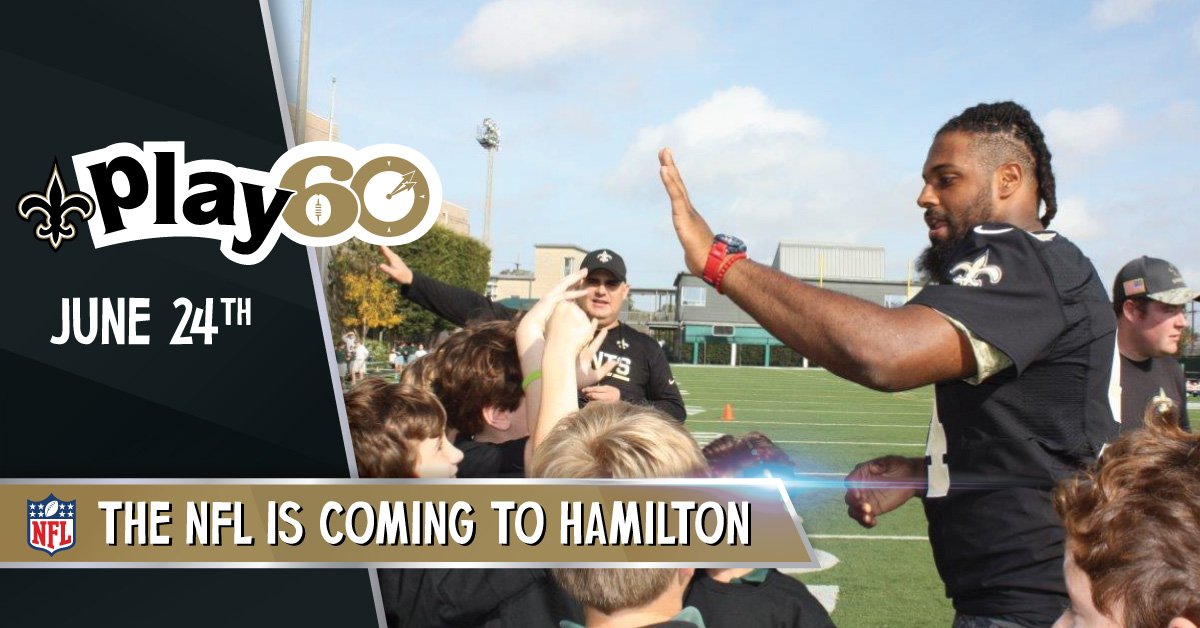 They did it last year too, part of the NFL promotion across Canada.
At least it will get kids out and interested in football.
Any time Delvin Breaux comes back to Hamilton is a good time. Although, [sarcasm] I still kinda wish he didn't make it in the NFL and was still playing for us...[/sarcasm]
Agreed, two thumbs up for Delvin!!!
If only he brought Eric Harris with him...
No sarcasm...I wish he had stayed.
Stay the hell out of my country, NFL.
So inclusive of you.
Yeah, I guess it is a bad thing for athletes from another country to come here and offer to help, for free, some kids learn about and engage in getting active. Get out is right! Ridiculous.
The point is that Canada is the CFL's turf.
All their "free help" is really doing is turning more youth in Canada away from their own professional league.
No it isn't.
and no it isn't.
Any proof that that is in fact what is happening? Didn't think so.
I don't believe that for a moment. I love and follow the CFL but I also watch some NFL. I like the fact that I can root for former players like Breaux and give me a reason to watch. I'm the kind of sports fan who needs to like a team (even Buffalo!!) to follow them.
Hence I watch all Raptor and Bluejay games. Don't really like any NHL teams so only jump on the bandwagon if the Leafs (like the end of this year) are playing.
Following or knowing about the NFL does not dimish the CFL. i think that's just paranoia.
We have a bigger issue with football disappearing in Canadian high schools or those that do play, are sometimes playing NFL rules. I don't think that this happens because the NFL is interfering somehow.
IMHO

Anyone who would ignore the CFL because a couple players came up here for a cross-promotion event, is already predisposed to ignoring the CFL
Breaux is Hamilton Proud, He knows it was his time on the TiCats that got him his opportunity with the NFL.
He still passionately follows the TiCats and his friends within the organization and is now paying it forward.
There is a reason this is being done in Hamilton and not in TOR, MTL or VAN
He is doing a huge Community service promoting sports to the youth of the City.
Only a small minded person would find fault with this.
The Saints can come marching into town any day of the week in my book . :rockin: especially my man Delvin Breaux

http://image.nola.com/home/nola-media/width620/img/tpphotos/photo/2015/12/07/19345767-mmmain.jpg
If he never made the NFL yes he would have been here but the second his contract was up he would be gone his wife HATED Hamilton
8) Well at least you're consistant in cheering for all those loser teams in Toronto !! :lol:
Never thought of it that way.

And never the Argos unless any win by them aids the Cats :rockin:
steve milton? @miltonatthespec 8m8 minutes ago
#Saints Delvin Breaux will be at #Argos game vs. #Ticats at #BMOField Sunday, sitting with Bob Young.
steve milton? @miltonatthespec 9m9 minutes ago
Delvin Breaux of the #NFL New Orleans #Saints in The Hammer today, hoping to connect with Simoni Lawrence of the #Ticats #CFL for coffee.