Sorry to hear this news. I think he was a real gentleman. I feel very fortunate to have met him.
Played before my time but heard he was one of the best.
R.I.P. Ellison

Wow sad news. Ellison Kelly came out to a football practice of mine as a kid with Bob Krouse. He was a very soft spoken man from what I recall, stayed after practice and signed autographs for us all. Even though he played long before my time I am glad I got to share one memory with a Tiger-Cats legend.
RIP Ellison.
Back in the early 70's we had him as a substitute gym teacher at Barton. I think it may have been his last year (with the blew team, no less) in the league. He was a quiet, really big man.
Definitely one of the all time greats linemen.
My brother-in-law was such a huge fan that he named his first born (daughter) Alyson Kelly.
:cry: :cry: :cry:
Sad to hear indeed, and I remember that practice you speak of like it was yesterday. It's hard to believe now that it was close to 10 years ago. I still remember Ellison and Bob giving you youngsters a little speech after practice about working hard and sticking to your goals and you and the rest of the team were in awe of the fact that these two Ti-Cat greats were there and took the time to speak to you and sign autographs for you all. I think in a way that was why I chose both Kelly and Krouse for my All-Time Ti-Cat draft team. Ellison Kelly was a class act all the way and one of the all time greats to play in the CFL. He will most definitely be missed but thank you for leaving me and my son with such a great memory.
R.I.P Ellison KELLY


Very Nice Man sorry to see him pass
Sorry to hear this. I've never met him, but he was a neighbour of my mom's. For some reason the mailman kept delivering his mail to her house, so she would have to go down to his house and deliver it to him. She had nothing but nice things to say about him.
RIP and condolences to the family
RIP Mr Kelly
Some very interesting stats on Ellison Kelly
He played 13 seasons from 1960 to 1972 and never missed a game.
He played in 175 consecutive games, some of those both ways, as mostly guard or some tackle on the OL and sometimes as a DE or LB on defense.
Wow, a very similar story, we were playing baseball at Glendale (Glen Echo) park when Ellison came over to say hello and sign autographs. We were amazed that a former Ticat would do that! Forever in my memory from 40 years ago. RIP Mr. Kelly
Condolences to the family...and his former team mates.
Ellison Kelly is one of several reasons (including teen-age nostalgia) that I chose mr62cats as my log-in name.
He was part of the greatest roster the Tiger-Cats ever had.
My 2 sports loves are the TiCats and golf. I've placed two golf flags in the backyard to remind me that springs do arrive here. I was saddened to read that #54 had passed away this week but when I glanced out the dining room window, the yellow flag was at half staff. There are no footprints in the snow, around the flag, so I can only assume that some old Cat fans who have crossed over, were showing their respect to one of the best Olinemen we ever had. Rest in peace, Ellison Kelly.
Pat Lynch (the old guy)
Good picture. I remember Ellison Kelly well playing for both the Argos and then the Ti-Cats. He became one of those Naturalized Canadians that was allowed back then.
I think I can almost name every one in the picture. Looks like Joe Zugar, Willie Beathea and Tommy Grant in the back row. Chet Mikza, Bill Danychuk, Ellison Kelly and Tommy Joe Coffey in the front.
Number 77 in the picture might be Hal Patterson and not Tommy Joe Coffey. I believe they both wore #77.
This photo was taken in "65" Tommy Joe Coffey didn't join the team until 2 years later in "67". Coffey wore jersey #75 and was never #77. The #77 in the photo is indeed Hal Patterson. Also you are mistaken Chet Mitzka for another Ti-Cat great #44 Gene Cepetelli. The photo that Grover posted is actually a cropped version of the Cats starting Offence for the "65" Grey Cup Champions. Ironically as you see there was a #75 in the picture but it wasn't Tommy Joe.
Here is the full sized original photo,which shows #75-Stan Crisson,#60-Bronco Nagurski,#52-Chuck Walton,#44-Gene Cepetelli
#63-Bill Danychuk,#54-Ellison Kelly,#77-Hal Patterson,#24-Dick Cohee,#37-Mel Anthony,#9-Joe Zuger,#16-Willie Bethea,#18-Tommy Grant.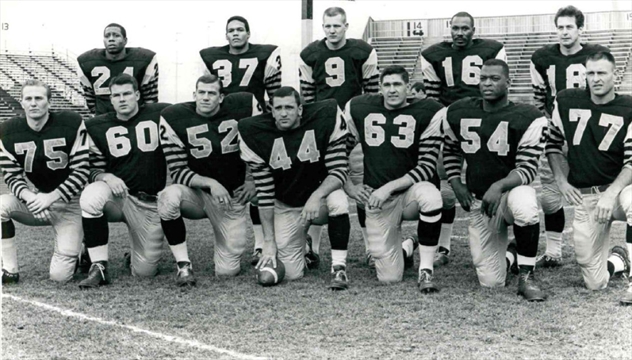 8) Number "44", is Gene Ceppetelli, not Chet Mikza.
  Ceppetelli still attends the annual Ticat Alumni dinner each year, and loves talking about those great  old days of 
  TiCat football  !!

  Number "77"  is indeed Hal Patterson.    Tommy Joe Coffey  always wore Number 75 as a Ticat !!