Sask @ Hamilton (Ticats win)
BC. @ Ottawa (Ottawa wins)
Winnipeg @ Toronto (Toronto wins)
Montreal @ Calgary (Calgary wins)
Roughriders at Tiger-Cats
Blue Bombers at Argonauts
Lions at REDBLACKS
Alouettes at Stampeders
same
I am actually pretty stoked about the first 3...they seem like pretty good matchups right now. I would expect a hurtin in the final one.
no interest in Calgary. equal interest in the other 3
expect home team sweep
If you look at the standings after week 5,
It shows that after CGY, (who are where they are supposed to be)
Every team is capable of beating the other team.
Or is that every other team is capable of beating themselves? :o
No matter which way we look at it, We have a certain amount of parity in the League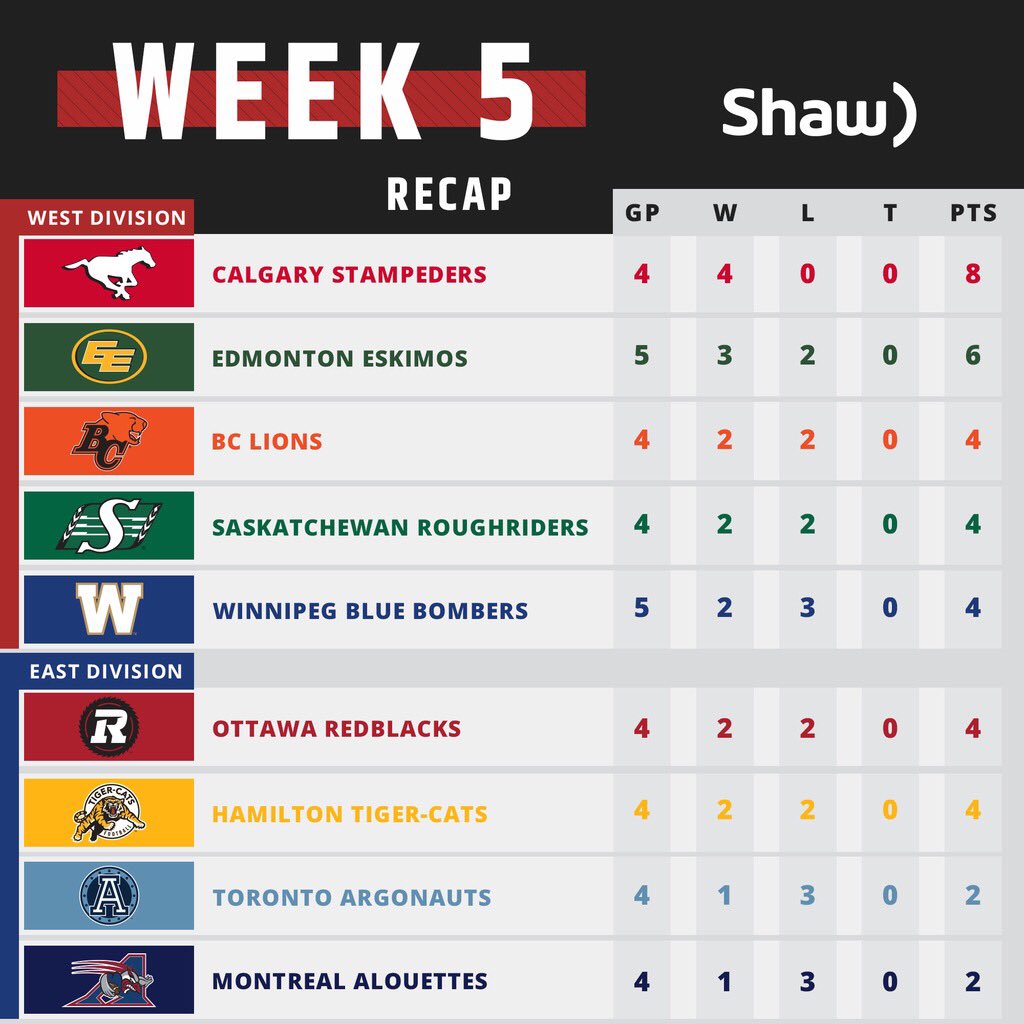 The MTL @ Calgary game should be interesting! Do the Stamps win by 40 or 50 points?

Do you really think it will be that close?
...BLM is apparently a game-day decision and he didn't take any reps at practice so chances are Arbuckle starts.....not a whole lot of experience for him, but not a lot of tape on him either so maybe this might be closer than we think...
...my bet, the Stamps D scores as many points as the Stamps O, and Montreal isn't as bad as everyone thinks they'll be...
Actually, with Bo potentially not playing it could be a different ballgame. Montreal's D seems to be playing better and better, they just need their O to sustain some drive...even if they can not do that, a Bo-less Stamps team might level that.
Johnny is an optimist!

Looking at the Eskies with the Lions and Riders just one win below them, it's not hard to imagine a different picture within the next two weeks.
looking too far ahead I know