Rod Gilbert a.k.a. Mr. Ranger passed away late last week. Born in Montréal, Gilbert joined New York Rangers' farm team Guelph Biltmore Mad Hatters in the OHA Jr. A League for the 1957-58 season. His career almost never went beyond the junior ranks though as in his final year with Guelph he slipped on some debris that had been thrown onto the ice and broke a vertebra leaving him temporarily paralyzed. The efforts of the doctors repairing the damage went awry somehow causing hemorrhaging in his leg and they thought they might have to amputate. Thankfully Gilbert fully recovered and joined the New York Rangers for the 1961-62 playoffs and was a regular in 1962-63 season scoring 11 goals and notching 20 assists. He did though have to undergo a second spinal fusion operation in the 1965-66 season.
Rod Gilbert played right wing on a line with center Jean Ratelle and left winger Vic Hadfield which became known as the Goal-A-Game or GAG line. He was named to the NHL Second All Star Team for the 1967-68 season and the First All-Star Team for the 1971-72 season. He retired after the 1977-78 season with the lifetime New York Ranger records for both goals scored (406) and points (1021) and still holds those records today.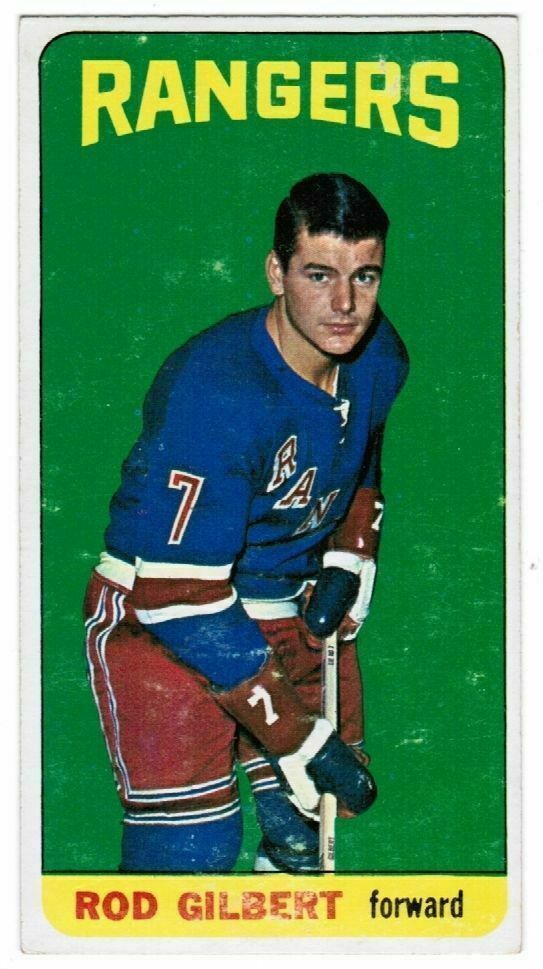 His #7 was retired by the New York Rangers on 14 October 1979. It was the first time the Rangers ever retired a number. He was inducted into the Hockey Hall of Fame in 1982.
Rod Gilbert was enormously popular with New York sports fans and hockey fans in general because he was always giving of his time. Gilbert was one of the ten athletes featured in Andy Warhol's 1979 Athlete Series of paintings.
He rejoined the Rangers organization in August 1989 as director of special projects and community relations representative.
One of The WOMAN's very favourites and my own as well. He'll be missed by many.