Is the middle one a retro inspired? I like what they did putting the stripes on the base layer sleeves, I hope we get to see some players wear that.
I'm kinda sad to see the grey/black one go, thought it looked really cool. I don't mind the home, the only real difference is the pointy stripe. I thought the current home was perfect, but I can see what they're doing with a modern "tiger-stripy" look. Better than actual tiger stripes. I think they need to keep the white outline around the gold numbers though.
All in all, not bad for a changeup. I might even buy one :thup:
Nice, yellow helmet though like Steelers colours in the NFL, a gold helmet would be more like Saints colours!
GO CATS GO!!!
Whats the source here, have a very sneaky suspision these are just fan concepts not an official leak. If Adidas does do a massive overhaul, which I really hope they don't but if they do then I feel it'd be a lot bigger news and probably release info for all the teams in one day then roll out the new uniforms over time, but it'd be a huge announcement.
If I somehow did miss this news Id love the link to check it out.
I like them. I really like the 2nd one.. if I was to put them in order id say
2 3 1
definitely buy the second jersey
I Like the second one best as well .
Those arm and helmet stripes suck IMO. I like the middle one as well
Middle one is the best by far. Closest to the classic era of the 60s-80s.
Classics don't change much. That's the point. You can diddle around with gimmicky new uniforms if you want to or feel you need to, but to me all it really does is show you're a bit desperate. Teams like the Packers, Cowboys, Yankees, etc don't change theirs at all. The Leafs are talking about a new look; the Habs aren't. What does that tell you?
I think we've got this one figured out.
for what it's worth, not a fan of any of them.
not enough stripes.
Tapered helmet stripe is a no no.
Stylized shoulder stripes are also a terrible idea far to 'new aged' for a team that's almost 150 years old.
I do like;
Helmet numbers (perhaps on one side only a la 'signature uni's')
I like the uniforms that were introduced in 2012 and was hoping that there would be no change with the switch to Adidas as the "supplier". These show minimal change and I like them. I do notice NO black pants shown but I suppose they will have both black and white options. If this is just a fan concept and there is no change I will be entirely happy but if this is indeed the "official" new look, I won't have any complaints either. Main difference seems to be the re-introduction of the stripe on the helmet.
I like all the uniform designs, but not all the helmet changes.
I don't like the numbers on the gold helmet. Put the old leaping tiger on the gold one.
Get rid of the pointed stripe on the helmet and make sure the tiger is facing forward on both sides. Looking at the players left side, the tiger is backwards.
No. 2. But keep the logo on the helmet instead of numbers.
This looks too photo-shopped, too template driven and too paint bucket looking to be real. Having a colored body and black and white face? Seems odd, to market them like that. Also, kind of odd to have a stadium light background, yet not have the uniforms and helmet reflect the light? I mean, it's not like Addias has top of the line artists who do this kind of thing for a living right? Yeah...thus I highly suspect fan concept.
As far as how they look?
The All-Black one is terrible. White trim is a must on the numbers, and stripes not slashes are the way to go. Also, golden lightening bolt sleeves are tacky and generally not part of uni's in this day. It's one more thing a player can grab at during a tackle, and can reduce friction on the ball when wet far more then skin, leading to more fumbles. Good helmet stripe though, but the Tiger on the logo always leaps forward! It looks absurd leaping backwards, which makes me think fan concept more.
The 60's tribute one. Better, but still pretty bad. Once again, no number trim on the numbers makes it look ugly, and far too much gold in the sleeves which aren't part of today's uni. The Circle logo is generally not used in uni's because it reduces the size of the Tiger needlessly. Also it is leaping the wrong way on one side. Helmet is ok, clear throwback to the 60s. It's like a lazy mans 60's retro, which was done far better back in 2008 I think?
The Away Jersey. Pretty much a bastardized copy of the current away jersey (which I do like as it is the inverse of the actual 60's jersey) with those ugly slash sleeves, the decent striped helmet, and those dumb sleeves. The trim on the numbers is right, but once again, Tiger leaping backwards.
Also to add to this, generic short socks and the same pants for each jersey? Yeah...not really digging that. Don't mind the gloves though.
Of course, this is all mute, even if I did find them appealing, the Grey Blob is on the collar, and that's enough for me to say nay nay as far as a potential purchase.
As far as Uni's go. I would love the see the Ti-Cats keep their away jersey, add some white where the leaper tiger sleeve are on the current home jersey and that's it. Stick to the best designed jersey's of all time. If you want to fiddle, do it on a 3rd jersey (of which I'm rootin' for a Hamilton Tigers Retro)
So, I had some spare time and decided to do some fiddling. This is what I would love to see the league do one year. An original uniform retro.
http://i402.photobucket.com/albums/pp105/City_of_Doors/TigerRetro_zpsglpmcd99.jpg
Uniform is from here (That's Brian Timmis for those who remember to Soccer Field that once bore his name)
http://209.15.208.71/~cfhof/wp-content/uploads/2013/08/brian_timmis.jpg
and this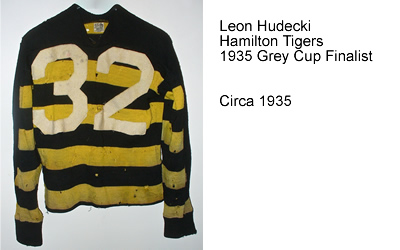 Helmet logo is from here
http://www.heritagetrust.on.ca/CorporateSite/media/oht/Sports%20snapshots/Hamilton-Tigers-HPL.jpg?width=750&height=417&ext=.jpg
and this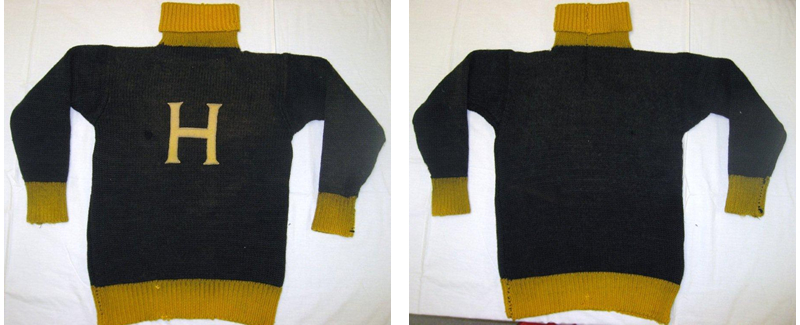 Hammer, that is awesome. I'd love to see that too, as a special occasions alternative to the classic 60s-80s look.
The changes in the past decade have mostly been gimmicky efforts to boost merchandise sales. If they come up with something new, whatever it is it will only be a few years before they change it again, and again, etc.
I'm a pretty new fan so I'm not up on all the uniform changes and when, but IMO the current home jerseys are VERY nice. Simple, bold, gorgeous. I personally wouldn't change them at all.
Ahmen Johnny,
Only change I would make is widening the sleeve stripes a pinch and having them cover the whole sleeve, not jus the bottom third. Don't really need the tiger on the jersey but it's almost splitting hairs at that point.
No white pants! Whew.

I will go with the middle one, but we need to get the old cat back, the one that at least mean.