Looks like Acklin is shaping up to be a very special receiver . I sure hope through some kind of freak he doesn't end up playing for Ottawa. >:(
Sammy Maudlin was awesome!
We didn't hear much, this week, regarding what line-up changes we might expect for Labour Day.
Tucker will be added, in place of J. Marshall. Mathews was reported back practising, earlier in the week, so he's likely in, taking Palmer out, and Mauldin, I expect, will be added with Tracy out for the year. Any other changes will be, at least to me, surprises.
I don't think Nick Shortill is dressing and it looks like he will be replaced by Lukas Korol who played in the season opener. Will know for sure later on today.
You're right on that, pope.
But, there is a big surprise – Cam Marshall on the 6-Game Injured List.
The extra addition to the Active Roster is INT 6'4" WR Justin Sumpter, who'll play his first pro game.
Man, we are hurting at RB! STE, C.Marshall, Maleek Irons all on the 6 game :o
With Masoli and Tasker out also, I guess we have to do it with defense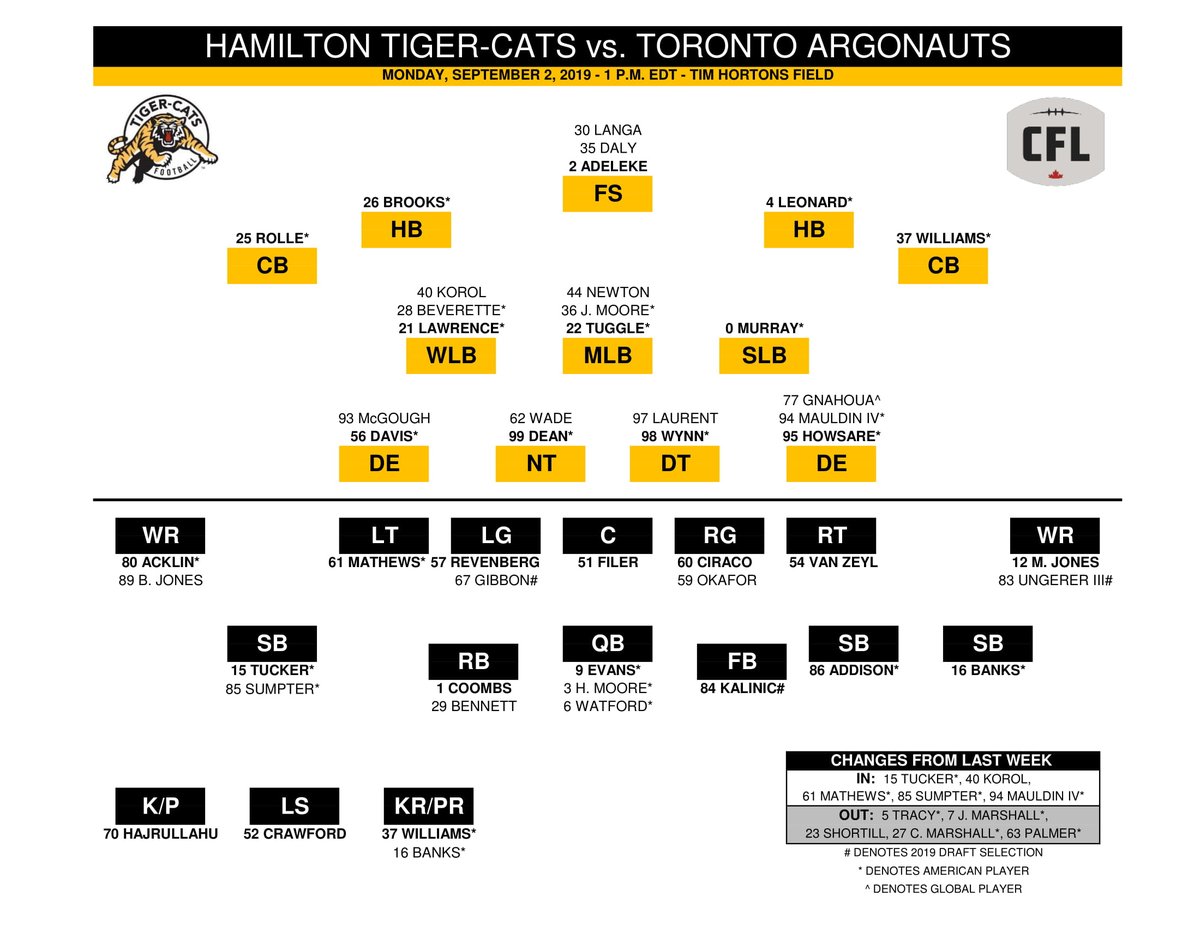 It would be good to have some size out there in a big target to throw to in Justin Sumpter at 6'4" wearing #85 for the Cats on the Active Roster?
Highlight Reel: https://youtu.be/M2IQF0JhkTU
WR Justin Sumpter #15 Kennesaw State, looks pretty good, not crazy about the music on the highlight reel, but looks good.
GO CATS GO!!!
Welcome to Hamilton, CM. Maybe no one told you, but this is what happens to Tiger-Cats. Completely fine at the end of one game, and yet somehow seriously injured before the start of the next.
As much as I didn't enjoy seeing STE injured by that cheap shot in Montreal, it was still reassuring to know that at least one of our players' injuries in 2019 came from actual contact during an actual game. Instead of the turf, or non-contact practices, or warm-up drills, etc.
Three players who started, for the Argos, in Moncton last weekend are now on their 6-Game Injured List – LT Cage, RB Burks, and DB Fogg. Cleyon Laing will be at LT tomorrow, Wilder will be their RB, and Rob Woodson moves up to starter in the defensive backfied. Here's their chart for Labour Day:
Seems to be a bite light in the running game.

Does anyone know the extent of Cam Marshall's injury?
Something very strange going on here. He looked fine at yesterday's practice. Maybe he "slipped" and injured himself on the way to the locker room once practice ended or maybe even a fight in the parking lot.
Pool cue over the head at Kelseys ?
Last decent healthy RB for the Ticats…
Avon Colbourne?
Time to give Alex Green a call?
What about Nic Grigsby?
Pool cue over the head…lol.
Any team with even the slightest amount of good scouting can get a serviceable RB . No worries.