Liz is my Aunt's mother. Seeing the request is for "fun celebratory dress", I'll be wearing my #21 Simoni Lawrence jersey to her funeral.

Always a sad day when a Cats fan passes…RIP…my condolences
Very sad. RIP and my condolences to her loved ones.
Liz was an avid Ticat fan and a good person.
She'll be missed. RIP
I never had the pleasure of meeting this true Lady who undoubtedly Loved her family, enjoyed her life and just being herself became the TiCats Number 1 Fan.
To Her family and friends my deep condolences, to not only TiCat fans but all CFL fans, remember Her as a true CFL fan.
May She Rest In Peace.
a classy gesture by the TiCat organization. it was very much appreciated by the family the they would do this for her.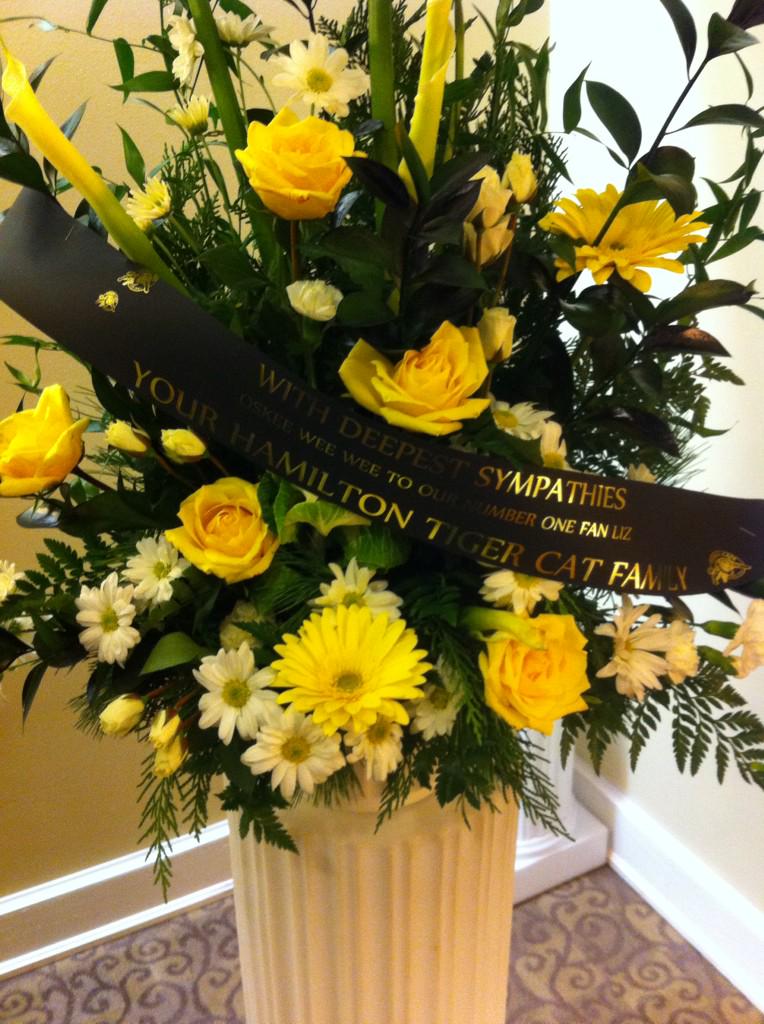 #1 Fan indeed! :lol:
Rest in Peace m'Lady.
RIP Liz. I know you'll continue to cheer on the Ticats in spirit!
and one last thing, thank you to Pigskin Pete for being at the funeral to send off Liz with one final Oskee Wee Wee.
i love this TiCat organization.
a great followup article in the Spec
http://www.thespec.com/news-story/5263332-obituary-one-final-oskee-wee-wee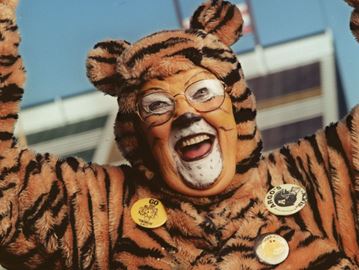 OBITUARY: One final Oskee Wee Wee Hamilton's 'Tiger-Cat lady' remembered for her zest for life, adventurous spirit

Hamilton Spectator
By Dave Churchill
It was unlike any funeral ever seen in Hamilton.

Mourners dressed in anything from pyjamas to Mexican ponchos, a funeral director in a lavender-coloured suit and fur coat, a surprise visit from Pigskin Pete and one final emotional Oskee Wee Wee for Tiger-Cat superfan Liz Gerdel.

Gerdel, who died earlier this month at the age of 83, was even buried in the Tiger-Cat costume she was best known for.

"Mom would have loved it," said daughter Kim Dick. "That's how she wanted to be buried and that's how she was buried."

It was so amazing when Pigskin Pete walked in. I broke down.

Linda Britt

Daughter

After 40 years of cheering on the Cats from the front row of Ivor Wynne Stadium wearing her homemade Tiger-Cat suit complete with makeup, Gerdel wouldn't have wanted it any other way.

She had been a loyal Tiger-Cat fan since the 1972 Grey Cup winning season and even as her health was failing, the woman known as the "Tiger-Cat lady" to many even managed to convince her doctors at the Juravinski hospital to let her go home to watch the Grey Cup in November.

"She kept telling them at the hospital that she had to get out of there to watch the Grey Cup," said daughter Linda Britt.

While Gerdel was best known for the Tiger-Cat costume she wore to home games, her family remembers a woman with a zest for life who was always ready for a party.

"Mom believed in four 'high holidays,'" said Linda. "Christmas, Easter, Thanksgiving and Halloween, although not necessarily in that order."

The home she lived in for 57 years on West 31st Street was decorated for every occasion. She would get husband Ivar to rig up some speakers outdoors so they could broadcast Christmas carols or spooky Halloween music to the neighbourhood.

For Halloween, she had a collection of more than 200 costumes stored in the basement.

"Halloween was a national holiday," said daughter Kim. "She had the best costumes and her costumes would even win prizes like TVs."

She was also known for wearing her costumes to her job in the records department at Mohawk College; a bunny suit for Halloween or a leprechaun outfit for St. Patrick's Day.

Gerdel was also known for her long association with St. Andrew's United Church. She was a longtime member of a knitting group there and helped establish the first co-op preschool in Canada at the church in 1958.

Daughter Linda was among the very first children at Peter Pan Co-operative Preschool. Linda remembers neighbourhood kids piling into packed station wagons for the ride to the preschool, with each parent taking a turn driving. There were no seat belts in those days and no limit on how many children could fit in a car.

"At the time it was unheard of," said Linda. "People didn't like the idea, three- and four year olds at preschool when they should be at home with their mothers. They thought, 'What kind of mothers are these?'"

Husband Ivar recalls Liz was full of laughter and always looking for the next adventure. One summer years ago she convinced him to help restore an old log cabin built by the RCMP on the corner of Queenston Road and Parkdale Avenue. The grand reopening included then mayor Vic Copps, a much-younger radio personality named Bob Bratina and members of the RCMP. The restored cabin has since been moved to Westfield Heritage Village.

"She was the boss and that's what she wanted," said Ivar. "It was a long time ago, but how could I forget? We spent the whole summer on that cabin."

The celebration of her life held at St. Andrew's Church — including some family and friends in pyjamas and comfortable sweatshirts — was a fitting tribute, the family said.

"She wanted people to come as they are," said Kim. "That's the way she lived and that's the way she went out."

Funeral director Ian McKechnie of Cresmount Funeral Home's Fennell Chapel wore a lavender suit and fur coat.

"I don't get a lot of chances to wear my lavender outfit," McKechnie said. "But it was a wonderful service. There were a lot of laughs and a lot of tears."

The perfect ending was one last emotional Oskee Wee Wee led by a surprise visit from Tiger-Cat booster Pigskin Pete, aka Dan Black.

"We had no idea," said Linda. "It was so amazing when Pigskin Pete walked in. I broke down."