[url=http://www.ottawasun.com/2015/11/18/redblacks-maurice-price-were-going-to-win-sunday]http://www.ottawasun.com/2015/11/18/red ... win-sunday[/url]
Guess we shouldn't bother showing up. :roll:
I would be worried if he said they were gonna lose.
If you asked any of the Ticats players they'd probably say the same thing - they're going to win. Of course they'd be classier in their comments and maybe more subtle, but any player going into a big game NEEDS to think that his team is going to win or he shouldn't be there.
I will say that he sound like they are the team that DESERVES to win suggesting an air of entitlement simply because they have improved greatly from last season and won the division. Sure they might win but it doesn't mean that they will! That's why they play the game!
Hmmm....
I feel as though someone said something very similar before last years East Division Final.
While the online story is accompanied by a photo of Price running with the ball, the hard copy, full page story in the Ottawa Sun
is, appropriately I'd say, presented around a large, close-up photo of the prognosticator missing a pass, as he has quite often done this season. It was likely taken at yesterday's practice and I'm guessing that the reporter has been contacted this morning about his choice of photo to accompany the article, resulting in a picture switch online. I attempted, unsuccessfully, to scan the photo to share with you here. I'd have to say it's Price-less and he has likely been well ribbed, over it, in the locker room today.
I bet the Ticat players would have said it differently. Of course, each team feels they're going to win. I agree with you that it sounds like he thinks they deserve to win.
Now more bulletin board material from quitter Chris Williams.
Drew EdwardsVerified account ?@scratchingpost 4m4 minutes ago
Former #Ticats WR @cwillkl80: "It's the East Final so it's special. But the fact that it's Hamilton is definitely a nice little boost."
just how many drops did CW80 have against us?! half dozen or so?
From Drew Edwards
[b]This is the second straight season an opposing player has promised a victory before facing the Ticats with a Grey Cup berth on the line. Montreal receiver Duron Carter did the same thing before the 2014 East Final before falling to the Ticats 44-24.
Boundary halfback Brandon Stewart said it's difficult for one player to dominate a game, which makes individual guarantees difficult to fulfill.
"I don't care what [Price] has to say. Unless he plans on catching every single pass… He's plays the receiver furthest from the ball so I don't expect to see him too much,? Stewart said. "He can talk, he's confident in his team. They got a bye week, they're feeling good. Still have to play the game. We can talk after.
"It's not about me, it's about we.?[/b] :rockin: :rockin: :rockin:
DB the DB shut Carter down so bad he was having a meltdown on the sidelines, and of course our fans we sympathetic bwahahaha
Man, these guys are all talk,
Maybe they will learn that the playoffs are won on the field, not the media
This is the Latest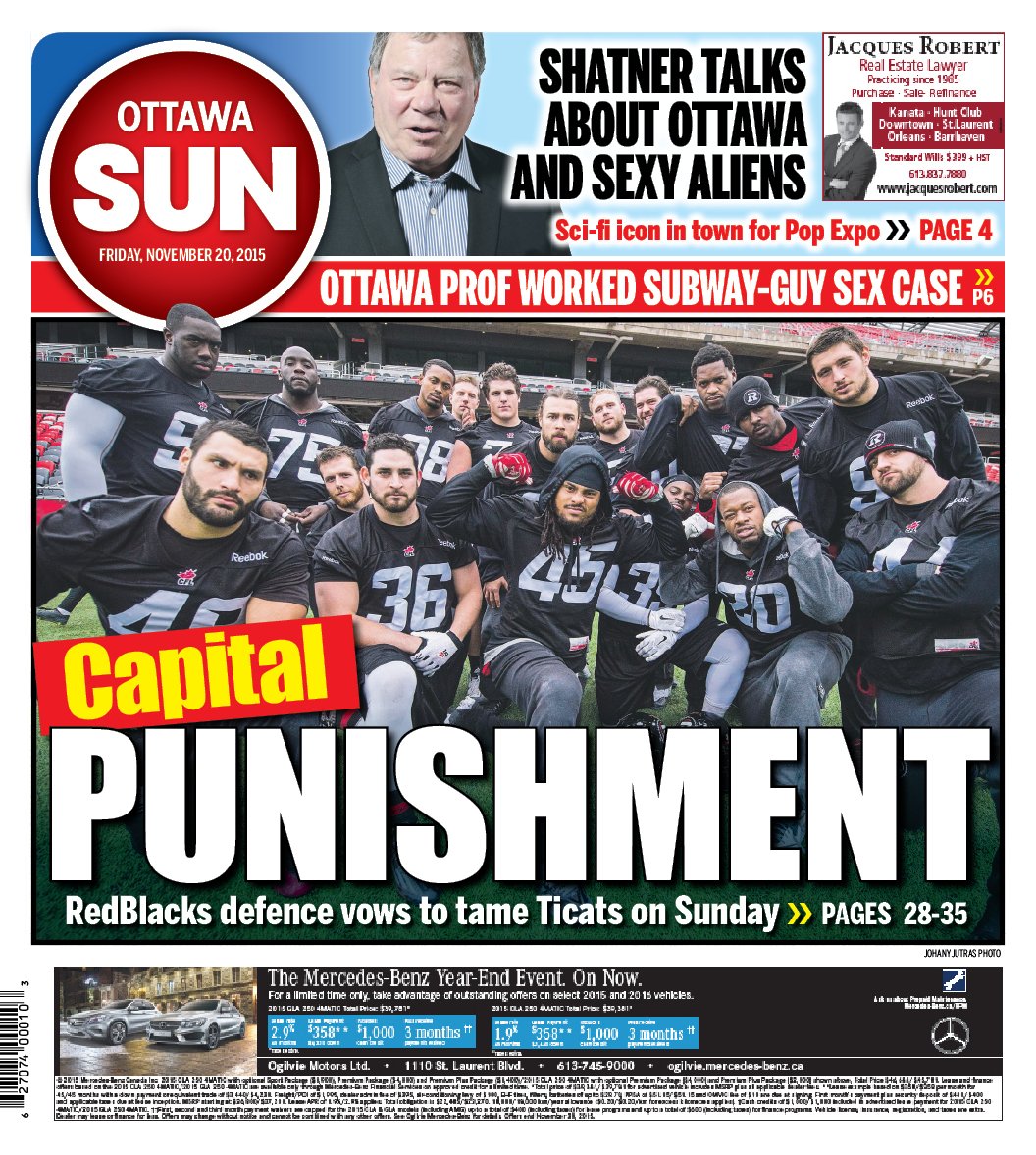 how about posting the shatner story. It looks more interesting

RIGHT!!! I still remember how terrible he was in the 2011 EDF that the Ticats played in Winnipeg. Of course it was cold and I think it might have been wet. When we really needed CW to step up and make plays, he was totally ineffective! Couldn't even "catch a cold"! :oops: :roll:
I just wonder how many times he thinks he should "stick it" to the team that gave him an opportunity to actually play! :roll:
This guys a clown, he's the one and only ex Cat I really dislike
I liked CW as a Ticat but lost respect for him when he chose to weasel out of his contract. Guess he still thinks he was hard-done-by in spite of the fact that he got his way although he sure didn't play at all in 2013 and didn't see the field much last season either. He's had a good year as a receiver but was ineffective in the return game when he was used, which was rarely.
7 pages of coverage in the Sun? Wow!
Must be a slow news day in the nation's capital with Trudeau out of the country!