Mike Kelly (yes, THAT Mike Kelly) a candidate for the Stamps' staff:
[url=http://www.sportsnet.ca/football/cfl/2010/12/16/lefko_on_cfl/]http://www.sportsnet.ca/football/cfl/20 ... ko_on_cfl/[/url]
.......Maybe he'll be a better db coach than a hc....Bauer must be pulling some strings in cowtown for his ol buddy...I hope it works out :lol: :lol: :lol:
YOU GOT TO BE KIDDING ME !!
WHAT A JOKE !!
I love the CFL, but this makes it look bad !
...please, please, please Huf hire Mike Gibson....
Mike Kelly was a public relations nightmare as a HC but there were never any problems when he was an assistant on other teams. As someone at another forum suggested, if Tillman can get a second chance then why shouldn't Kelly.
+1
Let him spend a few years as a position coach, then maybe work his way into a coordinator job if he demonstrates he's capable of playing nice with the other kids. No reason the man should be barred from making a living just because he's a wingnut.
is he allowed in Canada? I thought his charges stuck.
People aren't saying he shouldn't get a second chance because of his assault charge (which the article mentions was dropped in exchange for him taking anger management classes); people are saying he shouldn't get a second chance because he's an incompetent toolbag.
whereas tilman is a competent toolbag
As a head coach. But there have never been any problems reported when he was an assistant coach. Plenty of coaches have been toolbags as HCs but weren't as assistants. Difference with Kelly and those other coaches is the Winnipeg media didn't roast them.
Oh my

Toolbag, hehe
Yeah this whole argument that just because a guy failed at something he should never again be allowed to be anywhere near that type of job is a pretty ridiculous. People can and do change. Many coaches have had little success with some teams only to bloom under other circumstances.
And for all that Kelly was a nutter, his record as HC is still better than the current Bomber HC.
Seriously though, did his assault charge not stick? If so, he won't be allowed to reside in Canada.
...I wonder if he'll be bringing all of his 'tools' with him.....As you can see they are quite considerable :thup: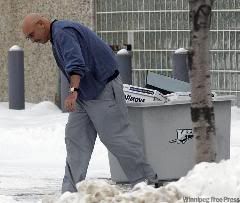 Read the article. It says the charges were dropped because he agreed to take anger management.
Would I refuse to hire Mike Kelly because he once had an assault charge that was dropped? No.
Do I believe that most people are entitled to a second chance? Yes.
Would I refuse to hire Mike Kelly because the press in Winnipeg was pretty rough on him? No.
Would I refuse to hire Mike Kelly because he brought most of that negative press on himself? No.
Would I refuse to hire Mike Kelly because he's a loose cannon? No.
Would I refuse to hire MIke Kelly in any capacity whatsoever related to the offence (be it as offensive coordinator, receivers coach, running backs coach, QB coach, whatever), given the kind of offence he installed in Winnipeg in 2009? YES, a thousand times YES !!
Agreed. Although Kelly brought a lot upon himself, I've said it before and I'll repeat it, he's not that bad of a coach.
The bombers were better coached in 2009 than 2010 in my opinion. The fact one team was in playoff contention in the second last week of the season and the other finished with 4 wins and a bucket load of excuses. Kelly is a good coach and a good quote. He accepted the fact he was wrong in his head coaching experience in Winnipeg and apologized. I'd give him a look.
Kelly is an outspoken guy, tried waaaaay too hard in peg , who happens to be a good coach. The fans there follow the media negativism to the nth. Lynch mob mentality. I hope he is back. Winnipeg does not like/deserve him and buried him. But if you know players who have played for him over the years the lineup is long of supporters. Doug Brown and his sanctimonious rantings are in the minority. He loves the CFL, and belongs here. Hire him, no question.