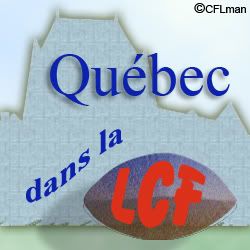 Message de CFLman à tous les supporteurs de la LCF (see English version)
Nous recherchons des amateurs de la LCF prêts à soutenir l'arrivée d'une équipe dans la ville de Québec. C'est une ville très touristique. Elle sera très sensible à l'opinion de futurs visiteurs. Nous aimerions également demander aux médias pour une meilleure couverture de NOTRE football. Il serait bénéfique pour tous les amateurs de la LCF canadiens, américains, européens et d'autres continents de se regrouper pour d'autres démarches éventuelles.
Nom
Ville
Province/État
Pays
Parlez-vous ?
Français
Anglais
Les deux langues
[ e-mail removed ]
CFLman message to all CFL fans
We are looking for CFL fans willing to support the arrival of a CFL team in Quebec. Quebec City is a tourist city. It will be very sensitive to the opinions from outsiders. We would like also to make request to the media for a better coverage of our football the CFL. It would be beneficial in the long term for the Canadians, US and Europeans or other foreigners CFL fans to group for future action.
Name
City
Province / State
Country
Language
French
English
Both
[ e-mail removed ]