49-36 for us. Need I say any more? :rockin:
This Labour Day Classic may actually be referred to as a classic. But if fans of this team rewatch this game, they may skip the first half. Turning it over four times in that first half was costly, leading to Toronto getting 24 points off those turnovers. But this team does have experience in coming back from being down by 20 or more points. I would have preferred to not see this team have to play catch-up like that, because they don't always catch up. But that time they did, and got the win, so I'm happy.
Zach had a great game, aside from that one INT. Eight different players caught passes from him, so he had some help from his teammates. As for that other QB in this game, that former teammate of Zach was having his way. But getting some pressure on Ray led to him making mistakes, including the pair of INTs he threw.
And what about Gable? Great to see him get utilized more and show why he showed be utilized more.
Some thought this game would be a blowout for this Ticat team. That's what it would have been if this team played as well as it did in the second half throughout the game. If they can prevent mistakes like the ones that happened in the first half from happening, then they won't have to make these big comebacks to win.
But I'll just enjoy this win for now.
Just happy right now, don't have much to say that game took a lot out of me lol My one thought after the game is that Collaros is unbelievable, so happy we have a QB of his calibre. Love the rest the boys too, kisses for everybody :cowboy:
Apparently, the old record for LDC was 84 total points. New record tonight with 85.
Great start, horrible breakdown, great finish. How do we eliminate that middle part?
Random thoughts:
It's not often you can spot a team 24 points on turnovers in the first half and still have a chance to win. Is there any way we could just start all games in the third quarter from now on? Or better yet, just play one big fourth quarter. We have now shut out our opponents six times in the fourth quarter.

I thought the refs had too much influence on the game tonight, with borderline calls benefitting each team and having a major impact at key points in the game. I think we came out ahead, which means I won't lose as much sleep over it, but I'd still like to see them keep more flags in their pockets.

Collaros is now third in the league with 14 TD passes (only 3 behind the co-leaders who've played 10 games each), despite playing in only 4 games. He is averaging 3.5 TDs per game, and no other QB is even averaging 2. Only five times this season has any QB thrown for 4 TDs or more in a game, and two of those belong to Zach. He is on pace for over 4,500 yards and 42 TDs in 2016 - and that's in the actual 12 games he will play, not extrapolating for an imaginary season in which he played all 18 game.

The team really does seem to be responding to Zach's return. There's no way Masoli could ever lead us on a comeback from 20 points down.
(That was a joke. He already did, of course.)
Something needs to be done about special teams. Twice tonight we had the wrong number of players on the field, and one of them ended up costing us a TD. And two games in a row with a blocked punt!

Gable was on fire. You knew he was back to 2013 form when he tried to hurdle a guy. As the TSN crew was fond of pointing out, however, Argos losing their MLB to injury early in the game was a factor. (And no, this doesn't necessarily mean he should get 15-20 carries a game - most games he gets shut down, but this time it was actually working so the coaches kept coming back to it.)

Seems like the D-line is the strength of our defence. Tracy in particular inflicted damage on Ricki who was showing signs of pain in the fourth quarter. That easy pick by Stephen in the end zone would have been a TD to a wide-open Durie if not for Tracy's hit on Ray.
Still work to do in the defensive backfield. But E. Davis' pick-6 sure did take the last bit of wind out of the Argos' sails. We were already up by 3 at the time with momentum clearly on our side, but his score clinched it for us.
A nicely balanced receiving corps takes turns dazzling us with impressive catches. The "Big Four" of Tasker, Fantuz, Owens and Toliver all had 5+ catches, all caught one in the end zone (Andy's was a convert), and BTW, all are on pace for 1,000 yards this season (though somehow I suspect that wouldn't impress people as much as when Ottawa did it, given that I haven't heard anyone mention it yet). Banks also had a TD and was used successfully as a decoy late in the game.

Every time we have one of these roller coaster games, it feels like the team must have finally learned its lesson, gotten the mistakes out of its system, and can actually start the next game the way it finished this one. It feels like that again this time …
OK. I'll be the first fan to suggest it. Cassius Vaughn should be cut. Gurley beat him many times tonight.
Counterarguments: Gurley is a top CFL receiver, it was Vaughn's first start, he will get better.
Discuss.
Lol man just couldn't be happy ...you're right though Vaughan got lit up tonight, I give him a pass on the first one Gurley made a fantastic catch and clowned him afterwards which made it look worse, but the second one was embarrassing he got played for a sucker. The d-backfield is definitely the weak link I don't know what the solution is but Ellis, C. Davis, Sermons and Vaughan leave a lot to be desired, Stephens and ED can't do everything themselves.
Does anyone know anything about Demond Washington's injury, it is like he has vanished into thin air after his injury never to be spoken of again, I was pumped when they signed him his services would be a huge boost right now but I have a feeling he is done for the year.
Vaughn and Chris Davis both had problems, Davis weak a$$ tackling don't cut either yet but keep looking.
Reinbold went from best special teams coach to probably the worst this year since signing his contract wtf.
Tasker, Owens and Tuz are beasts but this team desperately needs speed on the field just having banks on the field gave everyone more room to work with. Forget Coates and Watt figure out a way to add a speed guy out there at WR every play.
Collaros is really just the most fun qb to watch. Same with Gable he needs the ball a lot more now.
Stadium sounded loud on TV and looked packed loved it but I kinda needed a big "ejected players" kinda fight on the field to give it the full Labour day feel. Those always get the "Argos suck" chant next level crazy loud.
Most of my thoughts have been covered other than the good job the OL displayed in opening holes for Gable and protecting Zac. I can only recall a couple of ocassions where Zac was rushed or sacked. One was a blown assignment by Gable. Lateral kick returns by Banks put the team in poor field position several times again. Gable hung on to the ball, i.e. no fumbles. I think Maher is taking too long getting rid of the ball. His two step release is very slow. Yep, it is on him, not the blocking.
As CFL fans not guys who will come back with ARGOS SUCK please answer me this question. How is that not a penalty on Ricky Ray in his end zone after he tosses the ball. He's grabbed, forced back, tossed down and landed on. He doesn't have the ball. The official is three feet away. The review sides with the official. If that was against Collaros the joint would have rioted. After that hit ray was showing obvious signs of pain on every close up.
Then Milo doesn't challenge an obvious catch as Spencer caught the ball six inches off the ground. The officials should have seen that. Next play it's game over. I called the Argos to get crushed and basically they did in the second half but some very questionable calls helped in the loss.
On the argo site which I can no longer go on too many guys think Ray is done. Ray looks far from done as he was dropping balls in and rocketing others in. Ray didn't lose the game for TO.
Hamilton will begin to pull away and TO and Montreal will be out due to the crossover. Another loss at BMO comes on Sunday.
There were a few questionable calls going both way. (Horse collar early in the game along the sidelines) For once Milo was out coached and not at the top of his game with his review calls. Lose the IPad and watch the game. I was surprised that we did not get a more experienced head ref for this game. Not complaining that it was not Proulx or the Garden Gnome. LOL
[quote="TeddyFay For once Milo was out coached and not at the top of his game with his review calls. Lose the IPad and watch the game. I was surprised that we did not get a more experienced head ref for this game.
[/quote]
He is ALWAYS outcoached, and yes, lose the tablet and watch the friggin' actual game! Spock Milanovich sucks big! :twisted:
Ballard Cup again!!!! :rockin:
Hamilton Tiger-CatsVerified account ?@Ticats 45m45 minutes ago
With last night's W, the #Ticats have won the Ballard Trophy (season series) vs. #Argos 7 out of the last 9 years.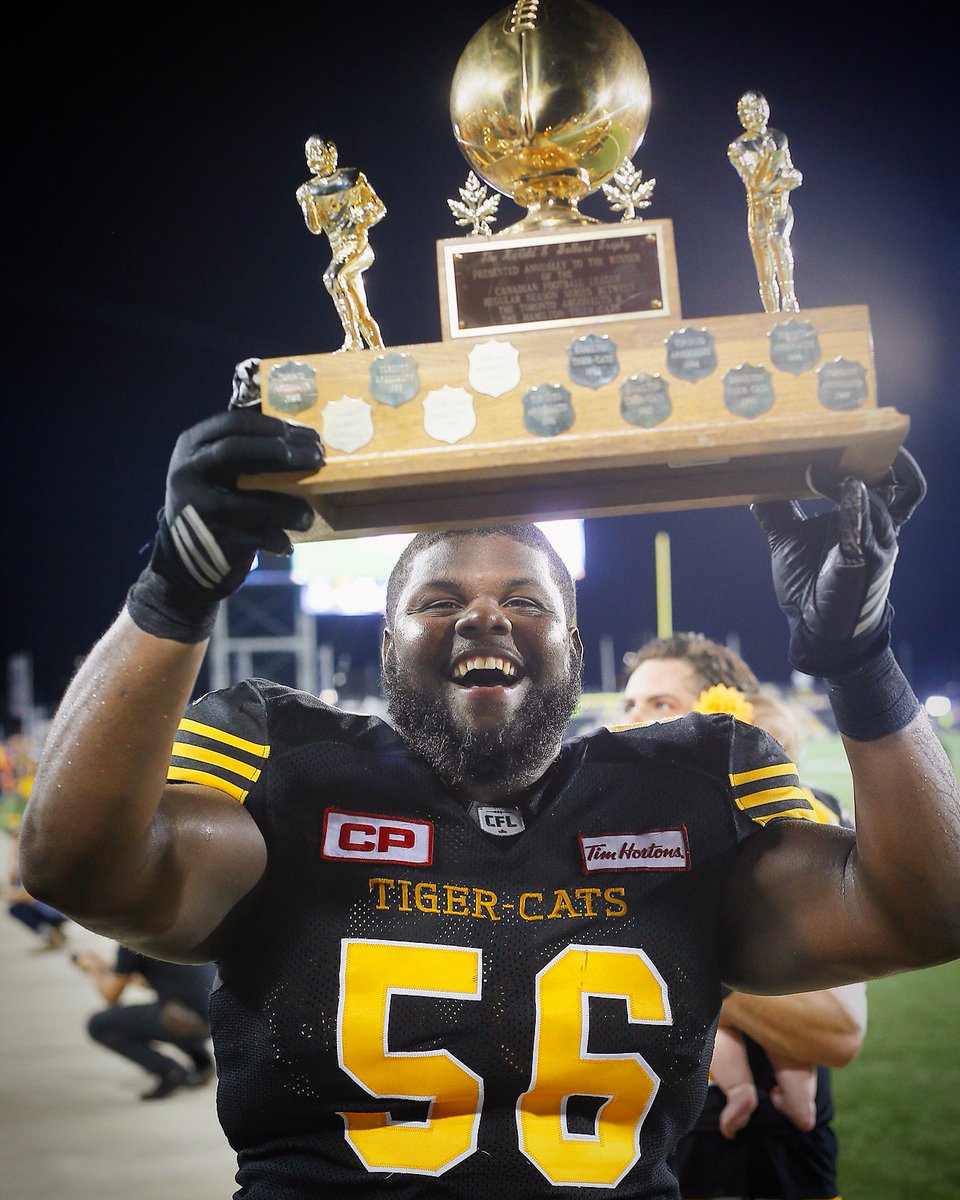 Spencer's was a catch for 5 yards, the ref missed it, called it incomplete, it was a missed call.
There was no roughing the passer on that tackle, Ray was tackled clean, at the waist, not high and not low, he was still in his throwing motion and running out of the tackle box, with the ref watching very closely and in perfect position, the review confirmed his non call, both the head ref and the control center agreed it was not a penalty.
Really, If you are going to complain about a call, it should be the illegal block that was 50 yards away on the opposite side of the field that took away that TD.

I think you need to be introduced to the concept in professional sports that the referees just will not catch every penalty, sadly, even the obvious ones. And yes, Hamilton and the other seven teams in this league suffer this same problem as well.
The sack that I saw was clean. Others thought so too. Being an argo supporter, I just knew you wouldn't agree with it.
You also need to grasp that if Ray (or any other visiting quarterback) gets sacked legally or otherwise he just won't get much sympathy at Tim Hortons field. Yes, if his situation happened to Zach (heaven forbid) there would be a major uprising in the stands and throughout the city. Rightfully so. Zach Collaros is OUR leader.
It is the job of the defence, besides defending to inflict pain on the opposition, quarterbacks preferably.
The radio commentators in Hamilton did talk of Milanovich not challenging the catch. Sorry, but I didn't see it as that obvious. Whether it gets challenged or not is up to the head coach, usually. Perhaps, at that time, he decided to wait to use the flag later. As a Tiger Cat fan, I thought it was a most prudent decision. Did I mention that his declining to challenge was good for my team?
Personally, I think Ray should have been replaced with either Harris or Collaros. Barker not doing so, made your team poorer, while enriching Hamilton and Ottawa. You only need to look at the current standings to see the proof. Those of the previous 3 years as well.
How the remainder of the season goes is yet to be determined. Injuries, game play and other teams will all be factors. I can't and won't estimate how it will end.
I will be nervous meantime.
CJ Gable was outstanding!
12 carries for 135 yrds and 3 catches for 28 yrds for 163 total yrds offence
What was most impressive was his yards after first contact, he was power running, gaining those crucial extra yards after contact.
Gable was a force to be reckoned with, IMHO his best game, It's been a long time coming.
Totally agree, Grover. C J had a most excellent game.
I heard that Toronto was missing their MLB last night. But, when you can afford to sit Hall, then your front can't be suffering that much.
I've been an admirer of this player since he got to Hamilton. He does all three phases of his game very effectively.
I wish they would use him more as an offensive weapon.
I would be remiss if kudo's were not given to Tasker, the guy is flat out incredible game after game after game.
Although we shouldn't, I think we just take him for granted, he is so consistent.
5 receptions for 122 yrds with 1 TD, that is a 24.4 yrd average per catch with his longest at 39 yrds! :thup:
Another positive this week:
The Cats, cut their number of penalties in half, compared to their last game with just 7 for 65 yds. -- their second least penalized outing of the year.