HAMILTON TIGER-CATS SIGN AUSTIN TO CONTRACT EXTENSION
[b]The Hamilton Tiger-Cats announced Tuesday that Vice-President of Football Operations, General Manager and Head Coach Kent Austin has been signed to a contract extension. Terms of the agreement were not disclosed.
"Kent Austin has done an outstanding job in every way since he joined the organization. He's one of the brightest minds in professional football and we're thrilled that he has made such a serious commitment to the Tiger-Cats, the City of Hamilton and our incredible fans,? said Scott Mitchell, Chief Executive Officer of the Tiger-Cats. "Coach Austin has assembled a tremendous group of coaches, personnel staff and players, and while the results thus far speak for themselves, we all feel very strongly that the best is yet to come. This is a great day for everybody associated with the Hamilton Tiger-Cats.?[/b]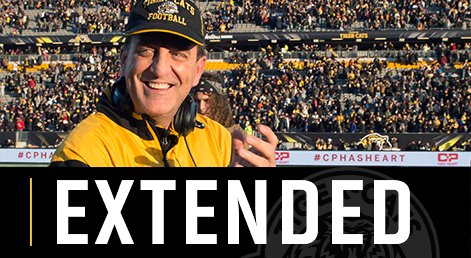 FROM KENT AUSTIN
"I'm very grateful to Bob Young, Scott Mitchell and our entire organization for this extension and believing in our vision for this team,? said Austin in a press release. "A great foundation has been built the past few seasons, and we'll continue to develop our program to ensure the opportunity for not only short-term but sustained success. Simply put, it's easy to wake up excited every day when you work with such tremendous individuals who share the common goal of just being the best.?
Drew EdwardsVerified account ?@scratchingpost 9m9 minutes ago
Austin was in last year of his contract so getting him signed to 4-yr extension gives #Ticats stability at most important position: boss.
CFL News ?@CFL_News 1m1 minute ago
.@garylawless has learned that Austin turned down some NFL position coaching jobs and plenty of offers at NCAA level. #CFL #Ticats