This may have been the funniest thing I've seen on this site in a while.
...whole lotta smoke, no fire...what was the point of the whole thing again?
...maybe DC has a 72 hour limit before he starts getting DTs from no-media activity...
This isn't on Carter....He did nothing that mentioned the team or being off of it on Twitter. Media ran with their imaginations.
The media making things up? No! Say it ain't so Joe!
Well....there was truth...there wss a bit of heat there and some scrappin...bur by all accounts it wss a pretty minor deal. This kind of thing happens at practice almost weekly somewhere around the league.. .this one just blew up
And a Sportsnet reporter failed to check his facts before reporting? Blasphemy!
Well who really cares. None issue. Trouble happens once in a while on all teams.
But more with showoff players who know most everything.
Cheers
Oh there were plenty licking their chops because it was the Riders / Jones. Who would have guessed that it was all BS when of the 3 players supposedly getting cut that one was not even there and one was trying to stop things from escalating and one started it standing up for a teammate...odd. This became a story because Madani and others lick their chops if it is green...the clown is still professing that the Riders intended to give all of these guys their papers today...he got mega burned.
Totally Agree with you. Like down south it was pointed out the media NEEDS stories.
They get paid by response. So you jump on someone to create havick.
Almost total false info. This is the new wave.
Sportsnet=CNN=FAKE NEWS!!!
Scuffles like this are not out of the ordinary with pro sports teams as Naylor was saying on TSN so it doesn't surprise me that this was blown out of proportion by someone in the media to try and create a "story". I only watch Sportscentre for my sports news and don't have a clue about Sportsnet so I'd have to hear about this second hand as I did here.
And I just saw on the news this at a Chicago Bulls practice. This stuff happens more than we think I'd say.
from "he is being cut" by the media to Jones stating he is starting as both Corner (likely rotating with Bouka) and WR...4 or 5 out in the secondary

https://pbs.twimg.com/profile_images/872879842089254912/LLkiC2RI_bigger.jpg
Marshall Ferguson?Verified account
[ltr]@TSN_Marsh[/ltr]

Leaked #Riders depth chart for tomorrow night vs. Calgary. #RiderPride #GoStampsGo#CFL #CFLGameday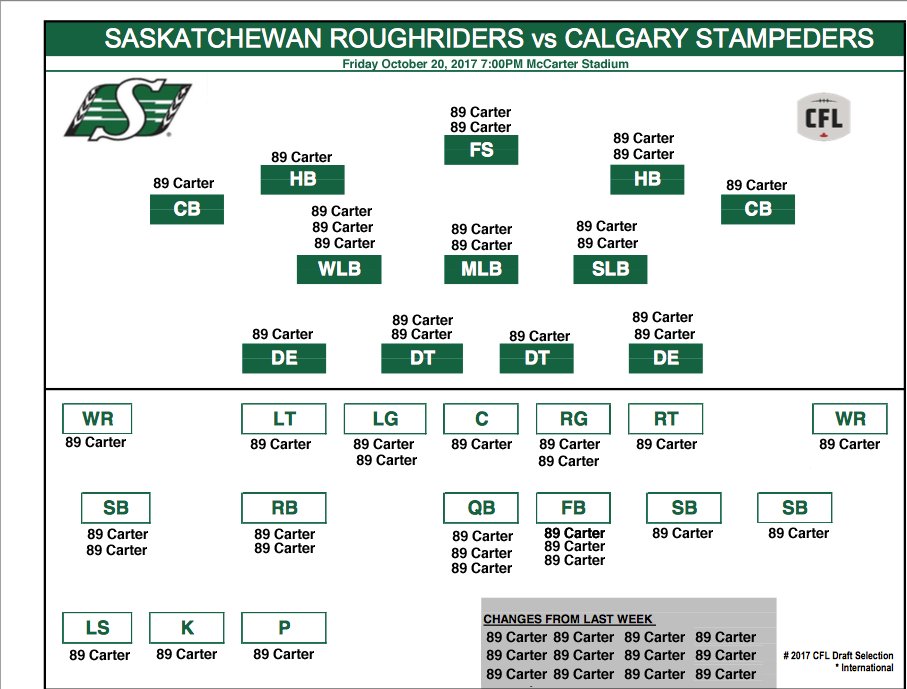 Seems pretty desperate to me.
I heard that Carter was also being placed on the 6 Game and 1 game injury list. That is also while he has been activated from the Practice Roster. ???
...that depth chart is false, fake...the team from Saskatchewan is the Carters, not the Roughriders...
Really? I thought they were the Rough Riders.