...images are now enabled again....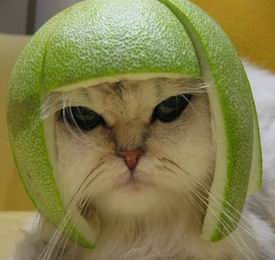 ....you may resume posting pictures of cats with melons on their heads.....
...only pictures of cats with melons on their heads though....other pictures (Anthony hugging the cup, Danny M. looking confused, MIke Kelly punching someone, etc.) will be caught by the filterbot...sorry, just cats and melons for now...
Red, I didn't know your cat was a Roughriders fan... What's that about?
Watch what you say guys about cats, me and the wife have 6 of them and we love them. Goes well with our favourite CFL team of course!

A cat with a melon on his/her head though is sacrilege. Time to phone the SPCA folks.

anyone got one of melon with a cat on its head???
Love it ! Thanks, been waiting a while for this

http://s3.funtasticface.com/saves/09/12/11/17fa37d9cb151226cb.jpg
Yea! We're a real forum now!
:thup:
I have 4 tabbies (no coincidence

) a rabbit and fish

I'd like to see you put an orange peel over your head.. you could go with a pumpkin..
I'd need many oranges to get enough peel to cover my head.
I challenge Lions fans and Riders fans to post pictures of their cats with orange peels and watermellons on their heads! The first person to do so will win the honour of becoming Mike Kelley's press secretary!

here in BC we have way too much respect for our cats to subject them to that 8)
As I have no desire to visit the hospital to get stitches, I regretfully decline your invitation to put a Hat on My Cat.
NO HAT ON MY CAT
Not in red, Not in green.
Not as an adult, and not as a teen.
I will not put a hat on my cat.
I will not be as silly as that.
And if I put my cat in a rind
My wifey would think it an act most unkind.
No cat in my house will cover his head.
No, never, not even for this fine thread.
Clothing and hats are against my cat's creed
And if I force it, he will surely make me bleed. :twisted:
rind isn't even a word. :cowboy: :cowboy: :cowboy: :cowboy: :cowboy: :cowboy:
Did you mean "bind"...but this stupid site would not let you edit? What's up with that anyways?
Stupid if you ask me for my two cents.
No he means rind.
Rind: a usually hard or tough outer layer : peel, crust
They ain't much for cats if you've got 4 of them and STILL have a rabbit and fish......
...or that's one big rabbit and one smart fish...
Or maybe he got the cats from Charlie Taafe.
At least this is a better thread the the expansion threads...... :roll: :roll: :roll:
I'D PREFER TO SEE MORE OF A DIFFERENT KIND OF MELONS ON HERE , (NOT GONNA HAPPEN )

AS FOR THE CATS ........... CATS ARE AWSOME........ WITH FRIES , BAKED POTATOES , A BIT OF GARLIC ,,, GRAVY & ALL THE FIXIN'S YUMMMMMMMMMMM