Taking the rivalry for a test drive in this, the first of four meetings between now and Labour Day.
I predict Ottawa wins by 400 points!
Final score will be Ottawa 403 - Montreal 3.
I don't No about that. Montreal 16 Ottawa 12. Shoot out at the corral!!!!!!!!!
Didier Orméjuste
@DidierRDS
Drew Willy sera le quart partant demain soir à Ottawa. / Drew Willy will get the start at QB tomorrow in Ottawa.#Alouettes@LCFca@CFL
8:27 AM - 30 May 2018
Here is OTT depth chart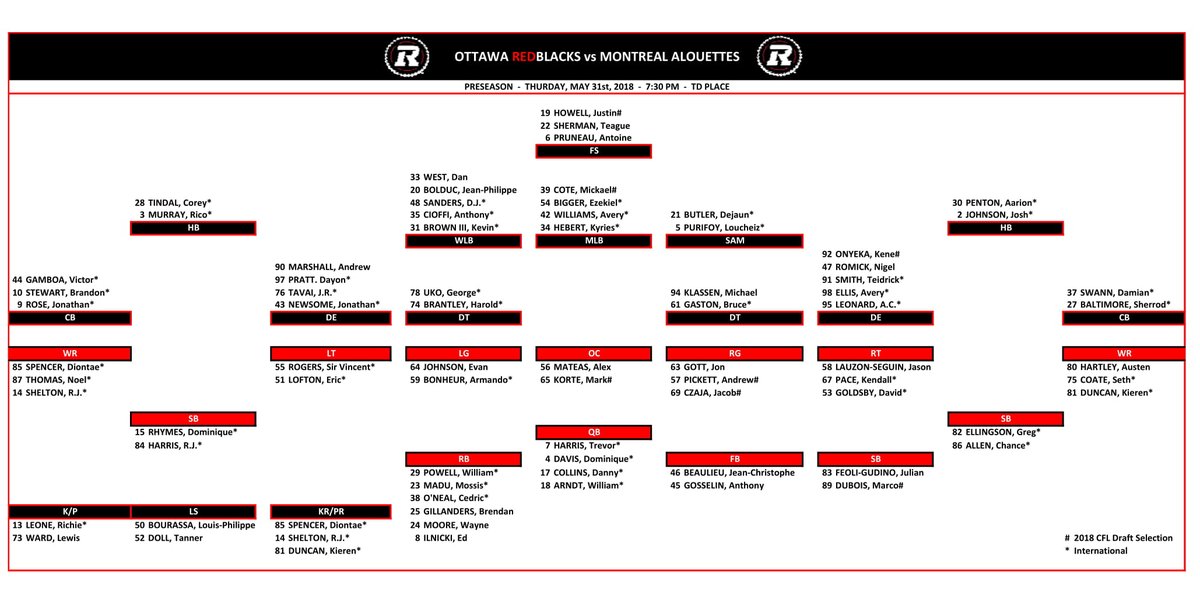 ORB - 5084
Mon - -3
In all seriousness... if the Als bring mostly rookies, it's going to be a long day for them.
The last time a bad team sent mostly rookies to play against a good team with vets was very ugly. It was in 2013 when Winnipeg played in Hamilton (Guelph) in the preseason, and Hamilton won 52-0.
I think it will be a similar night for the Als rookies.
OHHHHHHHHH!!!!!!!!
Everyone is ganging up on the Als! The Als will lose 190404049404 to 0, bla bla bla!
Anyway, Johnny doesn't care about wins or losses for pre season games. What Johnny is hoping for, is that Drew Willy proves he should not be the starter at QB, and Shiltz gets the job.
...you guys have a QB named Shiltz? ooooo, that is one degree away from having forum potential...
Even funnier when it comes from a fan of a team that missed the playoffs and was just as awful.
The 2017 Ticats? Awful as they were... they still won twice the games the Als did, and after an 0-8 start. Hamilton went 6-4 under June Jones. It may take Mike Sherman 5 seasons to win 6 games.
The 2017 games between the Als and Ticats make it pretty obvious who has a better team, and on top of that the QB situation in Montreal is even worse this year. It's going to be a looooong year for you guys.
2017 Als/Ticats games:
Hamilton @ Montreal Oct. 22 - 43-16 Hamilton
Montreal @ Hamilton Nov. 3 - 33-0 Hamilton
Those are pretty big losses for you guys... and to an "awful" team.
And if Shiltz proves he also shouldn't be the starter?
Willy looked good in relief in Sask, and early in his time as a starter in Winnipeg also. Since then though he has been sub-par on his best day.
Well then it's next man up. . .Pipkin or Fugate.
You mean the same Shiltz who lost 33-0 to the "awful" Ticats last season?

Good tackle by Richie Leone the punter .
Could have gotten hurt but still a good hit otherwise .
Davis looks sharp replacing the injured Harris .
Harris is injured. It's not suspected to be serious, but it's still scary.
Also... did the Als fire their equipment manager? They don't even have logos on their helmets!
I think they r using it as a promo . I think they r going to use the old red wing helmets in June , the 70 logo in July , the 74 logo in August and then back to present the rest of the way .
They r not putting wings on the helmets unless you make the team in the regular season game .
They have a vid on there site talking about it . Promotional thingy .
They're trying out the Cleveland Browns look...... ;D
They r doing a good job tonight with that look but they need to get a Qb that played for them to complete the deal .
Where can they find a guy who played for Cleveland ? hmm .....