Jones, Campbell named finalists for AGF Coach of the Year
http://cfl.uploads.mrx.ca/league/images/en/general/2015/11/crop_21873173640.jpg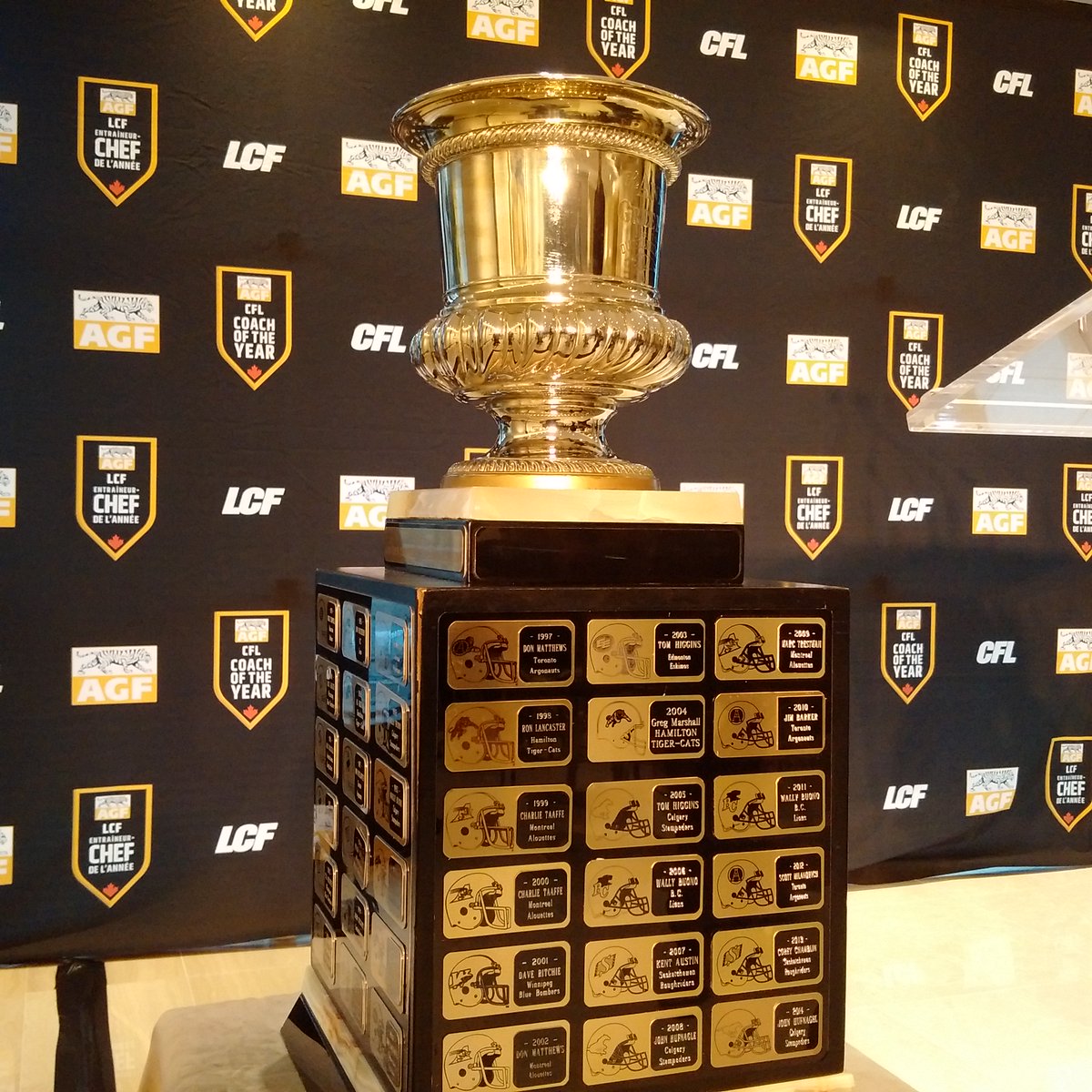 Don't see any other choices this year other than Huf. No one else in the east deserves even a mention; Austin's Cats have imploded since losing Collaros , going 2-4 and losing 1st place; Millanovich has no control over his undisciplined Argos who are lucky to be in the playoffs the way they have tried to throw some games away with their erratic play; and Popp, well let's just say I'm surprised he will be their HC next season, kiss the playoffs goodbye Als fans.
In the west there is Jones and Huf. Both are equally deserving I feel so you know they will go with Jones because of the slight improvement in record and first place finish.
I would go with Campbell though. He has done more with Ottawa than he should have done. Playoffs, yes. First place, absolutely not. Sure, it likely wouldn't have happened if not for the injury to Collaros, however he took advantage of the opportunity when no one else in the east did.
My feelings are that Rick Campbell wins, he took a 2 - 14 team last year to 12 - 6 and first in the east this year. Jones team was 12-6 last year and 14 - 4 and first in the west. Improving a team by 10 wins and first place is much more deserving than an improvement of 2 wins and a one place improvement in the standings.
I don't have a problem with the selections, but the default choice seems to be to go with the top teams? I remember last year this was true as well.
I'd pick Jones over Campbell though, and I dislike Jones as a person. Since Jones went to Edmonton, they've been a top tier team. I credit less to Campbell for the RBs turnaround, and place more credit to OC Maas and the verteran players on their offense. I mean, without the talent they have now, Campbell coached that team to a 2-16 record. Yes they were a weaker bunch of players, but a COY coach should be able to at least get a few more wins than that...
The way I see it, there's an upper group of coaches: Huf, Austin, Milanovic, Jones... and then everyone else. Based on his coaching career, I'm not ready to put Campbell in that discussion just yet.
My nominee for the East this year would've been Milanovic. Without a home most of the year (being 'kicked out'), their star QB out all season (though Harris was a great replacement), a lot of new rookies especially at receiver... I think the Argos did great. They shocked me, I expected them to finish no more than 6-12. I didn't think they'd make the playoffs. Yes their team is undisciplined, and I guess that'd be the only negative to that nomination.
Compare Milanovic and the Argos to Campbell and the RedBlacks... The RedBlacks were the only Eastern team with their starting QB healthy all year, they picked up good veteran receivers (don't know if Campbell or their GM is responsible for this), had a lot of returning players and not many injuries, and a little bonus having an extra home game courtesy of the Argos.
If we're going solely by the success of the team, then yes they deserve it because they both finished first, but a lot more than coaching factors into the teams record. I'd probably put Campbell at 2 in the East, maybe tied with Austin. It's definitely a close race between all 3, so they probably picked Campbell because they won the East.
My feelings are that Rick Campbell wins, he took a 2 - [i]16[/i] team last year to 12 - 6 and first in the east this year. Jones team was 12-6 last year and 14 - 4 and first in the west. Improving a team by 10 wins and first place is much more deserving than an improvement of 2 wins and a one place improvement in the standings.
But Campbell also coached that team when they were 2-16. If he had inherited it from another coach, maybe I'd have more respect for what he's done. I feel it's only partially because of growth as a coach, but mostly the healthy QB, improving defense, and new receivers.
I say ottawa's success is more the result of Desjardins and Maas.
That said, I don't see anyone other than Campbell being awarded COTY just because of the 10-win differential from last year even if it's not his doing. The voters probably will look at nothing but the turn around when casting their ballots.
Disagree. The way Harris performed the Argos should have won the east. Instead they are the most undisciplined team in the league, 5th in offense, 7th on defense and STs that add nothing to the team. With the numbers this team has they are lucky to be in the playoffs at all. The lack of a home field is an excuse and nothing more. The Argos have been terrible at Skydump under Millanovich and good on the road, but not this year, especially down the stretch when it mattered losing to Calgary and Montreal. The Als game especially embarassing since the offense couldn't score a single point (Montreal conceded a saftey for their only points in the game).
I don't pick Campbell because of the worst to first, I pick Campbell because the Eskimos are a good football team that deserves its record while Ottawa should not be 12-6. Look closely at their record and it is apparent the 12-6 is a lot of smoke and mirrors. However, they did take advantage of every opportunity to get a win, every opponent who was hurting and compiled a better record than they should have.
Chris Jones, who refuses to shake hands with opposing coaches at the end of the game and keeps his players from participating in the National Anthem is nominated as Coach of the year.

:roll:
I guess being a prick isn't part of the criteria
no, but the FRC voting members will not granting any extra points to Jones for his disdain of sportsmanship and gentlemanly conduct.
I don't think there has been an easier choice in a long time. Rick Campbell and Burris are locked for their respective awards.
I definitely prefer this format to the one where 3 coaches were nominated and 1 was chosen in mid-February. Now, there is 1 from the East and 1 from the West and the winner will be known during Grey Cup week, along with players awards.
I definitely expect Campbell to be the winner.
Richard
I swear many here do not watch games outside of [i]THEIR[/ teams.
Jones now shakes hands after games..
This is Ottawa's coming out party; 12 wins, division final playoff game, MOP QB and COTY.
The league has shown prospective investors that you can have a successful franchise at the gates and on the field in 2 years.
Lawless keeps referring to Ottawa as the Blue print for expansion in Halifax.
It's coach of the year, though. Prior career and seasons should not really enter into it.
I do agree that generally speaking it should not just be a most wins nomination, however. You make a good argument for Milanovich.
Get over it. Austin constantly swears at the refs, that doesn't mean he isn't a good coach.
Do you even watch CFL without the Cats in them obviously not Chris Jones has been shaking the hands of the opposing coaches all year. And his team is out there when the anthem is being played .
Put it to rest already . If the COY is based on this year then Jones took his team to Tops in the league didn't yell at the refs all year not like some coaches

and he definitely didn't hit any players on the sidelines.

COY is a curse. I hope Campbell wins.

Hell, I never thought of that…