Reported on tsn.
I hope they're freeing up some money?
I wish he would've just retired as a TiCat!

32-years old was drafted 11th overall by Hamilton in 2006.
Nobody did more for the team and community than Peter
Statement from Peter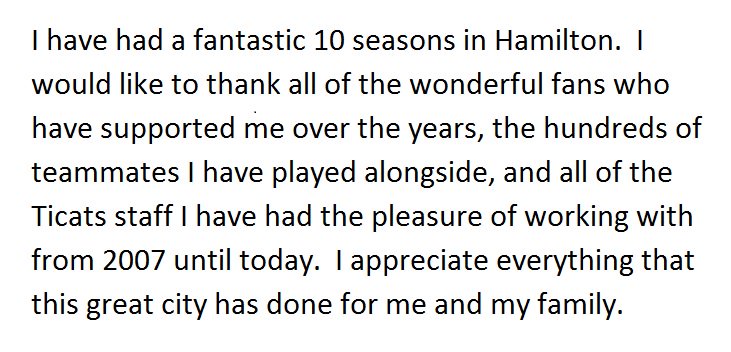 The Hamilton Tiger-Cats Football Club announced Thursday that the following player has been released:
NAT – OL – Peter Dyakowski
"We want to thank Peter for all of his contributions to the organization and our community,? said Kent Austin, Vice President of Football Operations and Head Coach of the Tiger-Cats. "He has been an integral part of our team for over a decade and we wish him well in his future endeavours.?
Sorry to see him go. He was not only a good player but a Real Great person. :thup: :thup:
They are definately freeing up some money , but I sincerely hope that is NOT the reason he was released .
His play was probably the reason. He wasn't very good last year.
But, my guess is his salary was up there....
Not surprised at all by this move as unfortunately Peter hasn't been the same since blowing his knee out in the 2013 Cup. I've been saying for awhile now that I thought that Dyakowski's days as a Cat were numbered. He is one of my all time favourite Cats and he is the last link to the dark era of this team when 3 and 4 win seasons were the norm. Thanks for 10 fun years Pete and good luck in your future endeavours. As the man known as "Canada's Smartest Person" I'm sure you'll do fine in the real world.

Here is the link to the release from 3D Nation :
[url=http://3downnation.com/2017/02/16/ticats-release-veteran-offensive-lineman-pete-dyakowski/]http://3downnation.com/2017/02/16/ticat ... dyakowski/[/url]
Thanks to Pete for all the memories, and lets not forget the comedy that always came with him. All the best to you Pete!
My guess... if he wanted to retire, he would have. I bet he ends up as a depth guy in Toronto.
While I'm not surprised, it still hit me hard when I saw this subject title.
Good luck and best wishes, Peter.
Thank you for being such a great Tiger cat and community contributor.
So sorry to read this news. Peter was a real team guy; even off the field he represented the Ti-cat franchise with dignity. I also wish he would retire as a Ti-cat; I wonder why?


x2
A great career as a Tiger-Cat and, far more importantly, a very fine gentleman.
I understand the need for change because last year it was obvious he was past his prime but....I'm hoping he was offered the opportunity to take a pay cut and lesser role this year. Would make a good coach in waiting and a solid backup.
Hate losing a 10 year vet. He is well liked, well respected and seems like a truly nice man.
There had to be a place for him here....somewhere.
I hope he gets another opportunity elsewhere if that s what he wants.
Pete...all the best going forward. Not many players hang on as long as you with one club. This is what is now missing in the new CFL.
Pete...all the best going forward. Not many players hang on as long as you with one club. This is what is now missing in the new CFL
Right on.
I agree with thoughts expressed here.
I'd like to have seen him get a ring.
I have to agree with this.

Me ?@JoshSmith_82 28m28 minutes ago
No Ticats fans are happy with the today's news, but I think many (if not all) understand why it was made.
x3. Good luck, Peter!! Thanks for all your hard work.
Ti-Cat legend and never got to raise the cup, it's a shame to see him go but this is the business side of football and it needed to happen. Pete will forever be welcomed back to THF once he retires, he's truly one of a kind and glad he got to spend a decade in the Hammer playing for the black and gold. I'd love to see him back with the team in some capacity once he hangs them up for good, he is the perfect ambassador for the team and the league.
Side note: 10 years ago when Pete joined the Cats, I was only 12-13 years old, and remember getting a chance to meet with him and Hage at a clinic held at IWS for the HMFA, it was an amazing experience and they both stole the show with their drill becoming the most rowdy on the field...hard to believe how time flies, I am getting old like the rest of you :oops:
If Dyakowski isn't involved with the Cats in a coaching capacity, I look forward to seeing him as a TSN analyst. He is very well spoken, and can see him doing very well on television.
8) How right you are woody !!
 But any one that can last 10 years as a starting player in the CFL has nothing to be ashamed of at all.

 Peter was a loyal member of the TiCats, but the bitter truth is that every players time runs out eventually !!
 Good luck in your future endeavours Peter.
That's my Pet Peeve with Hamilton , They've always been very cold hearted with the treatment of Loyal Veterans.
I'm sure they could have handled this a different way.
It's little wonder why they have a problem with attracting free agents.
This one and the Owens One sucks.
Andy Fantuz is Next ???
NOOOOOOOO!!!!!!!!!!!
gary lawlessVerified account ?@garylawless 42s42 seconds ago
told @TorontoArgos have signed Jeff Fuller and Peter Dyakowski @cfl #cfl