Yup, Carter to the Riders. Here's the link:
[url=http://forums.cfl.ca/viewtopic.php?f=1&t=102667]viewtopic.php?f=1&t=102667[/url]
[i]Johnny forgot to mention, that Carter to the Riders is his prediction!
Hey, don't worry, it's gonna happen. The Riders are desperate for talented players. And, Chris Jones is arrogant enough to believe he can control Carter and make him a well behaved team player.
It will be official any day now! :rockin: [/i]
They'll re-sign Roosevelt before they make any move towards signing another receiver. It's one of the positions this year that they've shown they have a lot of depth and quality at. No need to sign someone as immature as Carter.
Only thing preventing Corky from signing Carter is Sask'n board of directors and club prez - mostly subservient and meek men culled from the upper crust of Sask'n society - if Corky fails again they'll have to put him down regardless of record.
However, I must admit the thought of Noman Roosevelt and Duron Carter flanking each other is rather tasty.
Might even convince Darian Durant to re-up in Regina - although I firmly believe the fix is in - and Jones wants his own boy to control at QB. That, and Durant being nearly 34 makes it a virtual certainly that someone else (Franklin, Reilly, etc.) is behind centre next season in Regina. A minority of Regina fans (the non-lemmings) already resent Jones for exiling the dwarf brothers (Smith & Dressler), John Chick and others. . . . . . so punting Durant might put Corky Jo on the spot! :cowboy:
Wish the mods would just punt you, So tired of your stupid threads. FYI the only reason I checked the CFL forum today was to see if the weekend ratings were posted yet. Some day you will realize it is you and your buddy area 51 who are driving people away from this forum site.
[i]Sportsfan100 and Migs:
Come on dudes. Stay on topic and be nice!
There will be no trolling in Johnny's threads. :cowboy: [/i]
That's it ?
I remember Johnny used to come at Brihind with so much more back in our battle days .

These guys got of easy. Johnny is starting to mellow in his old age. :lol:
As for DC in Jonestown, would not surprise me in the least.
Match made in heaven for these guys.
Let's not forget Carter is an amazing talent.
If Jones feels DC will help the team, he will not care about the " other stuff ".
That was only a warning! They don't want to get the Johnny angry!

:cowboy:
Nope !!! Yer wrong Johnny , My prediction is that these two clowns will end up signing Duron the Moron Carter. He would be a perfect fit for a team called the KISS. :lol:
http://www.trbimg.com/img-520d771c/turbine/os-kiss-arenabowl-photo/600/600x395
yup, just imagine the " Son of Cris " is now a KISS and he will look soooo nice wearing this lovely looking uniform :rockin: Arena league here we come !!!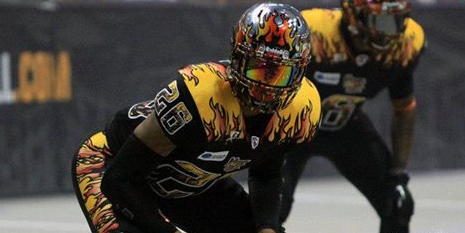 [/quote]
[/quote]
.......Jones (aka corky) will set loose a 'bag of trouble' into his locker room IF he brings in Carter...The guy looks like a menace...All the talent in the world can't fix a natural born crap disturber and he's one
....You tell em Johnny ...keep these guys in line...Imagine attacking a man of Lyles credibility just to take your thread off base... :roll: Don't these guys know what cement shoes look like :lol:
:lol: :lol: :lol: Worst uniforms in the history of all pro sports.
Looks like a futuristic roller derby game.
I do not follow Arena " Football " , but the Kiss ( worst name in all of pro sports ) have folded.
The semi pro AFL is now down to 5 teams.
What did or has Carter done to warrant the Sask BOD getting involved?
Just wanted to point out that no team was able to sign these guys this year, because the cuts were made after the trade deadline. You can't sign another team's late cuts, I guess because teams would use it to circumvent the trade deadline rules.
JOHNNY CALLED IT!
Yup. Way back on October 18th 2016, Johnny predicted Carter would sign with the Riders.
[i]JOHNNY
CALLED
IT![/i]
:rockin: :rockin: :rockin: :rockin: [url=http://www.riderville.com/2017/01/26/riders-sign-receiver-duron-carter/]http://www.riderville.com/2017/01/26/ri ... on-carter/[/url]
Question is :
Is Johnny real smart, or real lucky ?
Perhaps a mix of both.
[i]Luck ain't got no nuttin to do with it!

If you think about it, the Riders were not only the best fit, they were the only fit!
No competitive team would take a chance on him. There is no way Edmonton, Calgary, BC or Ottawa would take him. Too good and/or stacked at receiver. The Bombers are looking better than they have in years; not the time to roll the dice with a loose cannon. Austin the mean son of a lick would never bring him to Hamilton.
That leaves the Als, Argos and Riders. The Als wouldn't take him back. Barker did not have the balls to sign him. Chris Jones is arrogant and believes he can set Carter straight and manage him, and the Riders can only go up (they are at rock bottom).
This one was really easy to predict. [/i]
Very good break down Johnny. :thup:
Process of elimination.

Carter is an amazing talent.
Perhaps he has learned from his mistakes , grow up and will take full advantage of this second, and perhaps last chance.
How do you define an amazing talent? What we think should occur or what actually does occur?
His ability to be productive a a receiver.
The catch, yak yards , pass patterns, getting open and td's.
Carter has all those abilities.
There was never a question of him being a great productive receiver.
It was the stupid stuff and I am above the law attitude that was his downfall.