Drew Edwards ?@scratchingpost 5m5 minutes ago
#Ticats make two roster moves ahead of #CalStampeders game: add RB Grigsby & DT Atkinson to injured, add RB Ford and DE Scott to active.
Looks like a solid line-up. Of the current 1 game injured players, which ones would have been starters?

So unless Ford is game-day scratch, they will have more than one RB dressed.
I'm thinking these would have been starters had they been healthy. I'm including Grigsby because he would have started with Gable out.
Murray, Rico
Figueroa, Joel
Gable, C.J
Grigsby, Nik
Tasker, Luke
Norwood, Eric - 6 game
Bulcke, Brian - 6 game
The rest of our IR.
One game:
King, Neil
Tracy, Adrian
Caldwell, David
Rice, Landon
Masoli, Jeremiah ("injured")
Woodson, Anthony
McDuffie, Quincy
Aprile, Giovanni
Six game:
Miller, Kyle
Coleman, Antonio
Gill, Evan
Gaydosh, Linden
Madu Jr, Mossis
Watt, Spencer
More than likely that OT Jeremy Lewis and DT Drake Nevis will be the players sitting out although I wouldn't be surprised if RB Ford sat out depending on which way Austin wants to go, a back-up RB or a back-up DT for the game.
Interesting that Stewart is backing up Harris at LB and not in the backfield. I guess that could just be to get him on the roster and that he could play LB or DB during the game. Or, just an early season adjustments to look to see what Sears and Davis can do at half-back?
It's going to be an interesting call on the 2 reserves indeed. I agree that Lewis is an obvious choice,but as far as the other scratch goes it's certainly an interesting dilemma. Does Austin go into the season opener with not only one runningback dressed but a raw rookie to boot risking injury with no backup available or does he take the chance of not dressing Nevis and weakening his interior rotation on the line knowing that Cornish will likely be getting the rock all game long ? My guess knowing Austin and Condells distain for the running game is that Ford sits and Nevis dresses. Let's hope if this is the scenario that it doesn't come back to bite Austin in the butt if indeed Holley goes down with an injury tomorrow night. We'll just have to wait and see how it all gets decided.....stay tuned

Not sure if Cornish gets the "rock all game long"
He is coming off a injury plagued season, he only played in 9 games last year and also had a concussion.
He is the other side of 30 now and i can see his workload being much more controlled than previous seasons.
I guess Prime counts as a "starter" at fullback?
shenanigans.
however, watch for two back sets with Prime wagling out as a 6th receiver. was used a bunch in preseason.
I can see girard getting the scratch. I can't remember the last time a team dressed two long snappers.
all eyes on Gainey and Sears Jr. on the short side secondary.
They generally list 13 on offense. They list both a 5 receiver set as well as a 4 receiver & 1 fullback set. Obviously only one of these sets starts.
What I am interested to see is the manner in how they use their two Defensive Ends. In the past they've flipped them from either side depending on where the ball is placed. Norwood played the boundary or week side of the formation and sometimes dropped into coverage when they blitzed and/or spied a RB releasing into the short-side flats. Hickman played the field or strong side of the formation and didn't drop into coverage as much.
I wonder if they will continue to do this or just keep them on their respective sides. I don't see Scott as being able to drop or peel back into coverage like Norwood did/does. Wonder if they'll have Hickman taking that role?
Yeah, it's hard to predict. In the 2014 Grey Cup, Cornish had only 9 carries plus 2 catches, but that was credited as being "misdirection" by Dickenson because the Ticats were expected to key on stopping him.
But I'd expect Cornish to get a lot of work at least in the first half tomorrow to force Hamilton to respect the run so Calgary can try to keep Mitchell clean. There's also a lot of new faces in the Calgary receiving corps, and leaning on the run game would allow them more margin for error in the passing game.
They only have 21 Nationals on the 46 so Girard won't sit. Now that I see the 46, I am going to agree with Bobo and say that Nevis gets to dress.
The Ticats dressed two long snappers for most of last year after Fortin was injured. Aaron Crawford and Kyle Miller were the two long snappers dressed. One snapped for field goals and the other snapped for punts.
Primé does not count as a starter. There are 46 names on the chart. 21 of them are NATs so they all must dress. Of those, Laurent, Stephen and Butler start on D, Dyakowski, Filer, Bomben and Fantuz start on O, that makes your 7. I would concur that Lewis and probably Nevis would be scratched, with the slim possibility of Stewart. I just cannot see any coaching staff in this league foolish enough to dress just a solitary tailback. It is the position that takes the most physical punishment. I could be wrong but even something so simple as needing a retaped ankle would mean going a series without a proper tailback. Not smart.
And that's exactly what Austin did last year - and got burned by it one game. But the running game is secondary (or lower?) in Austin's offensive game plan, so it's a risk he's willing to make. I think he ended up putting both Banks and Sinkfield in the backfield at times, with Primé as a pass blocker, in that game. Not a true running game, but it did give the defence something different to worry about.
I don't know why I didn't think of this before but back-up center Matthieu Girard is a converted D-Lineman specifically a converted DT. So in a pinch if needed he could probably fill in as an emergency replacement in case of an injury in the interior of the D-Line. So with that in mind and Austin's penchant for flexibility and having players capable of playing multiple positions my guess is that it will allow him to dress Ford as a 2nd rb and sit Nevis as a reserve along with OT-Lewis. The 4 DI's would be Stewart at both LB and DB, Banks at receiver/returner,Ford at RB and of course Medlock at P/K. It also makes sense for specials to dress an obvious faster Ford at a solid 216 lbs over an obviously slower Nevis who tips the scales at 285 lbs.
So all things considered my prediction is 2 RB's on the game day and the 2 reserves or scratches will be Lewis and Nevis.
We'll just have to wait and see how Austin plays it when he declares his 44 before kickoff tonight.
Hazime will naturally backup both DT spots, but remember... Austin doesn't even really believe in depth charts.
As for people who expect to see typical respect given the the RB position, or the depth behind it; you're just going to be disappointed with Hamilton. RB's on Austin's Ticats are really just glorified SB's.
With Tasker out, (he is Medlocks holder)
Crawford will probably hold and Girard will Long Snap on field goals and converts
Crawford working with Tasker(Hat) on holding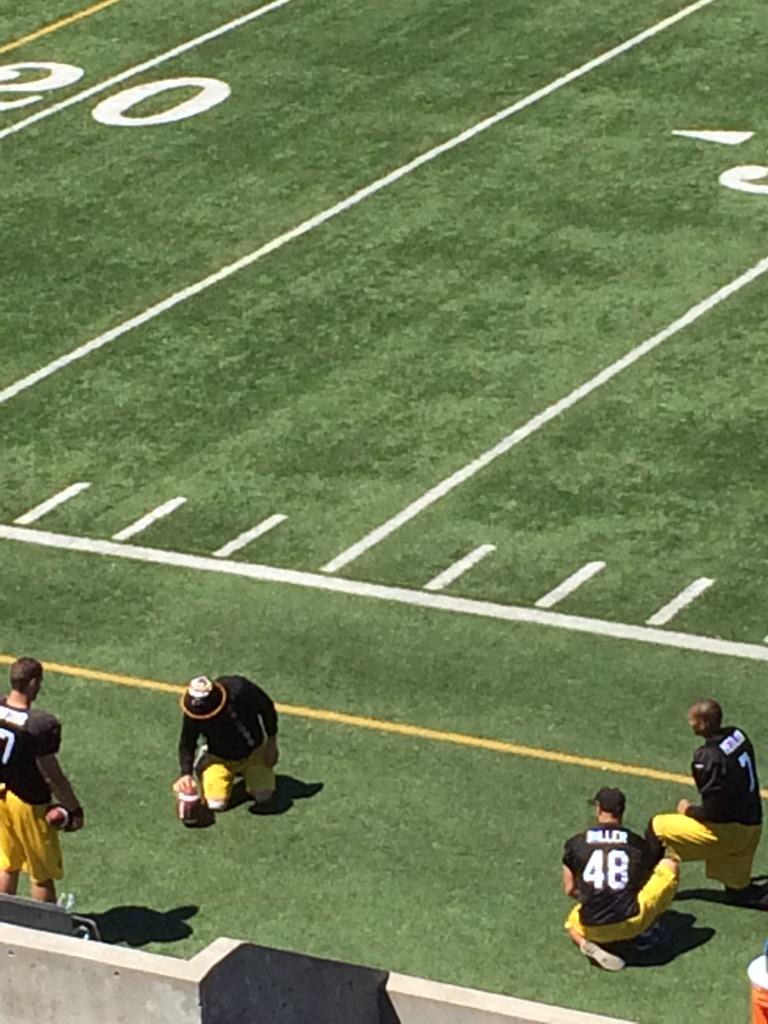 Crawford holding in Pre Season game in WPG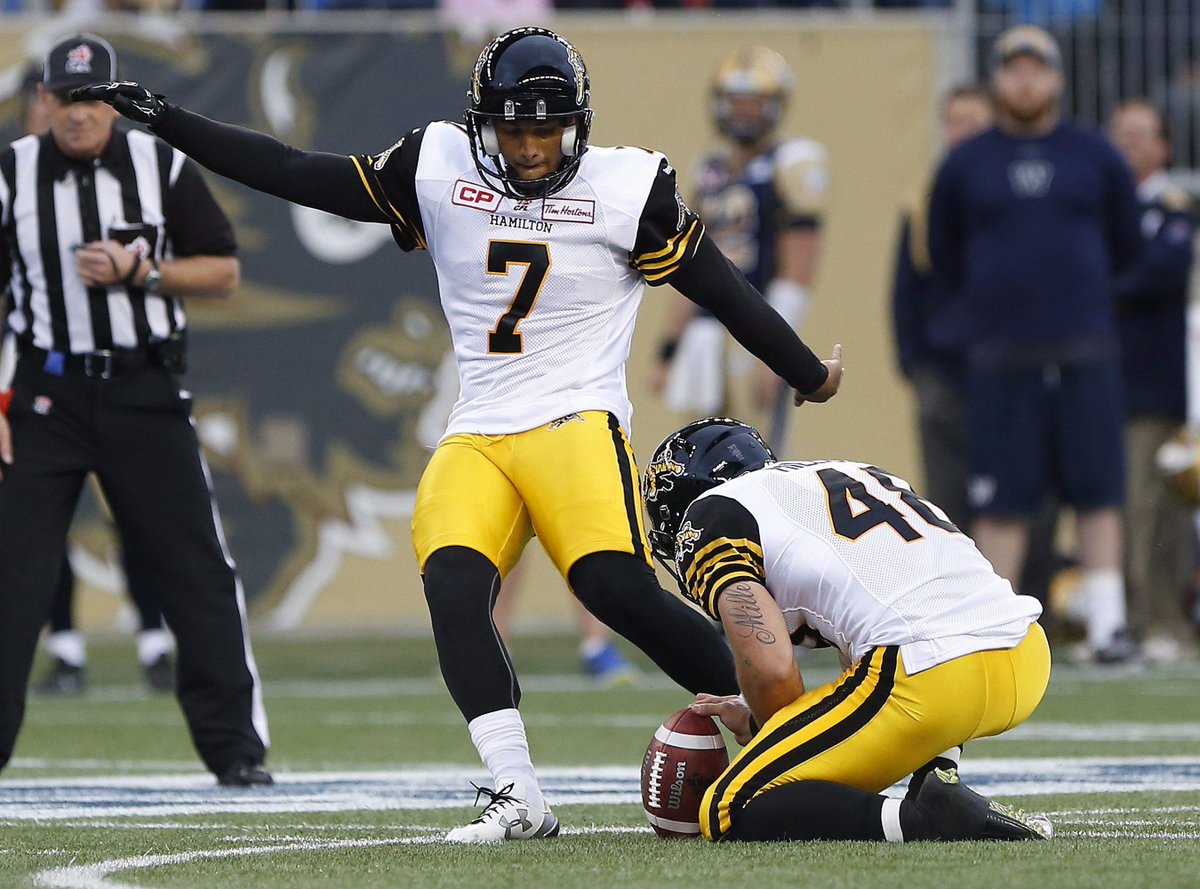 That is Miller holding in the lower photo, not Crawford - note the 48. Crawford wears 47. Miller is injured ATM.