Both Toliver and Breaux on the depth chart, both as starters. And with only 20 internationals listed, a pretty good indication that they'll both be dressed for the game.
OSKIE WEE WEE!!!
Toliver at the Z, and Jones at SB? Odd...
They must really like Banks at the X, because that's Toliver's old spot.
Also, I'm glad to see Daly get his second consecutive start at S. I like Stephen, but Daly is simply more physical out there.
Also... a new long snapper?
I can never tell from these charts which is Z and which is X, except by guessing based on the players assigned (Canadian, probably Z). And that is a bit of a head scratcher moving Jones inside - although adding height (6'0" vs. 5'7") inside isn't such a bad thing.
Daly vs. Stephen? I'd take either one at safety. But as you say, Daly is more physical, which may be the reasoning.
I suspect the blocked punt last week, with the defender running right past Malcolm before he had a chance to get up from the snap may have been behind the Doll signing. Unfortunate, as I didn't see any problems after that. But then, I don't normally notice the guys on the o-line unless they mess up.
Z in the CFL is the right WR, and X is the left. Z is the final option on passing downs, which strikes me as odd that Toliver is there. With Jones at SB he is setup to get more passes thrown his way than Toliver. I think they're easing Toliver back in.
And nothing to stop Toliver and Jones switching positions on any given play. Also, gives more receiving options on passing routes, allowing Banks to do his fly patterns and Toliver to do the posts and flats until he is at full speed? Although, having said that, maybe he won't be doing too many cuts just yet.
No change at RB. Why isn't John White in the lineup ????
Right. The X and Z often do change sides, during games, as do the SLB and WLB, and CBs on defence, so that the "strong side" players have more field area in which to run patterns on O, and to cover on D.
I also agree with Palmer that any two receivers might exchange places for certain plays.
On depth charts, depicting the team's defence lined up across the line of scrimmage from the team's offence, the "strong side" or "field side" of both the O and D will be on the right side of the page, as you look at the page, from the QB's view point. If you were to look at the page, from the MLB's view point, they'd both be on the left.
Here is the more standard depth chart for those who prefer it:
Thanks for posting cff! I much prefer this one!! :)
No problem. Where do you get the ones with jerseys?
Interesting that McGough and Vaughn are in an either/or situation. One comes in, the other goes out.
We have four INT backups listed on defence. Two of them are backing up the two INT starting D-linemen, while the other two are backing up the seven other INT starters at LB and DB.
If you count Whitlock (haven't noticed if he has played any defence this year?), that would be another INT backup for the D-line.
Zero INT backups on offence, other than the QBs who don't count. Perhaps a commentary on strong NAT depth on the O.
I'm not yet sold on Whitlock as a RB. See him more the FB type, take the ball and blast up the gut or off-tackle. Don't know if he has the speed or cutting ability to be an effective RB. Looks to be the type to run over, rather than around, people, which IMO tends to be "punishing? more than yardage producing.
One great thing I notice, going into Game 2 - '18, we only have 6 players listed as injured. Same point in the season, last year, we had 13.
Of course all, then, may not actually have been injured. Nevertheless the team's healthier, so far, and the roster management is also better this year.
Starting Whitlock is a stopgap measure until Greene or White is ready. He'll still see action once we have a true starting tailback, but not as the main guy.
That's why I never see them... I'm not a twitter or social media guy at all. Forums are the closest I get.
I thought White was the stopgap until Greene was ready. But it turns out White isn't ready either. Surprised we didn't bring back Taliaferro.
The EDM depth chart for this week
5 starters missing from last weeks Depth chart
WLB Adam Konar, DT Mike Moore, OL Tommie Draheim, REC Jamill Smith, REC Hazleton
and backup DB Hightower
lots of changes on the Oline(1 backup Olineman :o)
This weeks Depth chart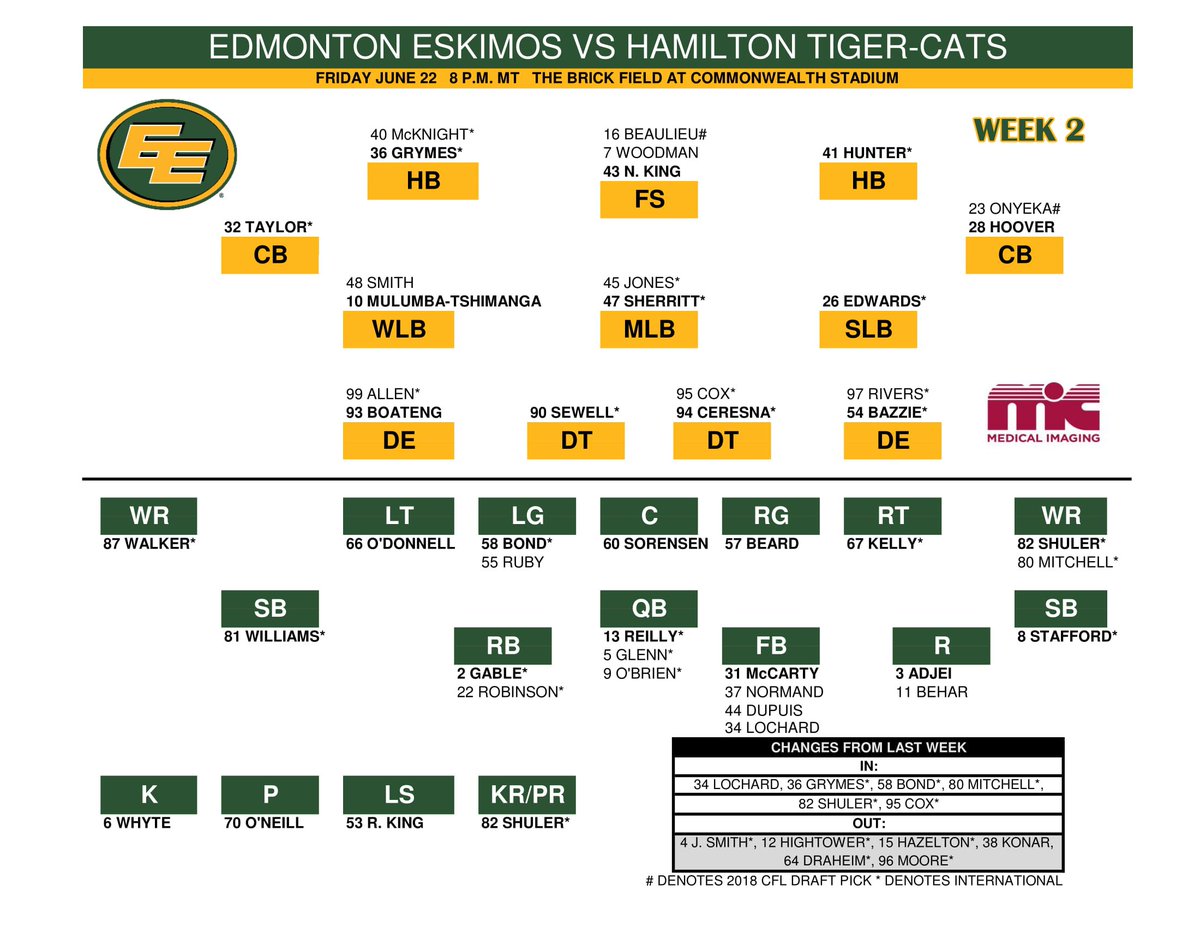 Another subtle benefit to Breaux's return is that while Frankie Williams still provides corner depth, being bumped out of the starting defence should keep him fresher for special teams.