Koch and Ellingson having trouble getting back into the line up
Speedy Banks and Sinkfield are playing really well!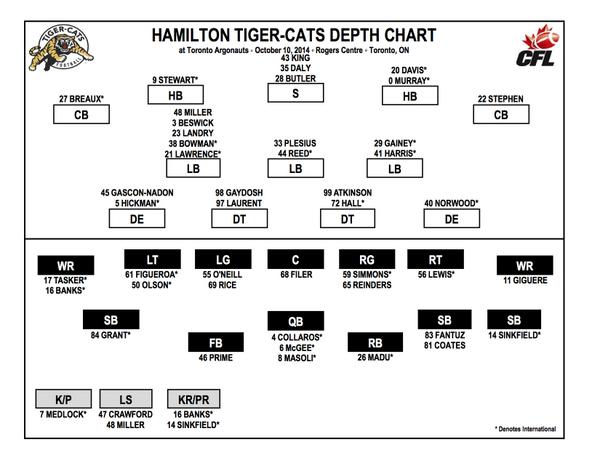 Here are some Cat Facts going into tomorrows game.
[b]Hamilton Tiger-Cats:
? Back from 10 points down: The Ti-Cats came back from 10-point deficit to beat BC last week. It was Hamilton second time in 2014 overcoming a double-digit deficit to win. They were able to do that just once in 2010.
? Under 60 rushing 3 games in a row: Hamilton has held their last three opponents to under 60 yards rushing – that is the first time Hamilton has done that in a decade. They did it last on June 25, 2004 to July 20, 2004. The Ti-Cats have the #1 run defence in the CFL. The last time they finished with the best run defence was way back in 2000 and before that in 1987.
? Going for 5 in a row: The Ti-Cats are on their longest win streak since 1998 – that year was the last time they won as many as 5 games in a row with a 6-game game winning run in July & August.
? Potential Landmark Turnaround: The greatest IN-SEASON turnaround by the Tiger-Cats came in 1986 when they started off at 1-5 and finished up above .500 at 9-8-1. That is the ONLY time they have ever been as many as 4 games below .500 and
finished over .500. This year, Hamilton started off at 1-6 (5 games below) and have a chance to go one better than 1986 if they can win 4 of their last 5 games. The last CFL club to do that? BC in 2011 going from 0-5 to 11-7 by season's end.
? Unbeaten at "home?: The Ti-Cats have yet to lose at Tim Horton's Field going 4-0 since September 1st. They gave up 80 points in their first three "home? games of 2014; and allowed only 12, 3, 23 and 17 points in their new home (55, 13.8 pts per game). In 4 games at Tim Horton's Field, only one opponent has scored in the 4th Quarter.
? 82 players: Heading into Week #16 Hamilton had employed 82 different players on their roster in 2014, by far the highest in the CFL and getting near the CFL record 88 they had in 2013. This week's opponent Toronto had used 76 which is #2 behind Hamilton.
? Last 6 games: Hamilton opponents are averaging just 232 yards of net offence in the last 6 games.
? First Half of Year vs the Second: Under Kent Austin over the last two years, Hamilton is now 4-0 after the mid-season mark and that makes it 10-3 .769 in the second half of the season. In the first half of those two years, Hamilton's cumulative record was just 6-12 .333.
? Punt coverage improvement: Since giving up an 83-yard punt return TD to Montreal on Sep 7/14, Hamilton has allowed only one punt return of more than 10 yards (16 on Sep 14/14 vs SSK).
? Eric Norwood: Was blanked last week but still has 6 sacks in his last 4 games to lead the club.
? Impact back: Mossis Madu has played significant starting offensive role in only 6 games but has 4 games of at least 6 receptions and 5 contests with 48+ yards. Last week he had 56 rushing yards plus a single-game career high of 86 receiving yards[/b].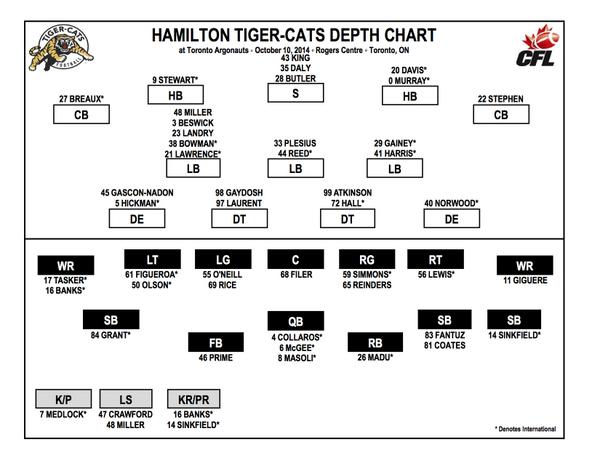 Observations:
Pretty much the same line-up that was on the field versus the Lions,as stated by Fender only 2 changes to report-Olson-ot will in all probability get a game cheque,but will be one of the scratches along with Davis-db once again. Landry in for Kruba listed at lb but playing strictly specials.
Roster breakdown is as follows: 3 QB's/21 Can/22 Imp
7 Cdn starters unchanged from last game are:Offense-Fantuz/Giguere/Filer/O'Neill and Defense:Laurent/Stephen/Butler
4 DI's unchanged from last game:k-Medlock/wr-kr-Banks/lb-Bowman/lb-db-Gainey
ex-Arg@s on Ti-Cat roster:qb-Collaros/wr-Sinkfield/ol-Reinders/k-Medlock
ex-Cats on Arg@s roster;ol-Smith/lb-Hood/de-Brown/lb-Rosamonda
Cats only dressing two backs once again going with Madu-rb and Prime-fb no backups listed on depth chart,hopefully both players stay injury free for the game,look for some formations with Sinkfield in the back field in rb position.When Cats use twin tights formation look for Prime and Reinders or Rice in for additional blocking.
That is basically all for now,if anybody has anything to add or you see something I missed please post the corrections or omissions.....This is a BIG ONE CATS !!!!!! Let's get er done,5 in a row,back to .500,season series and Ballard Cup,4 pts up on the A---o's with 4 to go,inching closer to our first 1rst place finish since 1998....GO CATS GO!!!! OSKI-WEE-WEE
:cowboy:
"This is a BIG ONE CATS !!!!!! Let's get er done,5 in a row,back to .500,season series and Ballard Cup,4 pts up on the A---o's with 4 to go"
Thats right A BIG GAME!! Ballard Cup on the line to say the least.
? Last 6 games: Hamilton opponents are averaging just 232 yards of net offence in the last 6 games.
wow. i knew it was low but 232 is super impressive. imagine how low it could be if the Offence can keep moving the chains and stayed on the feild.
Want to talk impressive,try this on for size:
Breaking that down further,in the last 6 games the Defense is only allowing 58 yds against on avg per quarter,and only 116 on avg per half. They have only allowed 8 tds against in that time or 1.33 on avg per game.In the last 6 games the team has only allowed 6 passing tds against and 2 rushing tds against. The "D" has not allowed a rushing td in the last 4 games and only 2 passing tds(1 of them which was a flea flicker option last game-B.C's Arceneaux to Gore). The only other scoring against the team in this time was a fumble recovery and a punt return against Mtl, a fumble recovery td against Edm and a pick 6 int against BC. It is also interesting to note that 1 of the 6 passing td's allowed was in garbage time against the Eskimos with the game already won and with only 6 seconds left on the game clock. The Cats"D" have had 22 sacks in the last 6 games,17 of which have come in the last 4 games. I think it is save to say that the "BEASTS FROM THE EAST" are back in the HAMMER......Now all we have to do is get the Offense rolling and putting up more points and this team will be indeed IMO Unstoppable.
It's time to make the Double Blue......BLACK "N" BLUE
:rockin: OSKI-WEE-WEE GO CATS GO
thanks for that
BEASTS OF THE EAST. :rockin: :rockin:
This one's not quite right.
1 by BC, 1 by Winnipeg, and 2 by Edmonton.