Only surprise, I guess, is Ellefsen who is added for special teams' play with Gascon-Nadon out. That is, if he isn't the NAT scratch. I'd think him or Omara, again. Who'll be the INT reserve? Caldwell? It wouldn't be Holley or Grigsby, would it?
Grover: Where do you get the Depth Chart before it's up on ticats.ca?
Question regarding Everett Ellefsen, who may dress for his first CFL game this week:
How does he qualify as a CFL National?
Depth chart shows.....3 QB/22 CDN/21 IMP.....So 1 Canadian and 1 American sit out as the 2 reserves. My guess is......
O'Mara-cdn and perhaps Caldwell-imp. 4 DI's = Offense-Banks/Grigsby....Defense-Stewart and of course as usual Medlock would be the 4th.
Even if indeed it's Caldwell and O'Mara that will still leave us 8 LB's suiting up for the game. Ellefsen will have to suit up as a special teamer and to possibly spell off Norwood and Hickman or in case of in game injury.
Also I have to ask Grover as well.....Where do you get the Depth Chart ? As ottawacat already mentioned as of this posting it still isn't showing on the home page. :?
He is listed on the roster as an Import(International) put listed on the depth chart as being Canadian. Ellefsen was one of our draft picks this year selected in the 6th round and 51st pick over-all. So in answer to your question my guess is that the roster is a typo and the depth chart correct. It's basically a Canadian replacing a Canadian (Gascon-Nadon)on the game day.
TiCats twitter
Hamilton Tiger-Cats ?@Ticats 1h1 hour ago
Here's who will be taking the field for the #Ticats as they face the @EdmontonEsks on Friday night.
Here is EDM depth chart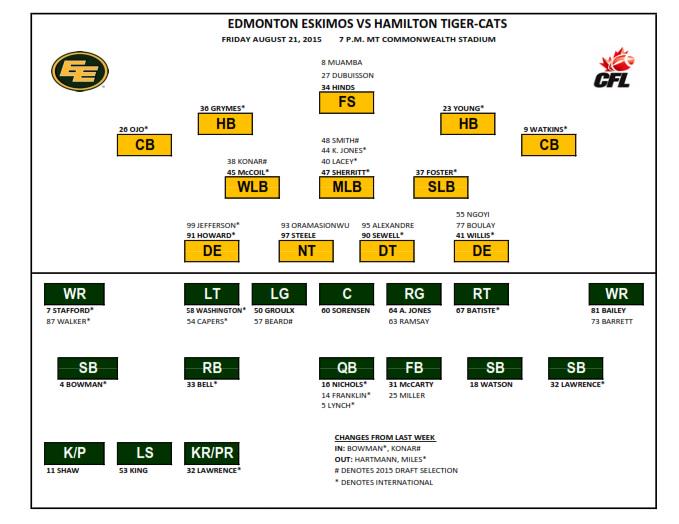 All I know was that he was a late addition as a draft eligible player for this year's draft. Must be some loophole they found since he was born in the U.S…
I notice that we have our first 4 picks from this years draft on the Depth Chart for this game!
LB Byron Archambault (17), LB Jonathan Langa (20), LB Ron Omara (29), DL Everett Ellefsen (51), REC Daniel English (52), LB Preston Huggins (61)
All making huge contributions to the best Special Teams Squad in the League! :rockin:
Considering that I was not happy(along with many others) at the end of the draft, I have to re- consider.

Donald Washington has been placed on the 6 gm , let's hope that Sears is back soon,because were going to need him for the back half of the schedule. Hopefully Gainey holds up at that corner spot after sitting the last few weeks.
I think Gainey will be challenged
Gerry Moddejonge ?@SunModdejonge 54m54 minutes ago
Bowman comes onto #Esks 46-man roster, Miles comes off. Rookie Derel Walker remains on to follow up his 10-catch, 125-yard #CFL debut.
Hopefully Bowman plays every bit as well as he did last year in the game at THF. (Seemed like he must have been eating buttered popcorn on the sidelines.)
:lol: :lol: :lol: Let's hope - although maybe Jones doesn't allow buttered popcorn at Commonwealth - at least anywhere near the players! :D
That's probably why Jones refuses to shake hands with the other head coaches....he has too much butter all over them there pinkies. :cowboy:
Sad to learn that Washington's injury is serious enough for the 6-game list.
On Ellefsen, I read somewhere, since bringing up the question, but now can't find it to provide a link, that his mother is/was a Canadian.
Which could mean that he was able to apply for dual citizenship, possibly explaining his last-minute draft eligibility. (Just guessing here.)
sigh is it Friday 9pm yet?
He's obviously gotten a Canadian citizenship at some point, because otherwise he couldn't be drafted.
I imagine he's the first ever international/import that has ever been drafted in the CFL.
You don't have to be Canadian to play as one, or, be drafted as one (c):
The following Players shall be classified as National Players (formerly non-import):
(a) Canadian citizens at the time of signing of the Player's first contract;
(b) A Player classified as a non-import prior to May 31st, 2014; OR
(c) A Player who was physically resident in Canada for an aggregate period of five (5) years prior to attaining the age of eighteen (18) years.
A Player is classified as an International Player (formerly import) if the Player is one other than one referred to in the definition of a National Player (formerly non-import).
http://www.cfl.ca/page/game_rule_ratio
and if memory serves me the Ticats drafted OL Wayne Smith (now with the blew team) under (c) as well (but that may be an old foggie memory). :oops:
Good point that he might have come in via rule (c). It might have taken time for his paperwork to be reviewed before he could get his national status. As I said, I was just guessing about his dual citizenship. Either is possible.
It's hard to tell how he is classed, because he is listed as an international, but as a national on the depth chart here and game day roster for friday.
Listed as international on the Ticat roster and the CFL page:
http://ticats.ca/roster/ http://cfl.ca/roster/show?id=8319
So what the hell is he? His own team doesn't even seem to know. I would assume that the depth charts and game day roster they release to the league is more official than the teams site.