Hamilton Tiger-Cats?Verified account @Ticats 9h9 hours ago
#Ticats sign three-time CFL All-Star DE @johnchick97 to a contract extension through 2018.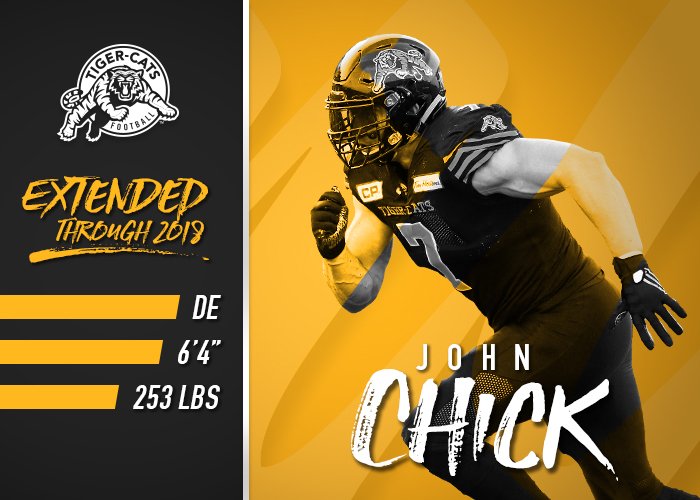 love this, one of my favourite ticats
Yup , ya got to hand it to the genius of one Corky Jones in evaluating talent . First he decides to dump Chick and then follows it up by dumping Shawn Lemon as well . A quick look at last years stats will show that both Chick and Lemon each had 14 sacks apiece for a combined 28 sacks on the season , meanwhile the entire combined Saskatchewan team totals in sacks last year was a paltry pathetic 29 on the season or exactly 1 more then Chick and Lemon had between them . :lol:
So what can I say but.......A BIG thank you and shout out to one Corky Jones and those Riders for gifting us a player as talented as John Chick

Really looking forward to seeing you in Black 'n' Gold through the 2018 season and beyond.
and hey.........IS IT JUNE YET !!! :rockin: :rockin: :rockin: because it's time we got this party started.
:rockin: :rockin: :rockin: :rockin:
https://static1.squarespace.com/static/55909e27e4b05b489b7a757f/t/5840eb1420099e0b600f1402/1480649513287/jc-home.jpg?format=1500w
Any word on how much the contract was for?
Great to hear that John Chick is back!!!
I think he was always back. This is just a contract extension which is great.
BUT contracts are not guaranteed so no obligations from The Cats.
When he first signed with Hamilton he was making $160K, so it will be at least that and probably more after the great season he had!
Drew Edwards when reporting on Chick when he first signed with us in January last year
Drew Edwards?Verified account
@scratchingpost
Hearing that the #Ticats two-year deal with Chick is in $160K per season range. #CFL #Riders
Simoni Lawrence?Verified account
@Simoni_Lawrence
You know @johnchick97 lifting because the whole locker room shakes when he drops the weight