Where is that it sounds good
barton and ruth st. on the north side of barton.
staropolskie deli.
Best. Place. Ever. :rockin: :rockin: :rockin:
other options in that same area are the newly opened La Luna's on barton and sherman, Franks Sicilia Bakery, just west of La Luna's, and the Touch Down Pub on barton and avondale. TD Pub provides free parking if you have beers there before the game.
I liked the idea of a lot of food trucks on the lot, as they did in Guelph. It gives those attending a better choice of foods and the presence of different vendors makes it more competitive bringing up the quality of product and service.
At the very least, if possible, import another supplier to the stadium. Your customers deserve better than what currently passes for good.
Yup, yes sir-ree , nothing but the best for us Cat fans !!! :lol:


.......
https://www.purina.ca/wp-content/uploads/2015/11/Cat_Chow_E_1000.png
THIS. This is what's missing in management. The people that attend are saying the status quo is not good enough. It is past time for working on it and time to just fix it.
Again, I ask. Does anyone have information about:
Length of current contract with Levy,
Any nonperformance clauses,
Whether the contract is with the club or the city?
Knowing the correct answers to these questions would also answer some other ones on this thread.
Can't comment on 1 or 2, but the announcement in 2014 made it sound like the contract is with the club:
https://twitter.com/ticats/status/458645366858977280 http://ticats.ca/levy-restaurants-thf [url=http://www.levyrestaurants.com/newsroom/press-release/?article=TIGER-CATS+PARTNER+WITH+LEVY+RESTAURANTS+TO+CREATE+THE+ULTIMATE+GAME+DAY+]http://www.levyrestaurants.com/newsroom ... +GAME+DAY+[/url]
So.... legitimate areas of discussion.
[i]HAMILTON – Underscoring the strategic vision for creating the ultimate stadium experience, The Hamilton Tiger-Cats are thrilled to announce that the team has selected Levy Restaurants, the leader in premium sports and entertainment dining, as the food and hospitality partner for Tim Hortons Field.
Fueled by Levy's renowned expertise, the team will design a new, best-in-class fan experience, bringing unique new dining spaces to the stadium, expanding menu options for all fans and a delivering an elevated level of hospitality.
"There is no doubt that the Tiger-Cats passion for the fans and their vision to deliver the best, blended with our expertise in game day dining and hospitality will result in a brand new stadium experience,? said Andy Lansing, President and CEO of Levy Restaurants. "Together, we are reimagining every aspect of the game day to welcome fans with something truly exceptional.?
"We're ecstatic to team up with Levy Restaurants, the industry-leader in stadium hospitality,? said Gibson. "With Levy on board, our fans will enjoy a world-class food and beverage experience and tremendous customer service at Tim Hortons Field.?
Levy's portfolio includes more than 100 of the top sporting venues in North America, including the Barclays Center in Brooklyn, American Airlines Arena in Miami, FedEx Field in Washington D.C. and Ford Field in Detroit.[/i]
Red: Done what they said they would do
They have created several levels of food option/dining service.
Blue: Not done what they said they would do
These are categorically not 'best in class' concessions. A simple trip to BMO proves that.
What expanded menu options for ALL fans?
What elevated level of hospitality?
World class? What world?
Exceptional? Yes, for a new stadium to have this kind of concession management is exceptional (but not in a positive way)
So, if it's the Cats who own the concession rights, what is to stop food trucks from setting up in the area.
Maybe the city has signed some sort of agreement where they won't give out permits for them to sell in the vicinity.
All in all, I don't understand Bob Young putting up with mediocrity for this long. Beer tap lines withstanding, what has hampered Levy from delivering on the promise from the Cats? If this was your business, would you put up with the last two years of non-performance? I wouldn't. :thdn:
There has to be more to it than they can't share with the public.
As much as we've gotten lip service from the Cats that they're "looking into it", the reality is that there is no short-term business incentive for the Cats to put any pressure on Levy. The Cats still get payed. That's the whole point of selling exclusive rights for a certain period of time: Levy pays the Cats, and then it's up to Levy to make back more money for themselves from the concession operations than what they payed for the rights.
Bad food and bad service from Levy doesn't hurt the Cats' bottom line unless it starts hurting ticket sales. Even if people boycott the concessions completely (hand raised), that's Levy's problem, not the team's (until it comes time to negotiate the next contract, then Levy or a competitor might try to negotiate a lower price for the rights).
Clearly, Levy's strategy outside the club level is to overcharge for the cheapest possible garbage they can sling with the cheapest possible labour. I'll happily do my game-day food spending at other businesses before arriving.
Well that surely explains why nothing is done. So, if we spend zero, the club still gets benefit?
Odd way for Levy to operate. So they obviously make the most $$ from beer sales. Maybe we should ALL stop buying anything since it doesn't hurt the Cats. Maybe then Levy will change.
Thanks for the info safety..
If enough people stop buying levy will want out
I rarely buy food at any sporting event. It's usually lousy, and overpriced. THF is not unique in this regard. I go to watch a game, not to eat. I rarely buy a beer either. Maybe once in a while on a hot day. Or maybe a coffee.
our crew takes the free bus from limeridge mall to and from the game.
we have a bbq at my house before, as I'm walking distance to limeridge.
that negates food at the game.
we all have beers throughout the game...usually a tall can per quarter.
THF makes good $$$ from beer sales. 6 of us, 4 beer per person per game, $275'ish per game total (for all 6 of us).
Of course it hurts the team, teams make as much from concession sales as they do from the TV contract.
Just look at the public books in Saskatchewan and Edmonton - $4 million in concession sales.
They are stuck with Levy until the end of the contract. Levy is supplying a few of the stadiums I wonder if this is just a Hamilton problem.
Are the majority of fans complaining or is it just a few on these boards? I have to say I did have a hot dog the last time there and it was terrible. They don't make the beer so that was alright.
You got a hot dog that was only terrible ?Consider yourself Lucky !!! In other words you got one of the better tasting quality ones. Most game day Dogs look like they were left over from Ivor Wynne.


:lol:

Can you tell the difference ??? :lol: Introducing the Terrible Dog and the Waaay beyond Terrible Dog. :twisted: Yum!!Yum!!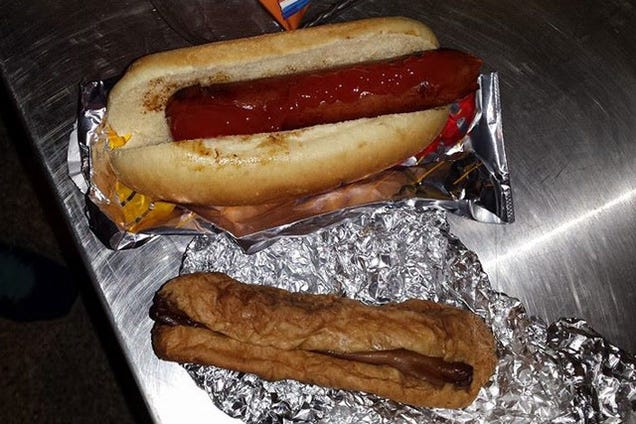 Neither Sask nor Edmonton has an exclusive partner for their concession operations, so you're comparing apples and oranges. Without an exclusive concessions partner, those clubs make the lion's share of their concessions revenue directly from game-day sales (in the Riders case, a recent annual report strongly implies they operate the primary concessions themselves, Edmonton might be more complicated).
While it's possible that the Cats are still taking some percentage of concession sales at THF, the nature of exclusive agreements, together with the Cats' continuing lack of action to remedy the bad food and bad service at THF, lead us to a balance of probability that the Cats' concession revenue likely is primarily guaranteed revenue from Levy in exchange for exclusive rights. A huge part of the rationale for having an exclusive partner is to transfer risk and opportunity to them in exchange for lesser, but more certain, revenue.
The Team and the City split Concession revenue 50/50
From the 20 year lease agreement
Concessions


The Tiger-Cats have the exclusive right and responsibility to solicit and select one or
more Concessionaires who shall operate and be responsible for all consumable
concession operations within the Stadium for all Football Home Games and all Events
during the license term. The Tiger-Cats will manage the contract and will receive all
consumable net revenues from football and soccer games.
The City will receive 50% of the net revenue for consumable concessions (e.g. food and
beverage) and a negotiated amount from non-consumable concessions (e.g. branded
merchandise) from City events and 15% net revenue from all consumable concessions
for all other events (including Tiger-Cats events and Incidental events but not including
football and soccer games).
In five years, upon contract renewal, the Concessionaire will provide two percent (2%)
of all gross concession receipts generated from the sale of consumable concessions to
a reserve fund exclusively for the capital replacement of concession improvements.
The City will have the right to review, reproduce and audit such Concessionaire's
records of concession revenues related to all City events, Licensee Events and the
of 2% of all gross receipts but the City shall not have audit rights to individual
Football Home Games and Licensee Non-Events.
[url=http://www2.hamilton.ca/NR/rdonlyres/BF21F3C0-F0A6-417E-B8AB-5690E0C6EAD0/0/Feb1983PW14021.pdf]http://www2.hamilton.ca/NR/rdonlyres/BF ... W14021.pdf[/url]