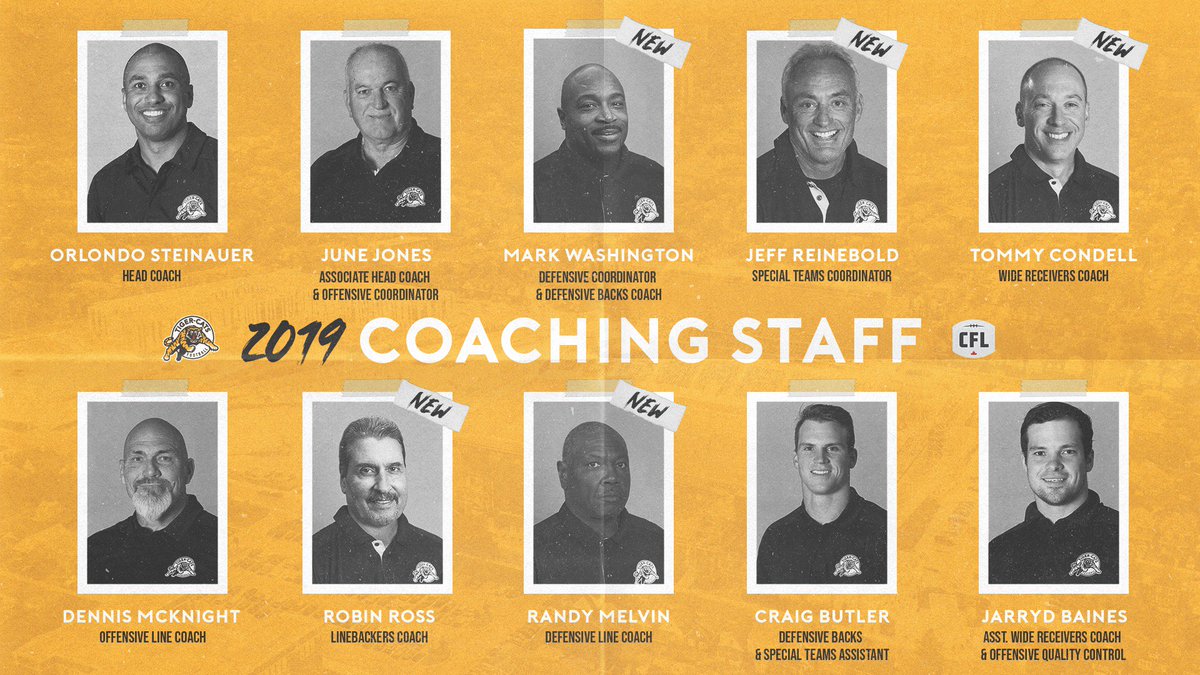 http://ticats.ca/tiger-cats-announce-2019-coaching-staff/
Ross, 64, previously spent three seasons with the BC Lions as Defensive Line Coach from 2015 to 2017, and has 40years of coaching experience in the NCAA, NFL and CFL ranks. In 2016, Ross crafted a pool of talented linemen which helped the Lions defense record 52 sacks and a tie for the league lead. Alex Bazzie racked-up a team and career-high 11 sacks propelling him to his first West Division All-Star selection. Ross' big men up front also led the club to the second-fewest rushing yards against in 2016.
Melvin, 59, spent the 2018 season as Defensive Line Coach with the BC Lions on Washington's staff. Under Melvin's watch, the Lions tied for the league lead with 45 quarterback sacks, and defensive ends Shawn Lemon and Odell Willis tied for third in the CFL with 11 sacks each. The Aurora, Illinois native has over 30 years coaching experience, including three stops as a defensive line coach in the NFL with the New England Patriots (2000-01), Cleveland Browns (2005-08) and Tampa Bay Buccaneers (2012-13).
"We sincerely want to thank Dennis 'Deke' McPhee, Corey Grant, Jerry Glanville, Frank Ganz Jr., Will Fields and Robert Lyles for their dedication and hard work with the Tiger-Cats,? said Steinauer. "They are all great men who made significant contributions to our accomplishments as an organization and we wish them the best in the future.?