Both Bryan and Drew are tweeting that he has signed with the Double Blew.
Hall SUCKS!!!!!!!!!!!!!!!!!!!!!!!!!!!!!!!!!!
I'll definitely miss Bryan. Excellent player and I think we've only seen a little bit of what he'll achieve. Skill and personality. He makes the CFL better and fun. Excellent pick-up for Toronto for multiple reasons.
Just checked Twitter and it is definitely true. Bad enough to see Hall sign with another team but the ARGOS??????? :twisted: :twisted: :twisted: Once they lost Cleyon Laing Barker must have had a pile of money to toss at him! Blew team has "stolen" two of our great DL players!!!! :twisted:
maybe we can trade Hall for Owens :lol:
Bryan how could you do this to us !!!! The Argos ???? Seriously ???? I can't believe you would O'Shea us like this


And to think I actually picked you on my All time Ti-Cat draft team

Boo Bryan Hall Boo , ya picked the wrong team buddy.......Grrrrrr.......This really SUCKS !!!! I'm very disappointed in you, Bad Bryan,very bad Bryan indeed. :twisted:
dang it he was on mine wasn't he? I drafted a traitor, not quite as bad you know who drafting Oshea but I feel dirty.. :lol:
so tweets.. there has to be some from former teammates chastising Hall.. let see some
Delvin Chip BreauxVerified account
?@BreauxShow24
@BryanHall95 @Ant_Allen no man ... thats the rival...
Bryan should know that Black trumps powder blue EVERYTIME!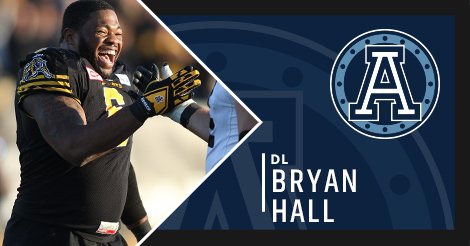 I still cannot believe that Hall has O'Shea'd us. You could have signed anywhere else but ya had to sign there??? :twisted:
Doesn't Hall realize the argos logo is a large "A" over a hole?
Its an "A-hole" :lol:
HAHAHAHAAHAA that is awesome! im gonna steal that if its ok with you. too funny :thup: :thup: :lol: :lol:
What a joke, can't believe this right now. Hope he enjoys losing, he was built for the black and gold what a shame. But hey, congrats thanks for giving the city you're all, just hope he expects to be heckled like he's never been heckled before when he returns to THF...I am sure he will relish in it and give it right back though.
Goddamn I am sad now, this sucks I hate the Argos I take back all the nice things I have been saying.
Next man up les go bust some Double Blue buckets.
Brian Hall just made my night, Skookum :thup:
With Hall gone, who will be our emergency QB this year?
Wow! I certainly didn't see this coming. Maybe the idea of 2 starting Canadian defensive tackles (Laurent, Gaydosh) with Atkinson and Gill as backups, is closer to reality. Hall was a keeper and he will be missed. :thup:
Pat Lynch(the old guy)