signed with the Cleveland Browns
Boo, Here we go again looking for a kicker.

Maher going to the Browns, Hmmmm... Is that a step down from the CFL???

What a comeback story. :thup:
I woulderror how long he will last? If he has a steady holder he might stick with the team.
It is surprising, because he isn't really that good!
That being said, he just might be just bad enough to make that Browns team.

Pretty good FG kicker from long distance, very frustrating kicker if you don't want a guy's KO to periodically go out of bounds.
Good luck to him.
Looking forward to Tillman bringing in a diamond in the rough to take over kicking duties.
Wow !!! Cleveland eh ??? Wow !!! I never realized that Maher didn't want to play professional football anymore . :lol: Yup, good luck to ya Brett on yer new career kicking for the Semi Pro Clowns .

But seriously , congrats (I guess ?) and as the saying goes " Break a Leg " out there...... ( just kidding , kicking in Cleveland I highly doubt you'll even break a sweat out there

)
Cleveland.................. just like running off to join the Circus :lol: :lol: :lol: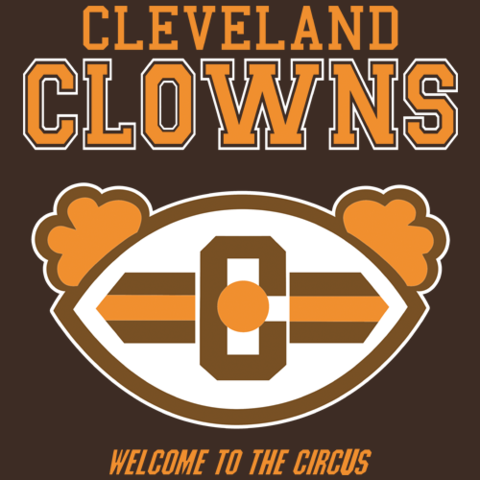 I agree Maher is not a very good kicker, has bounced around in both leagues.
Your biggest mistakes was letting Justin Medlock go to the BB this time last year.
Not for him! he will likely make 5 times what he made in Canada.
41 out of 49 FGs ? pretty good stats
I have it as 41 of 50 for 82%. 5 kickers had a better percentage. Whyte, Medlock, Harjrullahu, Paredes & Crapingna. 4 of those being non-imports.
21 or 32 NFL teams had a FG% better than 82% last year. Cleveland's was 77.8%.
8) You are right "slimjim2", apparently Maher was only making around $65-70,000 last season in Hamilton !! :oops:
I wouldn't have found the news of Maher signing with an NFL team that surprising if he hadn't become quite inconsistent toward the end of last season. His lack of consistency on both punting and placekicking were reasons I for one thought that re-signing Maher may not have been something that the team must do. But it is unfortunate that once again, we need to find a placekicker, a punter, or someone who can do both of those things.
Who will take the place of Maher? Well, I don't think the replacement K/P will get picked on draft day. I remember how we thought that we'd get Quinn van Gylswyk a year ago, and I don't think there is anyone as good as van Gylswyk in this year's draft. Sergio Castillo, who was on this team's PR not long ago, could be brought back, and was mentioned as a possible replacement in this article: http://3downnation.com/2017/03/20/forme ... ns-browns/
It was also mentioned in that article that Anthony Fera and Chris Milo are available, but I wouldn't be that excited about Milo being signed here. Maybe the next Swayze Waters or Justin Medlock is out there and could be brought in, and would not take up as much cap space for now. Isn't Medlock making $175k in Winnipeg? That's quite a cap hit for a K/P who never was that great at punting.
@BYF - as others have mentioned, it seems to me that Maher's place-kicking woes started when both Fantuz and Tasker suffered their injuries. Both were holders for him, and any change that drastic that late in the season probably had something to do with his accuracy on field goals. What bothered me was his kickoffs and punts.
The blocked punts I wasn't TOO worried about, since, IMHO, they were a result of extremely poor blocking on the line. With the turn around of ST players having to move into more active Offence and Defence roles due to the myriad of injuries, there wasn't enough consistency for the blockers. While his net average was mediocre, some of that had to do with the emphasis on directional punting and poor ST tackling. The kickoffs, to me, were inexcusable. Unless the wind at THF changed direction randomly every second, there should be NO reason for a kickoff to go out-of-bounds. The times that he INTENTIONALLY tried to kick the ball OOB were during on-side attempts (and then both the idiots wearing the striped shirts and the even BIGGER idiot at the Kommand Kommissariate not knowing the rules) that were never recovered.
I wish Maher well in his latest NFL adventure; but really - the BROWNS???
Agreed austin places low importance on kickers and would rather spend money elsewhere it bit him in the butt last year but hasn't changed his mind
He also saved about $110,000 by NOT over-spending on Medlock…
:thup: :thup: Not sure where it bit him but the butt. Any kicker would have struggled after losing two holders during the season. Some posters just aren't with it with their narrow mindedness as related to Austin. These people have never played the game in an organized manner. They love to criticize to pump themselves up. Being anonymous makes these particular people bold. :rockin:
I spent all last season enjoying that money. 7and 12
Would have preferred Medlock as well...or Watters once he became a FA.
Heard we signed Brion Ashley out of Florida, but I guess maybe I dreamed it.
Don't know him hope he can kick in the wind
Maher is an excellent kicker, he was a great replacement for Dr. Medlock! If Watters and Osbaldiston are your ideas of the kind of kicker you want you may be waiting a long time, those are once in a lifetime kickers!