Back problems.
On with the career in dentistry.
Good Luck Dylan!
http://scratchingpost.thespec.com/
Dylan was a lot of fun to watch, best of luck to him in his post-football life.
Hope his back problems resolve for a normal relatively pain free life. Back pain is not nice.
Dylan made the right decision. Damn shame. He could have been one of the greats.
Absolutely. Best of Luck Dylan.
Such a shame this had to happen, I was looking forward to him excelling in the coming years.
Glad to see he prepared himself for such a situation, though.
Thanks for everything and good luck to him.
I've never seen a player so dominant on special teams. He was on his way to becoming a great safety as well.
Thanks for four great years Dylan!
I am sorry the door closed on your football career too soon, Dylan.
I know you will hit those dental school books hard and before long
you will be embarking on a long successful career in dentistry.
All the Best!
RonFromTIGERtown
Dylan is a great guy and was a true asset to the team on and off the field in his short time here. He always took the time to chat and pose for pics with my kids and my niece (who will be devastated by this news) and he will be missed here. I am so glad he made the right decision, though. He clearly has a very good head on his shoulders and really thought of the future so he's going to be just fine. That makes me very happy for him.
Thanks for your fine play, Dylan. Best wishes in school and in your future career.
Kind of makes me cry.
2 1st-overall picks - Dylan Barker & Chris Bauman - not wearing the yellow & black.
Sometimes ur lucky, & sometimes ur not.
:cry: :cry: :cry:
You could come up with a much longer list if you wanted to name top draft picks that are no longer with the team. Hopefully Rottier does not add to it by signing elsewhere next month.
The saddest part is that we had so many #1 overall picks by virtue of finishing last all those times, and yet we have little to show for it.
it's too bad that someone so young has back problems. That is an injury that isn't as easy to cure like a broken leg or ligament damage. But he's going to make a lot more money as a dentist.
Looks like Rottier really wants to go back to the Edmonton area so they may not be able to sign him.
I would find it difficult enough to go to work and sit at a desk with a sore back, I can't even fathom attempting to play a violent game like football while trying to fight off a back injury.
While I'm sad that Dylan left this game so early, I'm also very happy that he will get to move on and upward to a promising and rewarding career.
Best wishes for you Dylan, and thank you for everything you brought to the Tiger Cats and the CFL.
Truly sorry to see you go Dillon. All the best in your future years with eliminating your back pain and in dentistry.
You'll be missed in Hamilton.
Todd Dillon is also going to be a dentist?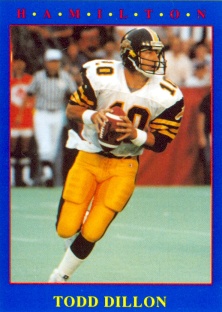 Bummer! Loved the way Dylan played and was looking forward to him having a long career in Hamilton ala Hitchcock and Beveridge
Good luck to you Dylan!
Don't hang your shingle in Sasky.
They have barbers and vets for that stuff. :twisted:
Good Luck Dylan, all the best!