This is a winnable game against the lowly Argos. A win would give the Als at least a .500 season.
The Argos have Something to prove but so do our Als.This is our best season in along time and I am sure the whole team wants to finish with a winning record.Adams needs to get his head back into the game after last weeks performance and get back to his style of play.
Argos will be without WR Derel Walker
I don't even think the Argos are that lowly. There's a gap between us and them but it's fairly small. Just about every win we've had this year has been close and contested. A few bad breaks and we could have been on the outside looking in for yet another year. So let's not take them lightly. Those players are playing for jobs next year.
It's official, Bowman is not playing.
The Argos played us tough last time. It could go either way, but the Als "should" win this one. Will be a bit worried if they lose.
The Argos biggest weakness this season (besides Jacques Chapdelaine as O.C. :)) has been their secondary. So hopefully it can be exploited.
I feel like not knowing how to prepare properly for the playoffs when you have your playoff position already locked up is going to be a costly rookie HC mistake for Khari. That's fine, let me hasten to add. Sometimes you only learn by doing the wrong thing. But we'll see how things play out. Right now I see no positive momentum in any aspect of the game except for Alford. The offense is a mess, Adams has regressed, we're not running the ball or rolling Adams out of the pocket, the defense now can't stop the run on top of everything else, and injuries are mounting. What's our pass rush going to be like tomorrow with Bowman out? Are Jones and Slowik installing anything new for the playoffs?
IN
DL Lord Hyeamang (from Practice Roster)
WR Chris Matthews (from 1-game Injured List)
OL Zac Wilkinson (from 1-game Injured List)
RB William Stanback (from 1-game Injured List)
OUT
DL Nate Anderson (to 1-game Injured List)
DL John Bowman (to 1-game Injured List)
OL Kennedy Estelle (to 1-game Injured List)
RB Jarveon Willams (to 1-game Injured List)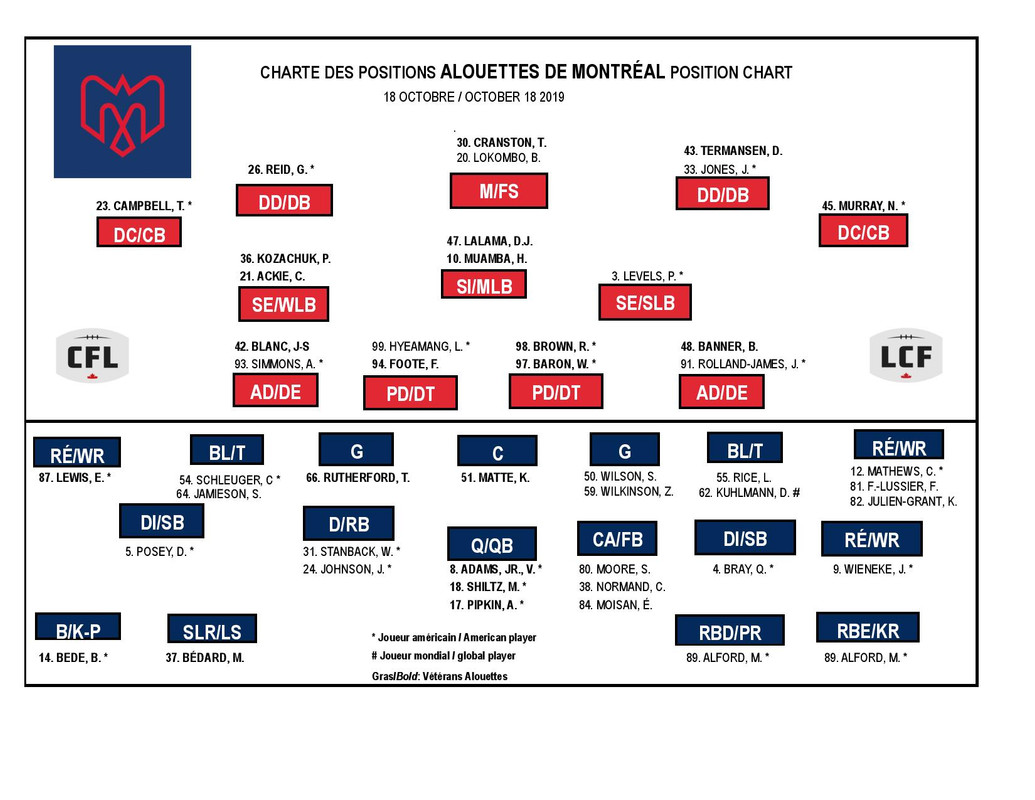 Team & Player Notes:
Montreal will be looking for an historic this week - they have 299 home wins in their history and seek #300 this week.

Montreal will be looking for a win that would clinch their first .500+ record since 2014. (In 2019 they have as many wins as they had in all of 2017 and 2018 combined with 8).

Half-time deficits have been an obstacle that Montreal has overcome this year. They have won 5 times when trailing at the half.

The Als have a current 3-game home win streak and have not had a 4-game winning home run since the end of 2014.

Toronto is 0-10 when trailing after the 3rd Quarter. They have one 4th Quarter comeback win however over Winnipeg (28-27).

S.J. Green became the 18th player to reach 10,000 receiving yards last week and is now just 39 yards of #15 (E.Winfield). (Green led all receivers last week with 170 yards - the 3rd-highest single game total in his career and 30th game of 100+)

The Alouettes are 7-5 in games decided in the last 3:00 and have the most late wins with their total of 7.

Will Stanback needs 46 yards officially to reach 1,000 this season and tops the CFL with 12 runs of 20+ yards (explosive plays).

Toronto cut their 2-&-Outs dramatically last week with a season-low of 1. They had 24 of them in their previous 3 games.

Montreal Penalties - First 8 games: 84 (10.5 per game); Last 7 games: 49 (7.0 per game).

Toronto did not allow a point off of a T/O last week. IN the previous 3 games they gave up 45 opponent points after T/Os.

Toronto has used more starters than any other CFL team in 2019 with 51. Next is Ottawa with 49 different starters.

At 87.1%, Boris Bede has his best FG mark since his rookie year (36-of-40 90% in 2015). He has made 13 in a row.

Cleyon Laing had 2 Sacks last week and now has 34 for his CFL career.
Watching Chiefs at Broncos tonight. After seeing Mahomes injure himself on a QB sneak, wish Adams wouldn't do them!
Our season could go down the drain if he was injured on a QB sneak.
Agreed. Use Shiltz or Pipkin. If we can't trust either of them to fall forward with the ball for less than half a yard, when both of them are bigger than Adams, they shouldn't be on the roster. It's ridiculous.
Yes Chappy has been awful. But pickings were slim at that late point.
So his days in Toronto or even the CFL are finished.
As for the Argos DBs not a very good group Jim Poop brought in to camp.
But since then.
Coach Chamb. Was able to grab up Mincy post NFL camp cuts.
& just last week Shaq Richardson.
Aside from that Canadian Jermaine Gabriel was injurjured much of the early part of the season.
So Coach Chamb is still hard at work. As a DC / DB coach & player.
Even tho the Argos season has been done from the get go in 2019
Well as for Shiltz he has been the holder For Bede & along with long snapper Jake Reinhart they have been rock solid on an important specialty unit.
As for Pipken I agree. Once he lost his starting Job to VA. he has been lackluster at best. And his effort as a short yardage QB has been less than an inspiring effort.
Thats why once again I will call for Canadian QB Hugo Richard. A tuff hungry kid from Laval to be the short yardage guy.
Plus the Argos have been working with him on Special Teams all season in practice.
He has been working out as safety as well. But way to early for the Rookie to take that on this season
Well Ackie is Back at Will Lb
Redzone receiever Chris Williams is back in the starting lineup.
Khari was able to get return Specialist on the the to the Roster.
Along with Stanbacks return & his partner back onto the Roster.
Bowman is out on the 1 game IR this week.
So for the most part the Als have all their horses in. While they try to figure out how to re arrange the oline with Stud LT Tony Washington out for the season.
Im taking the Als in a ROMP
We haven't won any game in a romp this year. I'll believe it when I see it.

That's because the Als' Defence has been porous so far this year. It's high time the D showed up for a game.
???
and against a Jacques Chapdelaine offence, this should be that game.
Als in a ROMP?! Hope you are right.
Just do not see that happening though. Bowman out arguably their best DL.
O Line is a jugging act.
Argos have more at stake in this game than the Als.
I would not be surprised if Argos pull off a W.
Hope I am wrong.
The D hasn't been great, but there's plenty of blame to go around. Adams threw four picks last game, that's on him. Khari has to call a better and more balanced game on offense. Both units, though, have been hit with lots of injuries. The O-line is a mess, the defensive secondary almost as bad.