Bullies, negatrons, non #realfans hated this from the start of camp.
Some of us didn't.
I thought it was kinda fun to have him there.
Hope it didn't cost the team too much.
Watching some of the dressing room videos, he certainly got the players fired up!
I'll admit.
I was skeptical.
But the area I was in loved it…and so did I!!
Good job team TiCats and Mr Young!
All cheesiness aside…between Ric Flair and the Blackout, there was a sincerity in his pre-game speech and his respect of Mosca that the organization pulled this off and it was a lot of fun! Who the hell knows now…maybe we'll win this thing! I've seen it all now…anything is possible.
Have to say I enjoyed the hype and energy that Ric Flair seemed to have brought to the stadium, but I still have no idea who he is, other than a former wrestler. Is he a former player like Ang Mosca, or is it wrestling alone that he is known for?
Ric Flair was a tag team partner with Ang Mosca.
What does any of this even mean?
I agree but let's not forget Andre the Giant .
Thanks for the info. Got to admit that the guy is a showman, and apparently, still has a keen fan base. Made for a great atmosphere at the stadium today.
Woooooo!!!
Sorry. I couldn't resist.
Actually this is not unique or out of the norm for Flair . He has been doing the exact same shtick as he did yesterday for years now with different teams in different leagues . The Carolina Hurricanes of the NHL , the Panthers in the NFL and the NCAA's South Carolina Gamecocks to name a few. Although I gotta admit having him here in the Hammer as the teams resident Cheerleader as a gun for hire fo the day was I have to say a whole lot of fun .WOOOOOOOOOOOOOOOO !!!
South Carolina Gamecocks
https://uproxx.files.wordpress.com/2016/02/ricflair_gamecocks.gif?w=650
Carolina Hurricanes
Los Angeles Kings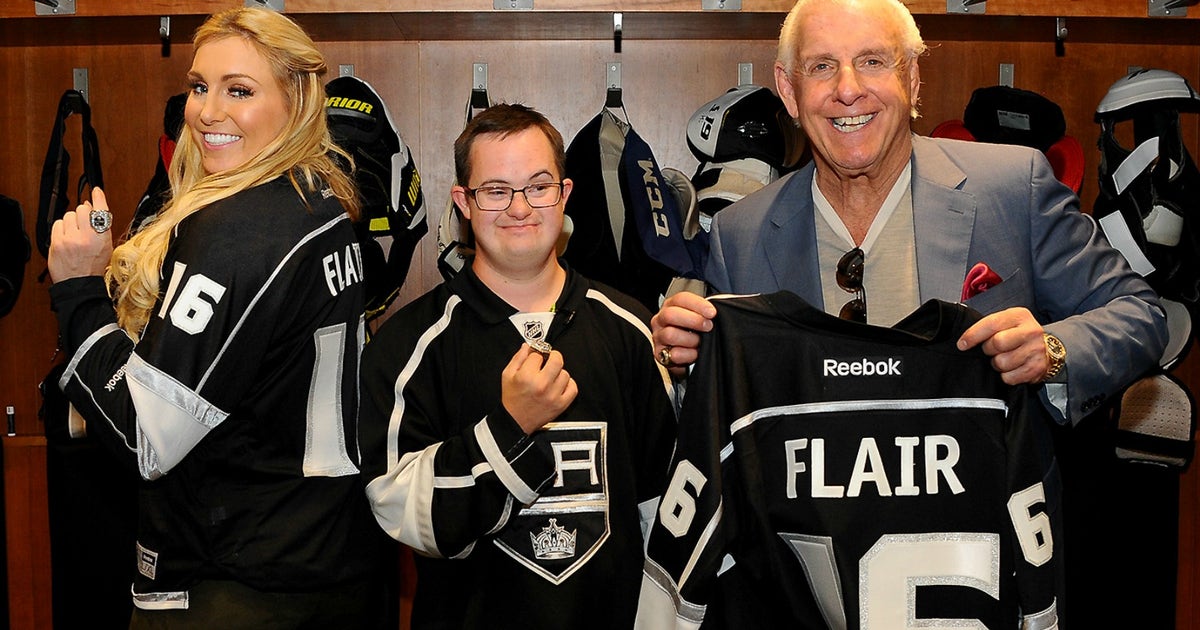 Carolina Panthers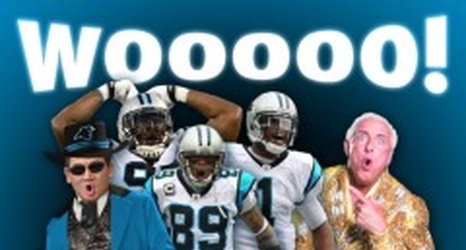 I remember one year the Cats brought back Otis Floyd to pump up the players. IIRC they won that game decisively also.
Flair made the day fun. We certainly enjoyed the vibe and the atmosphere in the stadium, but don't you think his act could grow stale pretty quickly?
Pigskin Ric.
Full time.
Make it happen.
Scott Mitchell.
LOL. I'm kinda surprised that it hasn't gotten a little stale to be honest with you considering that he's been doing this same character now for well over 40 plus years on the Wrestling circuit since the 70's .
I mean come on seriously how many times and how long can you yell out WOOOOOOOOOOOO !!!!! before people get tired of hearing it ? Answer : Apparently as many times as you want and as long as you want if you just happen to be named Flair . 8) ;D
ALL TOGETHER NOW...........
great game tiger cats.WOOOOOOOOOOOOOOOO
Every wrestlerror has a "schtick".
But to be truly remarkable you need what show business types call the "it" factor. Magnetism, presence, etc.
Can count every wrestler who had this on one hand and Flair is among them
Well past his prime but still every set of eyes was glued on him in the locker room .
I was somewhat mystified at how often I was hearing it yesterday. As someone who doesn't follow wrestling even a little bit, I had no idea that it was this guy's catch phrase. I just thought a whole lot of people got the same idea about what to yell.
In all honesty, I hope it was a one-time thing.