Let it begin or end here
They want Collaros $$$, Several other pro options??
He can go play arena league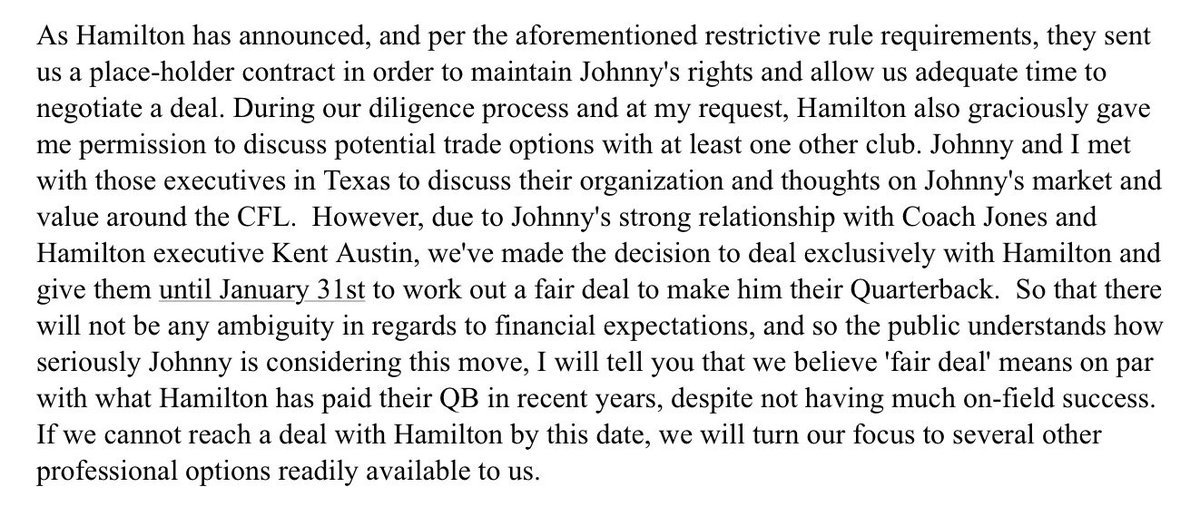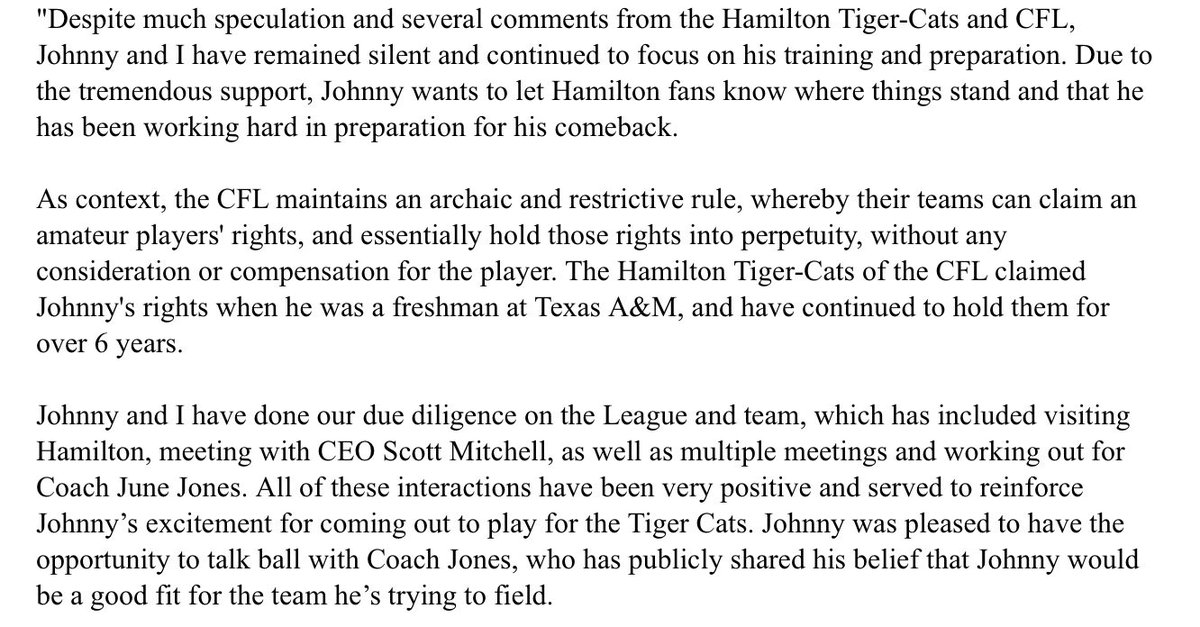 Collaros money. That's classic. I literally burst out laughing reading this.
He can play Madden and see how quickly that gets him back into the NFL.
Collaros has had more success than Manziel has...
Sounds good.
I can see a decent size salary, but I'd like to see a bonus laden structure to it, to bring the value up to where it would appear his agent would like it.
Get it done.
Maybe they can set up some potential endorsement deals to bridge the cash gap between what the Ticats offered, and what Manziel's agent is looking for.
Well this whole deal is going south really fast !$ looks like his agent is really playing the field there is no way Austin and company are going to pay ? Johnny 500 Grand . no way . How much is Masoli being paid ?! Imagine what Masoli and teammates would think if we somehow shell out that kind of Cash ? on so many question marks about this whole deal and his comeback , let the drama continue till the 31st I think he is gone .....there is no Cap room$$$
So he wants to be the highest paid player in the league. Seems reasonable, given his considerable list of accomplishments as a professional, and his sterling reputation as a citizen and a teammate. I can't think of any reason not to grant his request.
As for his "other professional options readily available" - they didn't say professional football. Could it be professional party boy? Professional Instagram King?
Congrats to the Cats on devoting so much time to this guy.
And Johnny chimes in.
Johnny Manziel?Verified account
[ltr]@JManziel2[/ltr]
I'll keep grinding and let @ErikBurkhardt work this thing out. I have all the faith in the world in him during this process. One way or another I am getting back on a football field this year. Believe that
4:29 PM - 8 Jan 2018
He's ours until Jan 7 2019. Let him sit. No team in the CFL will give him $500K...not even Montreal.
This turd does not want to play football and is only looking for attention. Making our management look like fools right now.
Trade him to Montreal for a bag of balls.
what other professional options does he have? Arena league? Lol..what a joke. Give him a incentive based contract. If he goes 18-0 he can have $540 000 lol
Offer the league minimum and let him rot if he doesn't take it. He'd be a rental player at best anyway.
He's out of his mind.
If that's what he's asking the Ti-Cats can sign Kevin Glenn for all I care. I figured he'd want something like $250,000 which still would've been a reach.
This will be a disaster if they make him the highest paid player in the league after flaming out in the NFL and not playing a down of football for two years.
This is exactly what I was afraid of, the team doesn't need the headache no matter how good he may be for a couple years before bolting back to the NFL.
It's boom or bust. Either he plays great and flies south, or he plays terrible and flies south. I can't see any scenario where Johnny lasts in the CFL longer than three years - so what is the point exactly when we just signed Masoli who's at least proven competent enough to win some games in this league.
So what was that talk about trades? They randomly through that in. I imagine it was the Alouettes but guess they couldn't make it work ... we've got 23 days to convince Kavis otherwise. What else is he spending the money on?
I say we lock up all our important FAs before Feb. 1, then tell Manziel's agent he should have taken our original offer, now there's not enough cap room. We own his CFL rights until Jan. 7, 2019, so unless he's singing the national anthem, he won't be on a football field in 2018.
Unsurprising posturing by Manziel's agent. No chance he will be signed for $500K. His "other professional options" do not include playing in the CFL, as Hamilton now has his rights for another year. His agent seems not to like the league rule that gives us those rights, but who gives a damn?
Personally, I don't care if he is signed by us. In many ways I prefer he does not play in Hamilton. Though I don't hold him personally responsible for this nonsense, it certainly does nothing to increase my very limited enthusiasm for him.
If another team (Montreal?) wants to pay him that kind of money, by all means let's trade the rights to him. I'd love some more good draft picks.
If our coach truly believes he could be the greatest CFL player of all time ( I still shake my head that that was actually said to the press) then why not pay him starter money? I think its crap, but our coach thinks he could be the GREATEST EVER.
I say he will get paid $200,000 plus incentives. I think if they pay him a base salary that is close to what Masoli made last year, then that would still meet their ridiculous demands (technically speaking). I will be shocked if they don't make it happen at this point.
Trade his rights to the Als.and grab a Draft pick and a good Canadian starter.
Can you imagine this guy in the locker room?
Get what you can out of Kavis for him now.
That's the goddamn scary part right now ... they're out of their gourd if they sign him but this is the Hamilton Tiger-Cats, we've fallen ass backwards into success three times in the last 45 years (Okay 72 doesn't count as ass backwards but you get my point ... two times in 44 years, not much better)
I was down if he was down to be the backup, pretty clear that isn't the case and was obvious from the start he wasn't coming here to sit behind Masoli.
Abort Mission Johnny Football.
Trade him for the rights to Nik Lewis so he can retire a Ti-Cat, it'd be worth it.