November 3, 2023: SWEEP LEAVES BISONS IN BASEMENT


TRINITY WESTERN SPARTANS 5
MANITOBA BISONS 2
Links:
➤ Summaries: LeagueStat : CW
➤ Game reports: LeagueStat : CW
➤ TWU: Spartans Get Historic Sweep of Bisons (with boxscore)
➤ UofM (Thursday late): MHKY: Spartans hold on to beat Bisons 3-2 (with boxscore)
➤ UofM: MHKY: Spartans pull away late, beat Manitoba 5-2 (with boxscore)
Quick Summary
TWU: R. Perepeluk (03:32 1st), K. McMillen (18:22 1st), L. Spadafora (18:00 2nd), L. Fuller (10:27 3rd), M. Joss (11:51 3rd)
Man: D. Thiessen (06:45 1st), J. Hooker (19:49 2nd)
Goal: TWU: Sommer (24 shots, 22 saves); Man: Thornton (34 shots, 29 saves)
After a strong finish on Thursday, the Bisons had no follow-up in this one. I could not attend in person due to car trouble, and had to rely on CWTV. Unfortunately, the stream would not connect for most of the first half of the game. The Bisons had just one line-up change, Eric Fawkes subbing in for Cameron Trimble. The Bisons now need a sweep of their own in Regina next weekend.
It seems the Bisons have made themselves into a team that tries to contain superior opponents, not to crush the weaker teams. Of the Tier 2 teams, they give the Tier 1 teams the most problems. Yet they are 0-4-0 head-to-head against the Tier 2 teams.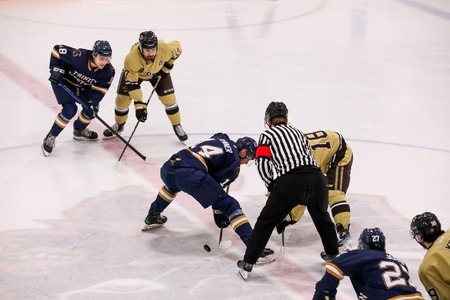 opening faceoff
Thiessen in the slot, but no goal here.
OUT-OF-TOWN SCOREBOARD


CALGARY DINOSAURS 4
REGINA COUGARS 1
Links:
➤ Summaries: LeagueStat : CW
➤ UofC: Patterson nets winner in return to ice (with boxscore)
➤ UofR: Cougars defeated 4-1 by No. 6 Calgary (with boxscore)
Quick Summary
Calg: M. Westhaver (01:35 1st), M. Patterson (17:59 2nd), C. Gengenbach (00:55 3rd), A. Kydd (04:01 3rd)
Reg: C. Sass (07:18 1st)
Goal: Calg: Stankowski (21 shots, 20 saves); Reg: Meger (32 shots, 28 saves)
With a lot of Friday night overlap, this one was not on my radar. Bedrock U needed a bounce-back win, now they need to complete the sweep.


SASKATCHEWAN HUSKIES 3
ALBERTA GOLDEN BEARS 1
Links:
➤ Summaries: LeagueStat : CW
➤ UofS: MKHY: Dominant Win for Huskies Over Rival Golden Bears (with boxscore)
➤ UofA: Third period comeback gives Huskies win over Bears (with boxscore)
Quick Summary
Sask: J. Pillar (01:19 3rd), R. Pelletier (11:40 3rd), G. Kinniburgh (19:03 3rd)
Alta: J. Smallwood (17:51 1st)
Goal: Sask: Ross (26 shots, 25 saves); Alta: Kruger (25 shots, 23 saves)
I caught the end of this one, and it was very well played. Both sides had well-organized defensive structure and could be a problem for any opponent. The rematch should be good. Sask has proven they can play at a Tier 1 level. That 5-way race is on, IMO.


U.B.C. THUNDERBIRDS 3
MOUNT ROYAL COUGARS 4
Links:
➤ Summaries: LeagueStat : CW
➤ MRU: MHKY: Cougars take down Thunderbirds at home (with boxscore)
➤ UBC: Cougars snap streak as T-Birds suffer first loss of the season (with boxscore)
Quick Summary
UBC: C. Miller (03:11 1st), J. Lee (19:59 2nd), L. Kindree (16:01 3rd)
MRU: R. Holmes (12:52 1st), C. Hanus (17:21 2nd), T. Zandee (14:33 3rd), C. Hanus (18:12 3rd)
Goal: UBC: Lane (22 shots, 18 saves); MRU: Farkas (42 shots, 39 saves)
The T-irds' unbeaten streak came to a halt in this one. They outshot the Bluegars 42-22 but that was not enough. After the Bison game, I focused on the Monkeys/Mutts game so I did not get a real handle on this one.
NEXT UP
Sat Nov 4 Calgary at Regina 5:00 CST / 6:00 CDT
Sat Nov 4 Saskatchewan at Alberta 7:00 MDT / 8:00 CDT
Sat Nov 4 U.B.C. at Mount Royal 5:00 MDT / 6:00 CDT
OUT EAST

Fri Nov 3 Carleton 1 Ottawa 3
Fri Nov 3 Laurier 2 Toronto 3
Fri Nov 3 McGill 6 R.M.C. 3
Fri Nov 3 Nipissing 1 Queen's 8
Fri Nov 3 Ontario Tech 2 Guelph 3
Fri Nov 3 Western Ontario 2 Lakehead 3
Fri Nov 3 Windsor 1 Brock 3
Sat Nov 4 McGill at Queen's 2:30 EDT
Sat Nov 4 Nipissing at R.M.C. 2:00 EDT
Sat Nov 4 Ontario Tech at Brock 4:00 EDT
Sat Nov 4 Ottawa at Carleton 7:00 EDT
Sat Nov 4 Toronto at Waterloo 7:00 EDT
Sat Nov 4 Western Ontario at Lakehead TBA
Sat Nov 4 Windsor at Guelph 7:30 EDT
Sat Nov 4 York at Toronto Metro 2:00 EDT

Fri Nov 3 Dalhousie 0 Saint Mary's 5
Fri Nov 3 Moncton 3 New Brunswick 4 (ot)
Fri Nov 3 St. F.X. 4 Acadia 1
Sat Nov 4 Dalhousie at Acadia 7:00 ADT
Sat Nov 4 New Brunswick at U.P.E.I. 7:00 ADT
Sat Nov 4 Saint Mary's at St. F.X. 7:00 ADT
Links:
➤ USports: Presto Schedule & Results
➤ OUA: LeagueStat Daily
➤ OUA: [Men's Ice Hockey - Ontario University Athletics] Schedule & Results [/url]
➤ AUS: Schedule & Results
OUT WEST

Fri Nov 3 Concordia-Edmonton 4 UA-Augustana 3
Fri Nov 3 S.A.I.T. 4 Portage College 3 (ot)
Fri Nov 3 Red Deer Poly 0 N.A.I.T. 7
Sat Nov 4 S.A.I.T. at Portage College 1:00 MDT
Sat Nov 4 N.A.I.T. at Red Deer Poly 7:00 MDT
Sat Nov 4 UA-Augustana at Concordia-Edmonton 7:00 MDT

Fri Nov 3 Victoria 5 Logan Lake 4
Fri Nov 3 Okanagan 6 Simon Fraser 3
Fri Nov 3 Simon Fraser 6 Pittsburgh 1 (ACHA EX)
Sat Nov 4 Victoria at Okanagan 6:00 PDT
Sat Nov 4 Simon Fraser at Robert Morris (NCAA EX) 7:00 EDT
Links:
➤ ACAC: Schedule & Results
➤ BCIHL: Schedule & Results