Hamilton Tiger-Cats ?@Ticats 22m
LB Taylor Reed & WR Terrell Sinkfield = #CFL Players of the Week!
Well deserved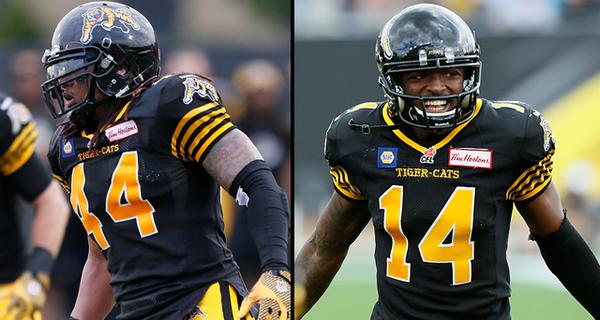 Fantusz would have been Outstanding Canadian without the incredible game Andrew Harris had.
Reed is quietly turning out to be a great signing. Not so sure about his coverage skills but no doubt about his run plugging/pass rushing skills.
2014-09-16 12:00:00 Ticats.ca Staff

A pair of Hamilton Tiger-Cats have been named CFL Players of the Week for their efforts in the team's dominant 28-3 win over the Saskatchewan Roughriders last Sunday.

Linebacker Taylor Reed is the Defensive Player of the Week in recognition of his performance that saw him register six defensive tackles, one tackle for a loss, one special teams tackle and one quarterback sack. Reed and the Ticats defence surrendered just three points and 170 net yards of offence to Saskatchewan.

In seven starts in his first CFL season, Reed has recorded 32 defensive tackles, an interception and a team-leading five quarterback sacks.

Terrell Sinkfield is the CFL's Special Teams Player of the Week after returning 12 punts for 151 yards, including a 57-yard touchdown, in his Ticats debut. He also contributed on offence bycarrying the ball twice for 31 yards.

Sinkfield is the third Ticat to collect Special Teams Player of the Week honours, joining Brandon Banks and Quincy McDuffie.
It was Cornish who was awarded Canadian POTW. 15 touches for 209 yards & 2 TD's against The Bleu Team.
Yeah, Harris had a respectable game with 13 touches for 101. But Cornish absolutely lit it up. Our Andy was a little more efficient than the one in orange with his 11 receptions for 108.
Cornish deserved it, but Mr. Fantuz certainly had a case if not for him.
My bad. :oops:
My only excuse is that I am old. You too will reach that milestone as long as you remember to keep breathing in and out.
It's okay. Somehow I got it into my brain that Sinkfield lined up in the backfield last game and I had to be corrected in another thread. Not like I'm battin' a thousand today either.