Jurassic Park/Maple Leafs Square
drummer_god wrote:A gathering of poor people who can't afford tickets and don't have cable to watch at home...
Not necessarily. Over the last few games they've actually been interviewing some people who drove for several hours to Toronto to be part of the Maple Leafs Square/Jurassic Park 'experience'. The other day they interviewed a family of Leafs fans from Cleveland who drove up to be a part of the crowd because they thought that would be so much better an experience than just watching on TV at home.
Others they interviewed travelled froom places like Windsor, London, Kingston and Oshawa and of course those in the GTHA because they 'wanted to be part of it'.
So as of tomorrow - its no longer Maple LEafs Squae - it is all about Jurassic Park.
Let's Go Raptors!
All-Star
Posts: 2963
Joined: Thu Jun 23, 2016 7:07 pm
---
This will be the fashion for tonight's Raps Game 5 at the ACC.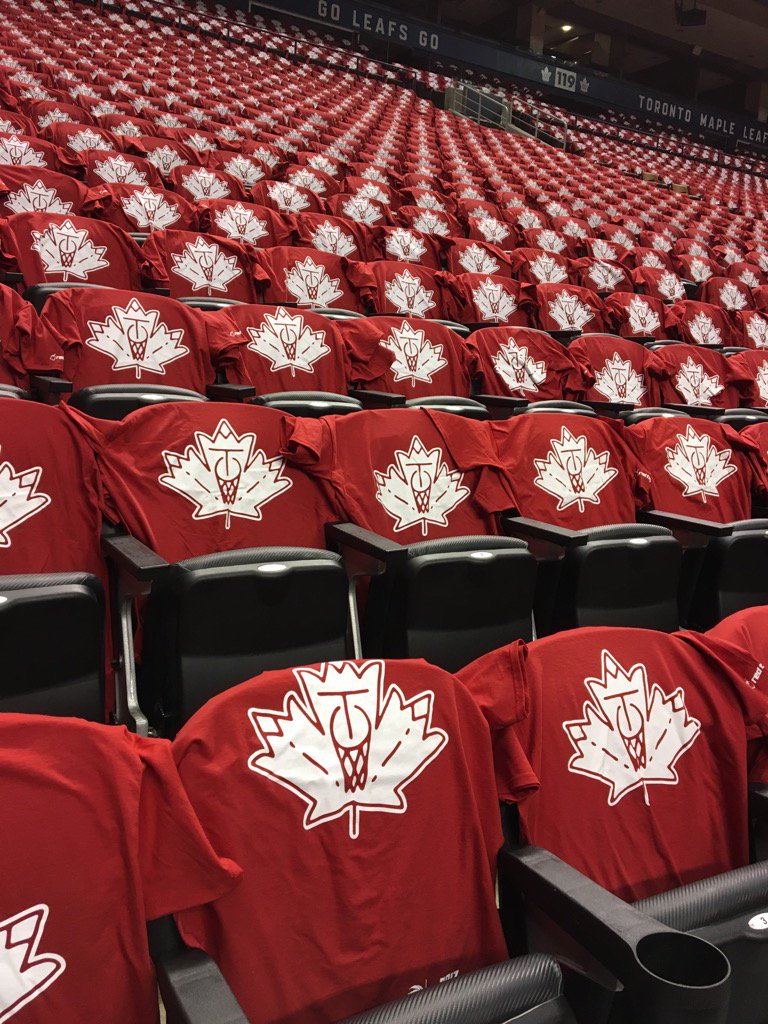 All-Star
Posts: 2963
Joined: Thu Jun 23, 2016 7:07 pm
---
Cool!
Resilience is accepting your new reality, even if it's less good than the one you had before - Elizabeth Edwards
---
Well the Raps did that the hard way. Up by 25 with 5 minutes to go in the 3rd quarter looking like they were coasting to a rout - only to go in the tank and only score 7 points over the next 14 minutes of game time - looking AWFUL as they did that. Falling behind by two with 3 minutes to go in the game - looking like we were for sure heading to a Game 7 - when suddenly the Raps recovered and pulled it out to win by three.

Next up Lebron and the Cavs.
All-Star
Posts: 2963
Joined: Thu Jun 23, 2016 7:07 pm
---
They are OUT!!!
---
They never stood a chance - especially once Lowry got hurt. They may have won a game had he not gotten hurt. But the Cavs look unstoppable right now. 11 play-off game wins in a row - dating back to the last three games of the finals last year. That's incredible.
All-Star
Posts: 2963
Joined: Thu Jun 23, 2016 7:07 pm
---
All-Star
Posts: 3266
Joined: Tue Jun 06, 2006 9:47 pm
Location: East Van
---
KevinRiley2 wrote:They are OUT!!!
All-Star
Posts: 4493
Joined: Wed Aug 18, 2010 6:14 pm
---
---
Users browsing this forum: No registered users and 8 guests